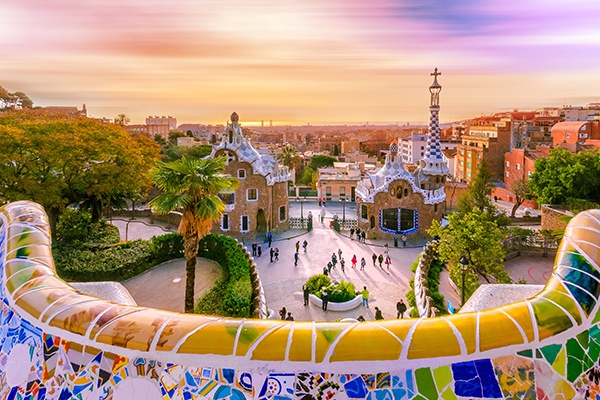 Your travel bucket list is an opportunity for you to write down all the must-see places you want to visit in this lifetime. It inspires you to decide what you really want, to rank the places you've dreamt of seeing for years, since childhood, perhaps, and plan accordingly. Here are some of the magnificent destinations that show up most frequently on our guests' bucket lists:
SPAIN
In recent years, this historically and culturally influential Mediterranean nation has grown into one of the most popular travel destinations in the world. And why not? Spain's rich food, culture, history, and natural beauty are perfect for all sorts of people—history buffs, foodies, or those just looking for a relaxing place to get away.
ALASKA
Alaska's rugged beauty—from the calving glaciers of the Inside Passage, to the thickly forested interior, to the snow-capped peaks that dominate much of the "Frontier State's" skyline—can only be truly appreciated in person. Many of our guests consider Alaska to be the most beautiful state in the country, and a wild escape from their day-to-day lives.
CHINA
There are so many remarkable historic sites to see in this ancient nation—especially the Terra Cotta Army, a massive collection of nearly 10,000 clay soldiers, horses, and chariots that were sculpted and buried with China's first emperor over 2,000 years ago. Another of China's most popular tourist attractions is its Great Wall.The Great Wall of China was started in the 7th century BC, and its 13,171 miles of stone, brick, tamped earth, and wooden wall sections, trenches, and natural barriers, were gradually built up over China's long history. The Great Wall of China is a true marvel that many of our guests have wanted to see their whole lives.
NATIONAL PARKS
The grandeur of wild America will take your breath away, nowhere more than on a tour of our National Parks. From the geysers at Yellowstone to the spectacular South Rim of the Grand Canyon, to the glacier-carved mountains of Glacier National Park, these federally protected treasures are a true must-see.
IRELAND
Many of our guests choose to travel to Ireland to reconnect with their roots and walk the steps of their ancestors, but just as many simply wish to experience the legendary charm and hospitality of the local people. Ireland's natural beauty, like the Cliffs of Moher and Giant's Causeway, fascinating history, and lively culture, make it a true bucket list destination.
ROSE PARADE
This Los Angeles institution has been an annual tradition since 1890, and in the decades since has grown into a truly eye-popping show, and arguably the greatest parade in the world. The flower-covered floats are wonderfully detailed, and the marching bands and equestrian units are impeccably trained. From the floral aroma that fills the air to the indescribable feeling of witnessing this spectacular event up close, seeing the Rose Parade in person is an utterly unique experience.
Your travel bucket list is an intensely personal thing—and YMT is here to help you cross off the most meaningful items. Our affordable guided tours are an amazing value—the prices are low but more importantly, the experiences are rich. You'll see the Great Wall when you're in China, the Grand Canyon when you're in the west, and towering castles when you're in Ireland. To join us on any of our amazing tours, call your travel consultant or YMT Vacations at 1-888-756-9072.