---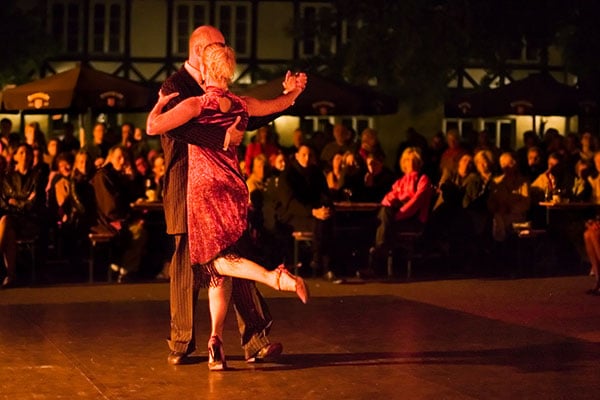 Falling in love with Buenos Aires is easy. It's a capital whose charm runs deep, with a unique spirit and irresistible soundtrack. The tango is the heartbeat of the city. Strong, fast, and impossible to ignore, it's a music, a dance, and a way of life. Buenos Aires fuses European architecture with a distinctly Latin joie de vivre, which has made it into the most visited city in all of South America.
If you're thinking about traveling down to Buenos Aires, there are some experiences and places you won't want to miss. Whether you're passionate about food, music, art, or the all-important game of futbol, Buenos Aires is sure to leave you satisfied.
Buenos Aires' Best Cuisine
Argentina is blessed with an abundance of good food. Its beef is renowned for its sublime taste and texture, the fertile countryside produces exquisite produce (including wine grapes), and because of Argentina's massive immigrant population, the multinational cuisine's flavors are complex, delicious, and unlike anywhere else. Experiencing the food is one of the must-dos in Buenos Aires.
Eat at a Parrilla
The best beef in the world is never better than when served hot, juicy, and fresh from the gleaming flames of a parrilla (another name for the open fire hearth where the meat is cooked, or the carnivorous establishment itself). Whether you choose to visit an elegant, upscale steakhouse, or to stop by a humble street cart, your nose will guide you to the luscious smell of flavorful beef served alongside mouthwatering sauces like garlicky, tangy chimichurri. Important vocabulary includes bien jugosa for rare, jugosa for medium, or cocido for well done.
Sample Malbec Wine
Argentina's signature grape creates a dark, inky, dry red wine with a jammy flavor and nicely full body. It is grown all around the country, where it benefits from Argentina's warm climate and abundant sun. You can find excellent, affordable examples of Malbec wine all over Buenos Aires, and the expert locals are very generous with recommendations.
Grab a Submarino and Churros at Café Tortino
Buenos Aires' most famous café opened steps from the Plaza de Mayo in 1858, and over 150 years later is still the place to be. Built in the style of a Parisian coffeehouse, Café Tortoni has long attracted Buenos Aires' most notable artists, writers, intellectuals, dancers, and musicians, many of whom use the beautifully lit café as a performance venue. In between sips of a chocolatey submarino and nibbles of freshly fried churros, you can see the World Tango Museum upstairs, or catch a live tango show downstairs.
Best Things to do in Buenos Aires
Buenos Aires is nicknamed the "Paris of South America" for a number of reasons, beyond just its eye-catchingly grand European architecture. The soul of Buenos Aires is decidedly Parisian, and it has long attracted writers, artists, and performers looking for a home alongside fellow creatives.
But Buenos Aires is far more than just a Paris clone blessed with much better weather. La Reina del Plata is full of color, art, joyous music, history, and a style of its very own.
Catch a Futbol Match at La Bombonera
The Beautiful Game is a religion in Buenos Aires, and its holiest site has to be La Bombonera Stadium. The home turf of the popular Boca Juniors football club is one of the most iconic stadiums in the world; and each of the 49,000 fans that make its ground shake during matches would agree. The stadium opened in 1940, and has been a blue and yellow mecca for football fans ever since.
Tango at a Milonga
If you want to experience the true Buenos Aires, the only way to do so is by attending a milonga, an organized event where people dance tango. If you don't know how, most milongas have a demonstration before the real fun begins. And what is the real fun? Brilliant music, dancers from all over the world at all different skill levels, and a sense of community unlike anywhere else. High energy and terrifically enjoyable, a milonga is one of the most special activities you can try in Buenos Aires
Best Places to Visit in Buenos Aires
Wherever you turn in Buenos Aires, you can expect to find a new and exciting sight to see, sound to hear, or activity to try. The city's liveliness and charm cannot be overstated, and we feel that the best way to experience it is by jumping right in.
Avenida 9 de Julio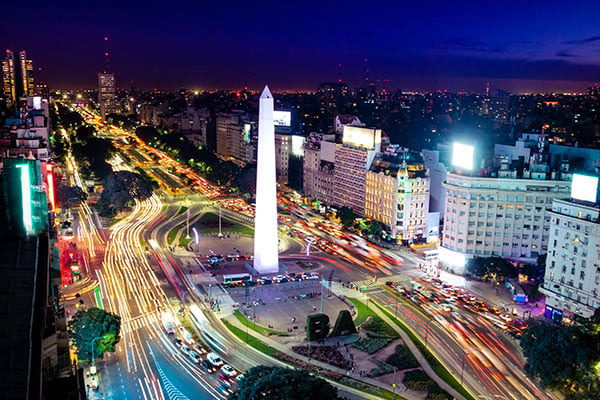 Visitors to Buenos Aires should always know where they are in relation to La Avenida 9 de Julio, the artery through the city connecting its north and south sides. Avenida 9 de Julio is full of landmarks, including:
Plaza Constitución
The French Embassy

Teatro Colón

The Obelisk

Statue of Don Quixote
El Ateneo Grand Splendid Bookstore
This might well be the most beautiful bookstore in the world—your local Barnes and Noble notwithstanding. Built as a truly grand and splendid theater in 1919, it retained its soaring and elaborately frescoed ceiling, thick red stage curtains, and wide-open layout through multiple iterations, including the current one as an utterly unique bookstore. Browse the aisles, grab a coffee, and just soak in the atmosphere—and perhaps the sounds of a live piano player performing from the magnificent old stage.
Teatro Colón Opera House
Buenos Aires' biggest opera house is one of the world's best, according to National Geographic. The ornate theater was completed in 1908, designed in the Italian style and impressive enough to compete with any of the best opera houses in Europe. Because of its near-perfect acoustics, Teatro Colón attracted many of the Golden Era's finest singers. Still open, still grand, and easily accessible from its location in the heart of Buenos Aires, you don't want to miss out on a pilgrimage to Teatro Colón.
Visit Buenos Aires with YMT Vacations
The sights, sounds, and flavors of Buenos Aires make it one of the most beloved cities in all of South America. Charming and full of things to experience, it appeals to visitors across the world. If you're one of them, we'd love to share the Argentinian capital with you on our spectacular cruise tours to South America. To join us, grab your passport, pack your bag, and call your travel professional or YMT Vacations at 1-888-756-9072 to book.
---