---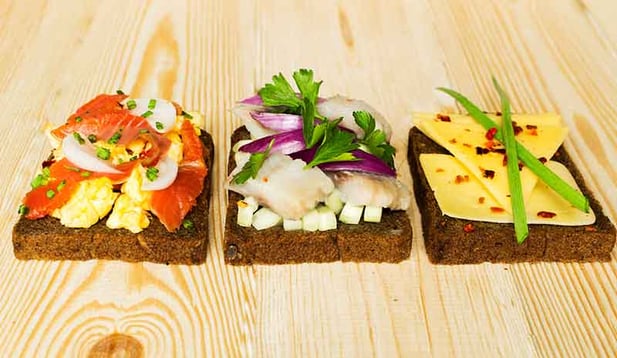 If your idea of a sandwich is a PB&J or bologna stuck between two slices of Wonder Bread, you have never been to Copenhagen. Welcome to the country that was built on rye bread! From rye croissants to rye farm bread, rye rolls to rye bread pudding, this dark seeded bread is a staple in every Danish home. However, its most elevated status is in the traditional Danish dish, the open-faced sandwich known as smørrebrød.
---
If you've never heard of it, don't worry, you're not alone. Here's what you can expect. Typically, smørrebrød is slathered with butter and topped with meat, fish, and cheese but as tastes change and dishes are elevated, more modern twists have been added. In fact, you're likely to find everything from tongue and fried egg to liver pate on creations that will redefine what you think of as a sandwich.
For an authentic smørrebrød, head to the Restaurant Ida Davidsen, a fifth-generation establishment that boasts more than 175 variations of sandwiches. Peak in the glass cases to discover the day's specialties or peruse a menu that is reported to be the largest in Scandinavia.
From moderately-priced menus to affordable selections for those on a tight budget, smørrebrøds are a great way to eat like a local without breaking the bank. Just make sure to enjoy a good beer with your meal, Danish micro-breweries offer up a myriad of unforgettable choices you won't want to miss.
---
You can enjoy the flavors of Denmark's sandwich culture on YMT Vacations' Two Continents Cruise & Tour. This 20-day land and sea itinerary begins with five European ports before crossing the Atlantic on the Norwegian Breakaway. Then, you'll explore the 'New World' cities of New York, Philadelphia and Washington D.C. To make your reservations to join this unforgettable journey, call your travel agent or YMT Vacations at 1-888-756-9072.