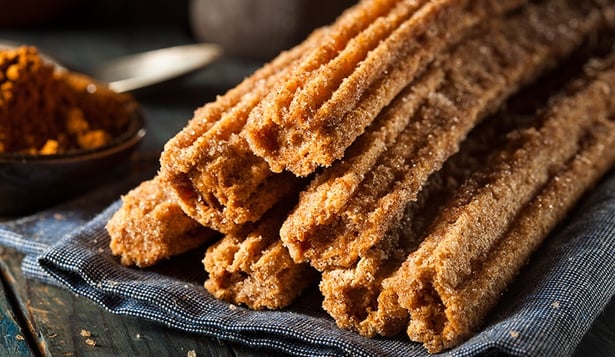 It's believed that Portuguese sailors once tasted a delicious food in Northern China called "You Tiao." They brought the crispy, fried pastry back to Europe with them where it flourished and became a favorite treat. Today, Lisbon is arguably the best place to enjoy the sweet churro in its many variations -- from cinnamon-dusted to dipped in chocolate, star-shaped or straight out of a greasy paper bag. Locals and visitors alike love to stroll the cobbled streets in this Old European city with a warm bag of churros and a steaming cup of coffee. If you can't make it to Lisbon yourself, try your hand at making churros in your home:

---
Ingredients
1 cup of water
2 1/2 Tablespoons white sugar
1/2 teaspoon salt
2 Tablespoons vegetable oil
1 cup all-purpose flour
2 quarts of oil for frying
1/2 cup white sugar
1 teaspoon ground cinnamon
Directions
In a small saucepan over medium heat, combine water, 2 1/2 Tablespoons sugar, salt and 2 Tablespoons vegetable oil. Bring to a boil and remove from heat. Stir in flour until mixture forms a ball.
Heat oil for frying in a deep-fryer or deep skillet to 375 degrees. Pipe strips of dough into the hot oil with a pastry bag. Fry until golden; drain on paper towels.
Combine 1/2 cup sugar and cinnamon. Roll the warm churros in cinnamon and sugar mixture.
Recipe taken in part from allrecipes.com
---
Try a warm churro for yourself on a visit to Lisbon. It's just one of the stops on YMT Vacations French Riviera and Grand Transatlantic Cruise & Tour. This 27-day land and sea vacation begins with three unforgettable days in France before you transfer to the MSC Divina, your home for the next three weeks. From there you'll explore Rome as well as Marseille, France. Then, it's on to Barcelona, Lisbon and the Azores before a luxury Transatlantic crossing. Your journey ends with stops in New York City and Miami.
To view departure dates, or to make your reservations to join this unforgettable journey, call your travel agent or YMT Vacations at 1-888-756-9072.
---