---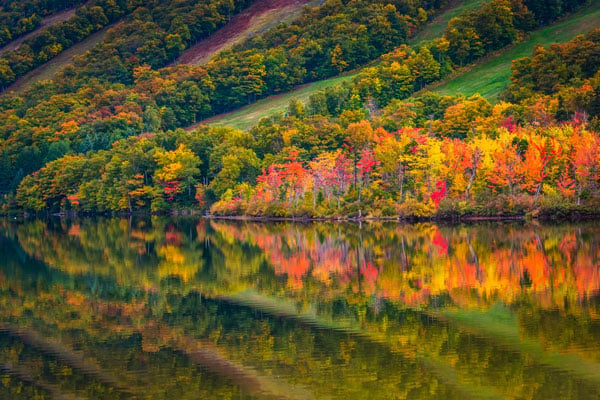 Each fall, New England is set ablaze in an explosion of autumn foliage. Throughout the Adirondacks and Vermont's Green Mountains, the verdant leaves of summer begin to give way to brilliant reds, oranges, and yellows. The days linger a little while longer as the crisp air hints at the coming of winter. And all along the backcountry roads, "leaf-peepers" arrive to catch a glimpse of the spectacle. You can capture this amazing techni-color landscape on film or create a digital record of the experience. To ensure you get the best shots, keep in mind these top 8 tips for photographing New England's fall foliage:
---
Time It Right -- The earlier in the year you go, the farther north you'll want to venture. Your optimum conditions include warm days and cool, frost-free nights. Higher elevations produce cooler nighttime temps.
Light It Up -- The most favorable time of day to shoot the fall colors is a half-hour after sunrise and a half-hour before the sun sets. These times of day allow for soft light and warm tones. If possible, shot on an overcast day under diffused light.
Elevate -- You can create a great image by looking for spots to shoot above the color. Lookout points or overlooks are great places to get a bird's eye view of the landscape.
Isolate the Image -- While a grand, sweeping image is beautiful, sometimes a single leaf or a lone tree can be just as powerful. Try mixing in simple, isolated images with the rest of your collection.
Add Water -- Streams, brooks, and rivers can reflect colors, add contrast, or mirror the landscape. Look for places where the trees are echoed back on the water's surface.
Shoot Against the Sky -- The shocking blue of autumn compliments the warm colors of the leaves. Just remember to allow for lots of empty space where the blue can peak through the branches.
Play With Color -- When you edit your images, try ramping up the colors to make vibrant and rich tones. Or, create a more natural look by toning down the color, leaving less contrast and a more woodsy feel to the shot.
---
You can create your own fall foliage portfolio on YMT Vacations' Autumn Leaves Tour. You'll begin your journey in Philadelphia, where you can tour the "cradle of our nation." Other stops on this 14-day itinerary take you from Niagara Falls to the Adirondack Mountains, New York City to coastal New England. Explore historical Boston, cruise the 1000 islands or simply enjoy the fiery colors of a lazy autumn afternoon. To make your reservation, call your travel agent or YMT Vacations at 1-888-756-9072.
---