---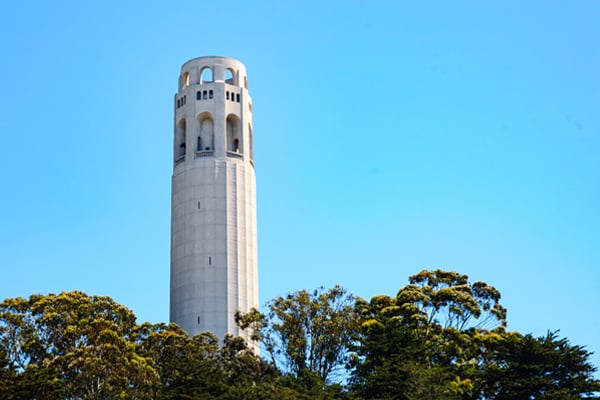 While most may think first of the Golden Gate Bridge and Fisherman's Wharf when they envision San Francisco, there are a number of other landmarks that make the colorful California city famous, including the strikingly white art deco Coit Tower.
This slender structure stands tall at the top of Telegraph Hill in northeast San Francisco's North Beach neighborhood. Coit Tower is an important part of the city's history and the view from the observation deck is one of San Francisco's best.
Coit Tower's History
Coit Tower was built in 1933 as a monument to the legacy of Lillie Hitchcock Coit, a wealthy San Francisco woman known for her generosity to the city's firefighters.
The bighearted eccentric, nicknamed "Firebelle Lil," had been embraced by San Francisco's firefighting community since she helped knickerbocker Fire Engine Co. No. 5 get their hand pulled and pumped fire engine up one of San Francisco's steep hills when she was just 15. She was named an honorary member of the fire company a few years later, a lifelong role that she took extremely seriously; Lillie rode along to fires and parades, attended banquets, and mourned right along with her fellow firefighters when one of their own died or fell ill.
When Firebelle Lil passed away in 1929, she left one-third of her substantial estate to San Francisco, "to be expended in an appropriate manner for the purpose of adding to the beauty of the city which I have always loved."
The city used the funds to build Coit Tower and dedicated it to volunteer firemen who had died.
Coit Tower's Murals
The tower was not designed to look like a fire hose, as many believe to be the case—the resemblance is more of a happy coincidence.
Within the tower, there are 27 Diego Rivera-influenced murals painted by 26 Californian artists. Funded by the Public Works of Art Project in 1934, these murals, many of which were quite politically controversial at the time, captured some of the quintessential moments of the Great Depression in California.
Coit Tower Visitor Information
Coit Tower hours vary by season. Summer hours, in effect from May to October, are 10 AM to 6 PM. Winter hours, in effect from November to April, are 10 AM to 5 PM.
Admission to the first floor—including many of the murals and Coit's lovely café and outdoor area—is free. Docent-led tours of the lobby and 2nd floor murals are $8 per person, while admission to the observation deck—reached by an elevator and two flights of stairs—is between $6-9 for adults.
Views of the city from Coit Tower are some of San Francisco's best. From the observation deck, visitors can enjoy 360-degree views of San Francisco. Weather permitting, they will be able to see the cityscape, Alcatraz, the Golden Gate Bridge, and hopefully the wild parrots of Telegraph Hill. This is an ideal opportunity for guests to snap some candid shots, so they won't want to forget their cameras when they visit the tower.
Join YMT Vacations on one of our vacation packages that stop in San Francisco. Book your place on our Sights of the Pacific Northwest tour to experience the City by the Bay for yourself, including free time to visit Coit Tower. Call your travel professional or YMT Vacations at 1-888-756-9072 to book!