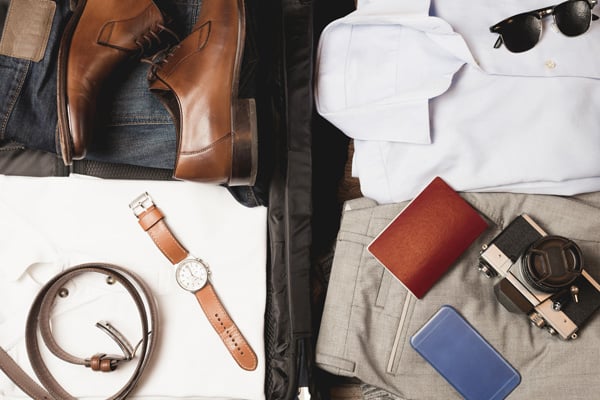 You've been looking forward to your YMT Vacations Cruise for a long time. Your bags are packed and ready to go with everything you need – or so you think! Knowing what to pack for a cruise may seem straightforward, but vacations on a cruise ship are very different from land travel. This is especially true if you are booked on a transatlantic cruise, which can last up to 4 weeks. Before you zip up your suitcase for good, review these 10 must-pack items:
Passport and Visa
If your cruise involves visiting ports in foreign countries, you must have appropriate identification, usually in the form of your passport and any required visas. When in doubt, call your cruise operator to confirm required identification.
Medications
Forget your medications at home and you may have to go days without access to a pharmacy. Medications are one of the most important items you'll need to pack, and you should have easy access to them at all times.
Seasick Wristband
If you are prone to motion sickness, a wristband may prevent illness while sailing, or during a port of call excursion.
Sneakers
Even if you plan to spend most of your time relaxing poolside, pack more than just flip-flops. Excursions may require plenty of walking, and ship activities may include rock climbing, zip lining, and dance lessons. Pack a comfortable pair of sneakers to keep your feet feeling good.
Formal Attire
If your ship has formal nights, you'll want to get a little extra dressed up. Women can pack a cocktail dress or nice pants suit, while men can bring a suit.
Sun Protection Items
If your vacation coincides with summer, be sure to have all the essentials you need to protect yourself from the sun. This includes hats, a shawl to drape over your shoulders, sunscreen, sunglasses, and aloe vera.
Alarm Clock
It's a good idea to bring a portable clock since most cruise ships do not include alarm clocks in rooms. Don't miss out on popular activities because you lost track of time. Invest in a small clock that can fit into a small crevice in your luggage if you prefer not to use your phone as an alarm.
Power Strips
Cruise cabins rarely have enough electrical outlets for all devices. Include a small surge protector in your luggage.
Clothes Hangers
It may feel weird bringing clothes hangers on board, but you are unlikely to get more than a few of them in your room. With extra hangers, you can ensure your clothing is appropriately organized for easy access, and to keep them as wrinkle-free as possible.
Sanitizer and Wipes
Germs can spread quickly on cruise ships. As a precaution, use antibacterial wipes to disinfect high-touch surfaces in your cabin. Keep a travel-sized hand sanitizer with you at all times, as well.
Cruises are convenient because you only have to pack once for multiple destinations. Just make sure you pack everything to keep you comfortable, whether you take a river cruise, a cruise along the Inside Passage or a longer transatlantic journey with YMT Vacations. If your packing list for a cruise did not include some of these items, purchase them before your departure date.