I don't like to fly. However, if it means getting somewhere I really want to go, I will put up with my own misery for the end result. Going to Cuba was just such a destination. We left San Diego airport early morning July 1, the beginning of an unforgettable adventure.
Most of my friends and family had reacted the same way when I told them of our travel plans. Comments ranged from "How exciting!" and "That's on my bucket list!" to "Why?" Regardless of the viewpoint, the initial response was always one of surprise. I suppose it's not a common destination, at least not for Americans. That may change soon.
Let me share with you how my journey began. I am a writer. I published my first book in 2013, a memoir covering two years I lived in Iran in the 1970s. In 2014 I got the idea for a novel. I knew the premise but didn't know where it would take place. And then it hit me. I remembered my mother telling me that before she married my father she and a girlfriend had travelled to Havana, Cuba. This would have been in the late 1930s. I could kick myself for never asking any questions about the trip! I decided that Cuba would be the location for my novel. I would have to create the story myself. This became "The Story She Had to Tell."
While I was writing the book, my husband read about a Cuban "People to People" program in the Los Angeles Times. He suggested I contact them and get information about their trip options. Really? I contacted this particular agency and told them what we wanted, where we wanted to go and how much we wanted to spend. She eventually emailed me a package that looked nothing like my wish list. And so I put that agency aside and googled "Travel agencies that go to Cuba."
That's how I found YMT Vacations. I saw that they had been in business since 1967. That told me that they must be doing something right. I contacted them and a very friendly woman listened to my 'must haves' and followed up with an email. The trip was exactly what I wanted and the price was very reasonable. It suddenly became real. We might actually be going to Cuba!
We flew from San Diego to Miami. At the airport in Miami we were greeted by a YMT representative who got us to our hotel, a Holiday Inn. After checking in we were told to meet in the 9th floor conference room at 7:00 pm for an orientation. We got to our rooms, freshened up and had just enough time for dinner before the meeting.
At the orientation we met our tour director, Celiece Reid. My husband and I are seasoned travelers and therefore are pretty adept at sizing up a tour guide. Celiece was very upbeat, warm and an excellent source of information. There were forms to fill out which initially seemed daunting after hours of travel and little sleep. She made the process simple and painless. We liked her immediately.
The next morning we were to meet in the lobby with our packed suitcases at 4:30 am. Yes, you heard right, 4:30! We had an 8 am flight to Santa Clara, Cuba, our first destination. There were 31 of us on the tour. We were all in a fog that morning, sleep deprived but excited at the same time. We were going to be doing this together. None of us had ever been to Cuba before. Here we go!
It was a very short flight, I think 55 minutes. My kind of flying. We arrived at a small but functional airport. I knew immediately that I was not in the U.S. We were in the baggage claim area which had a roof over it but was open on all sides. It was hot and very humid. I saw a black dog, similar to a Lab, walking the entire floor, sniffing at suitcases and packages. The military was there, keeping an eye on things. We turned over the first of two visas and one by one had to step into a small cubicle where we were questioned and photographed by a Cuban official. "Why are you coming to Cuba?" "What is your profession?" "Are you bringing any gifts with you?" And then our picture was taken and we walked out the narrow door into the main area. The process was not nearly as intimidating as our airport experiences in Russia. This was a piece of cake in comparison.
We collected our luggage and hopped onto our air conditioned tour bus. It was then that we met our second tour guide, a Cuban named Liban Diaz and our bus driver, Juan. Juan spoke almost no English but was an amazing driver and a true gentleman. Liban could have made a living as a stand up comedian. He had a dry sense of humor (my favorite) and besides filling us with enormous amounts of interesting information about Cuba, kept us entertained. With Juan, Celiece and Liban (Pronounced LeeBAN), I knew we were in for a good trip.
We got to our hotel in about an hour and a half. It was at the end of a thirty mile causeway. A five star hotel called "Playa Cayo Santa Maria." This was a beautiful beach resort where we were told everything was included – that meant all meals, all drinks, all entertainment. Wow! It was actually all inclusive for any guest staying there. Nice. We were greeted with a glass of champagne as we got off the bus. Cuban music flooded the reception area. Time to party!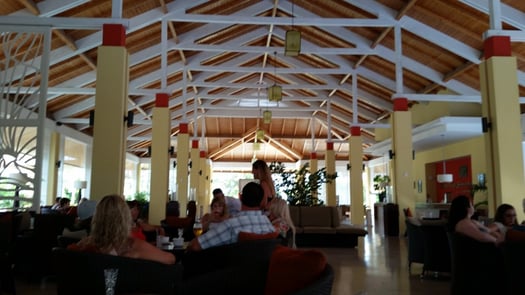 The next day after our free breakfast, we got on the bus for our first day of sightseeing. I am not going to talk about every place we went and everything we did, just highlights of our trip.
You need to understand what is meant by a "People to People" program. It is not a tour, nor is it a vacation. It is an opportunity for interaction with and mutual understanding of the Cuban people and culture. The itinerary is set up so that every day you learn a little bit more about Cuba and its people, even to the point where some of you may feel a kinship with them. It is a very distinct and special program that satisfies the need for understanding a culture unlike your own.
With YMT, this was accomplished in intimate settings with the Cuban people as well as daily "history lessons" given by either Liban or Celiece which taught us of Cuba's past struggles for independence and the brave souls who gave their lives for their country. We were encouraged to take notes, as the information provided was invaluable to our overall experience.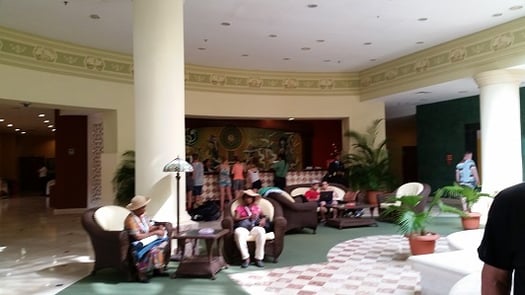 As we all got to know each other, it became apparent that our reasons for going were as varied as our ages and personalities. "I have always wanted to go there." "I have ancestors from Cuba." "It sounded like an interesting place to go." And you know my reason. I had to go because I had just spent eight months writing about Cuba! I had done research for the book and felt as if I knew the country already, if only a little. My characters, Madeleine and Carlos, met at the Tropicana Night Club so that was definitely on my list of places we had to go. As it turned out, we did get to go there. You'll read about that experience in a bit.
On the fourth day we drove the roughly five hour drive to Havana. There were stops along the way but by late afternoon we arrived at our final hotel for the trip – "Hotel Quinta Avenida" (Fifth Avenue Hotel). Another magnificent hotel, with an old world flavor. Here we were greeted in the lobby with mojitos. A great way to end a long day of travel.
The following were some of my favorite experiences on the tour.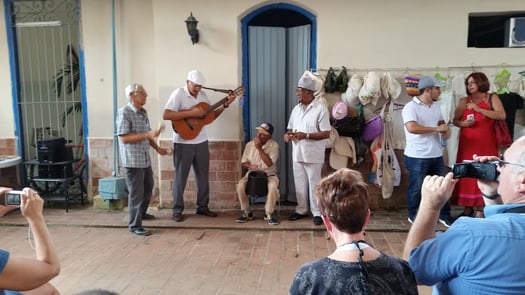 JOYS OF LIVING
Our first day there we visited a community center for senior citizens named "Abeulos de Fiesta." These were people in their 70s and 80s who were full of life. They played music for us and danced the original Cuban dance called "danson." Soon they were asking people in our group to dance. Some of them did. My husband was one of them. They spoke of all their usual activities, including sports, dancing, charity work, theatre, etc. They demonstrated a game (similar to baseball) that they played as children and continue to play to this day. I came away with a deep respect and admiration for their zest for life and youthful spirits. They were truly remarkable.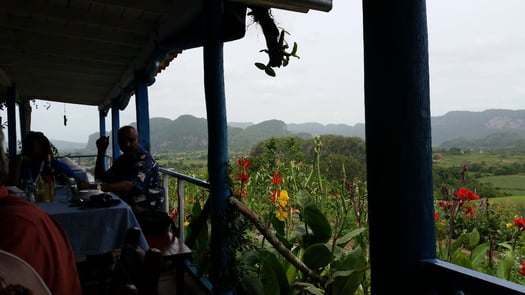 ORGANIC FARM (Havana countryside)
Lunch on Day 5 was at an organic farm, "Finca Agroecologica," family run and operated. In Cuba a Paladar is a private restaurant, sometimes within a person's home, where you sit down to a home cooked meal. We ate that day at "Paladar de Vinales." (This was at the farm.) Everything they served came from the farm. We were treated to plantains prepared several different ways, fresh tomatoes and cucumbers, avocado as well as guacamole, cabbage, home- made potato chips and salsa and vegetable soup. All of that was followed by pork, chicken and fish! And then for dessert an amazing flan dish served with specially prepared mango. The hosts were friendly and gracious. Some of the women in our group were rounded up to help in the kitchen. It felt like one big family. We left with full stomachs and full hearts.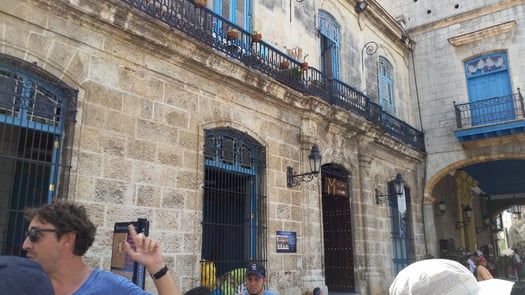 WALKING TOUR OF OLD HAVANA
We took our bus to Old Havana where we met up with a Cuban architect named Daniel. He took us around the City and spoke of future plans for renovation for many of the buildings there. He knew these buildings intimately, having already worked on many of them. He showed us the pink hotel, Hotel Ambos Mundos, (not pictured here) where Hemingway lived from 1932 to mid 1939. That was when he rented and later purchased "Finca Vigia," a beautiful home, 15 miles outside of Havana. It was there that he wrote "The Old Man and the Sea" and a portion of "For Whom the Bell Tolls."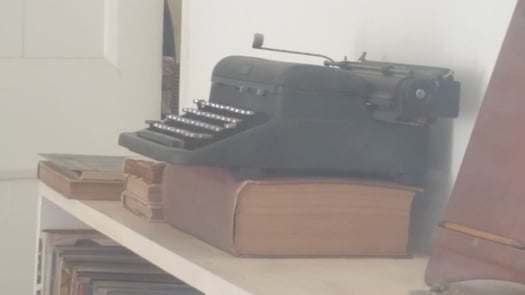 HEMINGWAY'S HOME ("Finca Vigia")
On our last day we went to Ernest Hemingway's home outside the City. A beautiful home and bungalow. It also housed his boat, "Pilar." We could not enter the home but it was completely open for us to take pictures of the interior. We saw the typewriter where he did much of his writing – and standing up, by the way! Being fascinated by the man, I truly enjoyed this look into his life.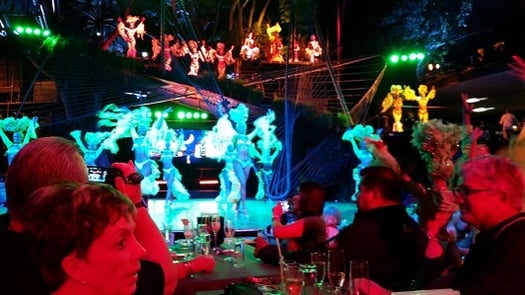 TROPICANA NIGHT CLUB (Optional Havana excursion)
As I mentioned, this was a foregone conclusion for me. I had to go there! There were about 13 of us that went. We had to meet in the lobby of our hotel, dressed in our fanciest attire, by 9 pm. I had to laugh. At home that would be the time when we were thinking about going to bed! We got into our respective taxis and off we went. It was only fifteen minutes from our hotel. We pulled up to the big sign "TROPICANA" and I thought my heart would burst with excitement. I was about to go into the place where my characters first met and fell in love.
My first surprise was that it was an outdoor theatre. I had imagined it indoors. I was told that in the early days, the casino was indoors but not the stage. There was a huge stage in front, higher than the tables for guest seating. There were long tables, covered in table cloths, each providing seats for about ten to twelve people. The show was quite spectacular with dancers in their headdresses and colorful costumes, dancing all around us. The singers were great. (I found this to be true no matter where we were in Cuba.) I have become a strong devotee of Cuban music. The night was amazing and I came home with stars in my eyes.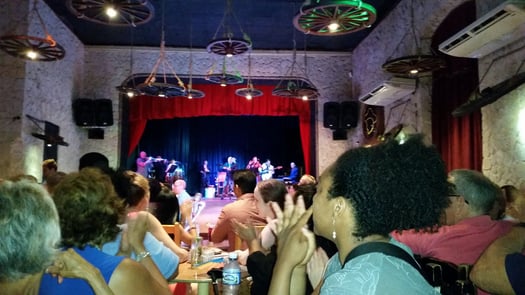 BUENA VISTA SOCIAL CLUB (Optional activity in Havana)
The Buena Vista Social Club was originally a members club where musicians would meet and play in the 1940s. Musicians later formed a group which took on the name "Buena Vista Social Club." Most of the original members have passed away but younger musicians have taken over and continue to play their music today. I know for a fact that they have performed in the U.S. as well. We went that night, along with about 15-20 members of our group. It was a second late night in a row for us but we endured. Several in the audience, including people from our group, were invited on stage to dance while the band played. I remember thinking as I was dancing up there, "This is a moment, Sarah, that you will never forget." Indeed.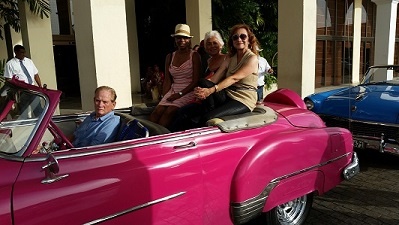 DRIVE THROUGH HAVANA IN CLASSIC CARS
When most people think of Cuba, they think of old American cars. And absolutely, that is what you see on the streets and highways, 1940s and 1950s American cars, predominantly Chevies. We did see a few non-U.S. cars but American made were the majority.
On one of our last nights there, we got together and rented six classic 1950s convertible cars and were driven all over Havana. Honking horns, waving at people, we were definitely celebrities. I felt like a teenager and loved every minute of it.
RELFECTIONS
It took me a few days before I felt Cuba. Initially I was struck by the stunning architecture of the buildings that had been worn by time and neglect. I was saddened at first but then I tried imagining how magnificent they were fifty years ago, like beautiful women in their most gorgeous designer gowns, parading in front of a public humbled by their exquisiteness.
And then there was the music, a combination of African and Spanish influences. Something about the music that enters your ears and fills your heart and soul. It moves you and defies you to stand still. I couldn't.
The food, like garlic chicken, black beans and rice, mangos, guava, plantains….. A gift for the palate. The cocktails were delicious as well – mojitos, cuba libre, sangria.
But most importantly, Cuba is the people, warm and welcoming. You know that if you return, you will be greeted as if you were long lost family.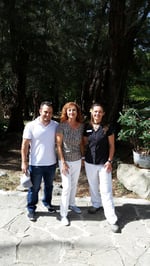 My husband and I have travelled to many places and taken almost as many tours. We were both very impressed with the quality and value of this YMT "People to People" experience in Cuba. If you are considering such an adventure (and I would recommend you do so before the country changes from old world charm to the twenty-first century and McDonalds!), do not book your trip until you have spoken with YMT and checked out the itinerary and pricing. At least for the immediate future, should you book a Cuban trip with them, you will have the same two amazing guides that we had, Celiece Reid and Liban Diaz.
http://www.ymtvacations.com or call (800) 922-9000. Via con Dios!
Sarah Tauber