---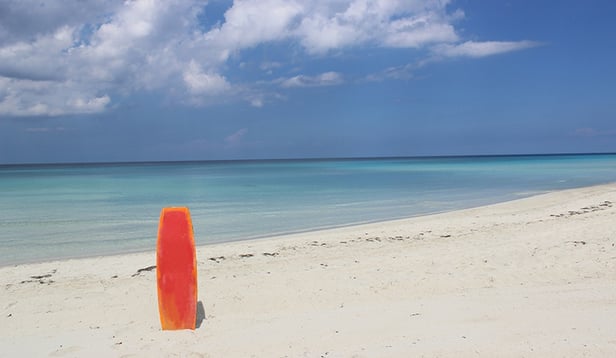 If Cuba is the forbidden fruit of travel, then the Isle of Youth is its most tempting indulgence.
---
Cuba is often seen as the island time forgot. The polished chrome bumpers and bulging headlights of old Chevy Bel Airs haven't changed since the days when America first pulled up stake and left Castro's regime, and the crumbling Spanish-Colonial palaces still appear straight out of a 1950s movie scene. But if it seems time has ground to a halt in the capital city of Havana, it's nothing compared to life on the Isle of Youth.
Remote and removed from the rest of the world, this comma-shaped island sits tucked away 60 miles beneath the shelter of the mainland. The seventh-largest island in the West Indies, La Isla de la Juventud is considered to be the inspiration for Robert Louis Stevenson's Treasure Island as well as J.M. Barrie's Peter Pan. In the 16th and 17th centuries, Spanish convoy ships clashed with privateers in the coves of this storied isle and swashbucklers, scalawags, and buccaneers authored the first chapters of its story.
After Spanish rule and an uncertain fate under the terms of the Treaty of Paris, the Isle of Youth finally came to be the part Cuba where it was later hyped to be the crown jewel of the Caribbean tourist scene. El Colony, a motorcourt-style property built as a Hilton, was among the first properties to open alongside postcard-worthy seas and ringed by towering palm trees. However, just weeks later the Cuban Revolution struck and the hotel now sits all alone on a solitary stretch of Red Beach. Today, the Isle of Youth is Cuba's least developed landmass. With few accommodations, sparse infrastructure, and flight service that is only offered when a plane can be commandeered from another part of the country, it is the antithesis of a modern Caribbean island getaway.
But while it may not make most "top 10 travel lists," perhaps the Isle of Youth's relative anonymity is exactly why you should go.
From miles of sandy beaches to authentic Cuban cuisine, sweet Cuban coffee to Castro's ill-fated university that lies abandoned among stands of pine and mango trees, there is much to be discovered on "Treasure Island." Hop aboard a dive boat where you can swim with hawksbill turtles or fish for mammoth grouper. Hike the island's marble mountains or simply relax on a white-sand beach in the shadow of a cove where pirates once dropped anchor.
---
You can visit Punta Frances on the Isle of Youth on YMT Vacations' All Inclusive Colors of Cuba Cruise. This 10-day People-to-People journey begins in Montego Bay, Jamaica before embarking on a 7-night cruise with stops in four Cuban ports of call. Enjoy on-board activities and shore excursions that help you delve deeper into Cuba's culture, history and cuisine. To make your plans to join this once-in-a-lifetime trip, call you travel consultant or YMT Vacations at 1-888-756-9072.
---