---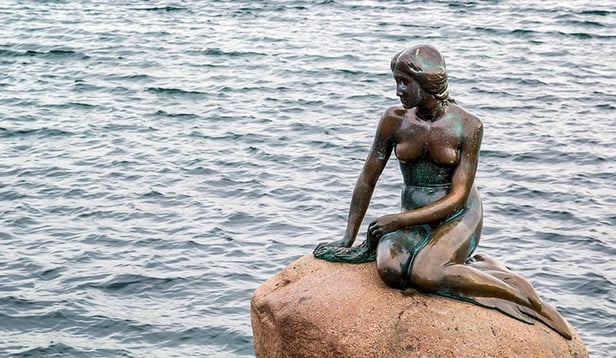 A beautiful, wistful young lady astride a submerged rock just off Copenhagen Harbor, The Little Mermaid statue is one of Denmark's most popular tourist attractions. Mostly beloved, she has lived an exciting 100+ years since first being sculpted early in the 20th century.
The famous statue is based on a character from an 1830 Hans Christian Andersen fairytale. The youngest daughter of the widowed Sea King yearns for a chance at love with the handsome human prince she saves from drowning. Carl Jacobsen, a local brewer, was so touched by a ballet performance of the story he saw at the Royal Danish Theatre that he commissioned The Little Mermaid statue, Edvard Eriksen's masterwork. The famous Disney film version of The Little Mermaid is based on the original story, but has a significantly happier ending—unsurprising given the characteristic tragedy and horror found throughout Anderson's authentic fairytale.
The Little Mermaid's Timeline
Because of the popularity of her story, Copenhagen's Little Mermaid has gotten a lot of attention over the years. Here are just a few of our favorite The Little Mermaid facts:
1830 – Hans Christian Andersen writes his most popular fairytale—a melancholy story about art, longing, and self-denial set in the tumultuous undersea world of mermaids and mermen.
1913 – Wealthy Copenhagen brewer Carl Jacobsen commissions local sculptor Edvard Eriksen to create a statue of the story's heroine.
1964 – Her first beheading. A new head must be forged after the original is sawed off with a hacksaw. Many people claimed responsibility for the crime in the following decades, including artist Jorgen Nash, who claimed over 30 years later that he'd done it in a fit of rage after being abandoned by the love of his life.
1984 – A pair of drunken young man saw off her arm, then return it a few days later.
1989 – Disney's hit animated musical The Little Mermaid is released.
1990 – A failed attempt at another beheading leaves the mermaid with a 7-inch-deep gash in her bare neck.
1998 – She is beheaded once again. Her head is sawed off and held captive for several days before being returned and reattached. The head thieves are never found.
2003 – She is blown up; blasted off her stand by powerful explosives. She doesn't sustain much damage, and is returned to her perch after being rescued from the water.
2013 – She turns 100 years old.
See Her in Person!
When she has one, The Little Mermaid is the head of Copenhagen's welcoming committee and a must-see sight in this incredible city. Many of our transatlantic cruises and European vacations, including our Russia & Baltic Sea Cruise and Tour and Norwegian Fjords Explorer, have stops in Copenhagen. You are sure to find a tour that fits your traveling style while you visit The Little Mermaid, Denmark's leading lady. To make your plans to join this extraordinary journey, call your travel consultant or YMT Vacations at 1-888-756-9072.