---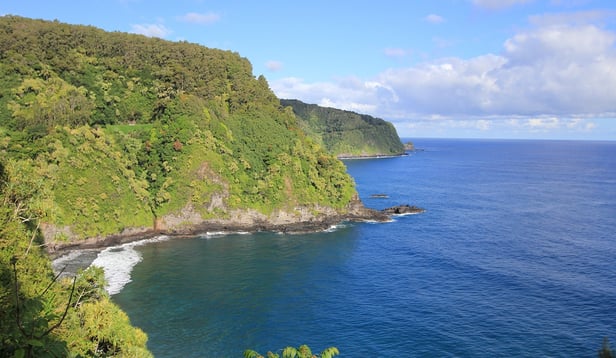 With the windows rolled down and the breeze rushing through your hair, it's easy to see why the Road to Hana is one of the world's most magical drives. Dotted with lush tropical forests and dramatic waterfalls, it bends and curves through the remote countryside rewarding you with spectacular views of the sparkling blue Pacific and its dramatic black-sand beaches. This is proof that the joy is truly in the journey.
Sight-Seeing Along the Hana Highway
While the drive takes about three hours to go from Lahaina or Kihei, there's no reason to hurry. Instead, take your time and enjoy a picnic overlooking the beach in a secluded spot the guidebooks forgot to mention. Pull over to the side of the road to stroll along a stretch of coastline as the sun dips behind the clouds or simply turn up the radio and sing along as you cruise this Eden paradise. While it's just 50 miles to the conclusion of your journey, avoid rushing your way past the taro patches and botanical gardens that hug the highway and soak up the experience. Hike through bamboo forests or play like children in a hidden pool fed by a waterfall, stop for a bite to eat in the bohemian village of Paia, or count the more than 60 one-lane bridges that dot the famous drive.
---
The next time your travels take you to Hawaii, make some time to go exploring down a road that seems to lead nowhere. On YMT Vacations' Hawaiian Islands Cruise & Tour you'll spend a few glorious days in Maui where perhaps you will sneak away, rent a Jeep and take a drive down the Hana Highway. This 12-day journey combines a week-long cruise with an exciting land tour. Along the way you'll visit Honolulu and the Punchbowl Crater, stroll Waikiki Beach and visit the moving USS Arizona Memorial at Pearl Harbor. To make your reservation to join this once-in-a-lifetime itinerary, call your travel agent or YMT at 1-888-756-9072.
---