---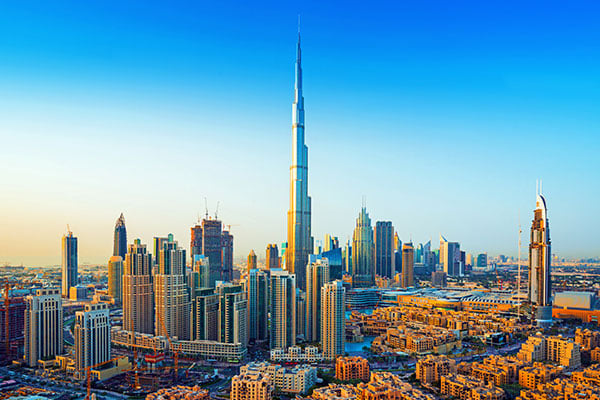 The Burj Khalifa was designed to impress. A record-breaking feat of engineering, it stands at 830 meters, over half a mile, high above the United Arab Emirates' city of Dubai. It took five years and over $1.5 billion to construct the tallest building in Dubai and the world, and as you can imagine, it contains more than its fair share of interesting facts.
Burj Khalifa History
The government of the United Arab Emirates dreamt up the Burj Khalifa as a way to improve the nation's image. They wanted to change the UAE's impression from that of a wealthy oil producer without much draw for tourists, to a country that could attract travelers from around the world. They thought that more foreign tourism would lead to more foreign investment. The Vice President and Prime Minister of UAE, Sheikh Mohammed bin Rashid Al Maktoum, oversaw the project with the goal to "put Dubai on the map with something sensational."
The name Burj Khalifa is made of two Arabic words—"Burj," which means building or tower, and "Khalifa," the surname of the United Arab Emirates' king, Sheikh Khalifa bin Zayed al-Nahayan.
Burj Khalifa Construction
Skidmore, Owings and Merrill, the same team responsible for Chicago's Willis Tower (formerly Sears Tower) and the One World Trade Center in Manhattan, were the architects of the Burj Khalifa. The building fuses many modern design elements seen in the most other tall buildings, with the traditional terraces and spires of Islamic architecture. It was created to withstand earthquakes, inclement weather, and winds of up to 150 mph.
Construction began on January 6, 2004, and the building was officially opened on January 4, 2010. It took an estimated 22 million man-hours to build the monolith out of 110,000 tons of concrete and 55,000 tons of steel rebar; at the peak of construction, 12,000 laborers worked on the building per day.
Burj Khalifa vs. Other Tall Buildings
Measured from its lowest pedestrian entrance to the top of its highest spire, and not including antennae flagpoles, or signage, based on the parameters set by the Council on Tall Buildings and Urban Habitat (CTBUH), the Burj Khalifa is the tallest building in the world. It's triple the size of the Eiffel Tower and double the height of the Empire State Building. It's big, but how big? Let's compare:
Burj Khalifa in Dubai, United Arab Emirates. 828 meters; 2,717 feet; 163 floors; opened in 2010.
Shanghai Tower in Shanghai, China. 632 meters; 2,073 feet; 128 floors; opened in 2015.
Abraj Al-Bait Clock Tower in Mecca, Saudi Arabia. 601 meters; 1,971 feet; 120 floors; completed in 2012.
Ping An Finance Center in Shenzhen, China. 599 meters; 1,965 feet; 115 floors; completed in 2017.
Goldin Finance 117 in Tianjin, China. 596.6 meters; 1,957 feet; 128 floors; completed in 2019.
Lotte World Tower in Seoul, South Korea. 554.5 meters; 1,819 feet; 123 floors; completed in 2016.
One World Trade Center in New York City. 541.3 meters; 1,776 feet; 104 floors; completed in 2014. The tallest building in the Western Hemisphere, the United States, and North America. Tallest building outside of Asia.
Guangzhou CTF Finance Center in Guangzhou, China. 530 meters; 1,739 feet; 111 floors; completed in 2016.
Tianjin CTF Finance Center in Tianjin, China. 530 meters; 1,739 feet. 98 floors; completed in 2018.
China Zun in Beijing, China. 528 meters; 1,732 feet; 108 floors; completed in 2018.
Burj Khalifa By Floor
The tallest building in Dubai is a mixed-used building. It houses everything from a 5-star hotel to the highest nightclub and highest restaurant in the world.
Here is the Burj Khalifa by Floor:
Ground- 8, 38-39: Armani Hotel
9–16: Armani Residences
17–18, 40-42, 73–75, 109–110, 136–138, 155, 160-163: Mechanical
19–37, 44–72, 77–108: Residential
43, 76, 123: Sky lobby
111–121, 125–135, 139–147, 149–154: Corporate suites
122: mosphere restaurant
124: Sky Level Observation deck, At the Top observatory
148: The New Deck observatory
156–159: Communication and broadcast
Burj Khalifa World Records
The Burj Khalifa was designed to shatter records, beyond just being the world's tallest building. It succeeded in setting numerous world records, including:
Tallest existing structure: 829.8 m (2,722 ft)
Tallest structure ever built
Tallest freestanding structure
Tallest skyscraper
Building with most floors: 163
World's longest travel distance elevators: 504 m (1,654 ft)
World's highest nightclub: 144th floor
World's highest restaurant (At.mosphere): 122nd floor at 442 m (1,450 ft)
World's highest New Year display of fireworks
Attractions Around the Burj Khalifa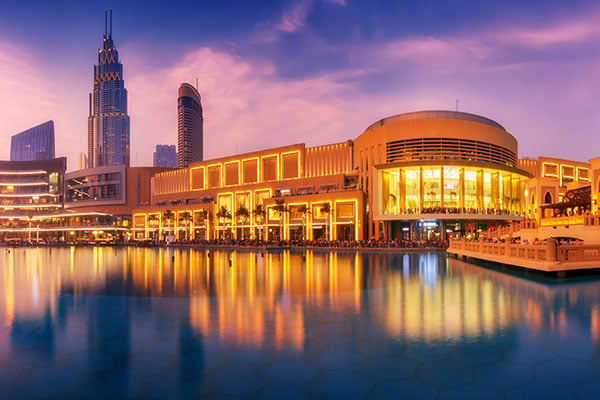 The Burj Khalifa's location in downtown Dubai puts it in the middle of the action, surrounded by of a variety of unique attractions:
Visit Dubai and the Burj Khalifa with YMT Vacations
If you'd like to visit the world's tallest building, we'd love for you to join us on Jewels of Arabia, which includes time in Dubai and a journey to the 124th floor Sky Level Observation deck of the Burj Khalifa.
To join this unforgettable journey, grab your passport, pack your bag, and call your travel professional or YMT Vacations at 1-888-756-9072 to book.