---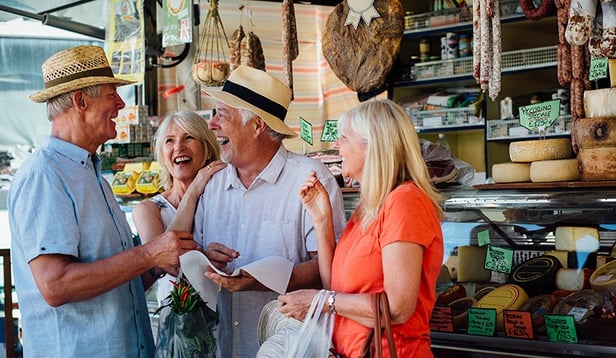 The kids are grown and you've just retired from work. Now you're ready to travel the world, but with so many places to go and things to see, you'll need to make sure that you don't break the bank or affect your fixed income. Here are a few ideas for how to plan a money-friendly trip, particularly how you can eat on a budget while traveling:
---
Avoid Group Meal Plans -- When traveling with a group tour, you're often obliged to eat from a meal plan. Not only does this limit your food choices, it also obligates you to buy meals you may not wish to eat. For example, if you don't typically eat breakfast or you frequently opt for a muffin on your way out the door, an entire English Breakfast may be more than you need.
A La Carte is Best -- A great way to shave your costs is to order things according to your own budget. At YMT Vacations, we understand that not everyone's financial situation is the same. By ordering your own meals, you'll be paying for what you want, not what has been pre-decided for you.
Time Your Meals -- Another way to save money is to consider when you'll be dining. When you eat on a meal plan, your meal times and menus are already arranged. When you're on your own, you can splurge for a larger, heartier mid-day meal and avoid the hefty price tag associated with an evening meal in favor of a light end-of-day plate.
Head Outdoors -- Picnics let you select an affordable meal from a local grocery store and enjoy it outdoors where you can soak up the experience.
Don't Overlook Fast -- Fast food restaurants offer different experiences around the world. Check out something that you don't have at home for a quick and affordable bite.
Get Outside the Hotel -- More often than not, you'll pay more to dine in a resort than you will just down the street. Leaving the hotel will not only save you money but expose you to the local area as well.
Plan to Splurge -- While saving money is important, having a memorable, out-of-this-world experience is too. Save when you can but also plan for that special meal you'll always remember.


---
YMT Vacations is known for offering the lowest prices and unmatched value -- guaranteed. One of the ways this popular tour operator allows you to tailor your experience to your budget is by offering a la carte meals on domestic group land tours. The price you pay is bottom dollar because we don't tack on extras you may not want, that way you get the vacation of your dreams, not someone else's. To learn more about our itineraries and how you can join us for an unforgettable journey, call your travel agent or YMT at 1-888-756-9072.
---