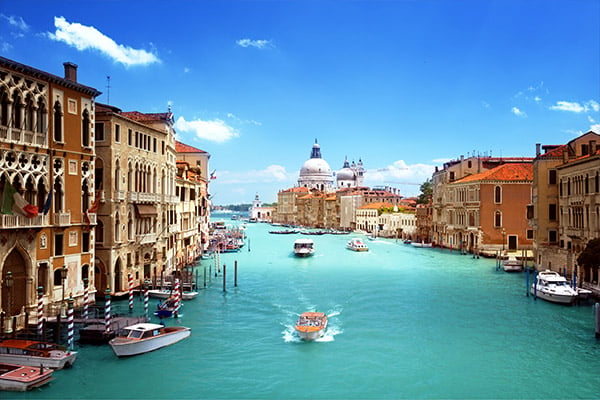 Taking a trip to Europe promises plenty of adventures and memories that will be cherished long after the trip. But an international trip also involves planning – and an important part of planning should include researching travel etiquette in Europe. As etiquette rules in different countries vary, you'll want to brush up on the current norms in the country (or countries) you'll be visiting.
Get familiar with the travel etiquette tips below as you prepare for your upcoming trip to Europe and you may find yourself blending in with the locals!
General Travel Etiquette Tips
European manners differ from American manners in various areas. Below are some of the general travel etiquette tips to know when visiting a European country.
Don't Assume Everyone Speaks English
Although many people in European countries speak English - or may know at least a little of the language – you don't want to assume everyone speaks English. It's always courteous to ask if the person speaks English, rather than presuming they do.
As a side note, if someone tells you they don't speak English but they actually do, give them the benefit of the doubt and don't be offended. Most likely, they are not confident in their English and may be self-conscious using it to converse with a native English speaker. Be encouraging and supportive by giving them a compliment and telling them you appreciate them being willing to speak English.
It will also be helpful (and fun!) to learn popular words and phrases in the main language spoken of the country you're visiting, whether that is Germany, Portugal, Britain or another place in Europe. No matter where you're headed, at a minimum, learn how to say the words and phrases below:
Please
Thank you
I'm sorry
You're welcome
Excuse me
Where is the bathroom
May I have
Do you speak English
Taking time to learn these simple words and phrases can go a long way in earning respect and trust in another culture. Not to mention, the more familiar you are with a language, the more comfortable you'll be getting around and asking for what you need – and you'll have more opportunities to connect with locals.
Volume Control
Americans tend to speak louder in public places such as restaurants, markets, cathedrals and museums. If you tend to speak a bit loudly in public, when traveling in Europe, you'll want to turn down the volume a bit. Aim for the volume you would use in a library.
Be Polite, Use Social Niceties When Asking Questions
Don't interrupt a conversation when you need to ask a question. In France and other European countries, it is considered rude to jump into a conversation with a stranger. So, instead of straight out asking where the bathroom is, for directions, etc., always preface your question with an "excuse me…" or "sorry to bother you…" Your question will be more well-received, and you'll get a much better response.
Don't Touch the Produce
Produce shopping in Europe isn't as touchy-feely as it is in the U.S. Instead of touching and prodding fruits and veggies to determine which ones you'll buy, first let the grocer know if you want to handle something. In Italy and some other countries, you'll likely be given a plastic glove to put on.
Dress Up a Bit
It's a cultural norm in Europe to dress up, whether you're headed to work or to meet a friend at a café. When packing for your European vacation, keep this in mind and pack formal attire, such as dress pants, blouses, button-downs and dresses. Keep the jeans and t-shirts to a minimum – especially in Italy.
European Dining Etiquette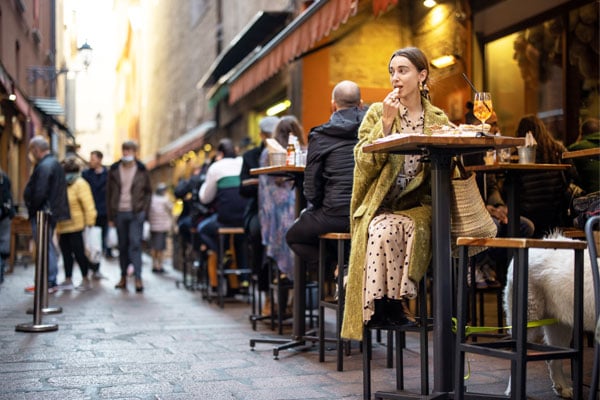 When dining in Europe, you'll find several differences compared to the traditional dining experience in the United States. Remember the European table manners below and you'll be able to relax and enjoy the food, atmosphere and company without having to wonder about the accepted etiquette practices.
Treat Your Server Like a Professional
While specific rules vary from country to country, overall, it's critical to treat your server like the professional they are. Basically, avoid doing or saying anything that would be considered treating them like they are a subordinate.
Don't Ask for Substitutions or Sides
In most European countries, especially France, try not to ask for anything that's not on the menu, including substitutions. In Italy, however, it may be more acceptable to ask for substitutions - If requested politely (throwing in some Italian words couldn't hurt, either!).
Don't Rush Your Meal
Waitstaff in Europe doesn't work for tips. Therefore, they're not concerned with turnover and won't check in on you as often as you may be used to. European staff is more focused on doing a good job and ensuring you are having a positive experience, so you can sit back, relax and enjoy your meal without rushing.
Ask for the Bill
You will need to ask for the bill when you're finished and ready to pay. It is considered rude to rush you by bringing the bill to you if you haven't requested it. Note that, in Italy, it's often customary to go to the front desk to pay, even in high-end restaurants, as the staff is very careful not to do anything that may bother customers.
European Continental Style
To signal when you've finished your meal, place your utensils at the 5:25 position on your plate. You can leave a fork with the tines facing up or down. That will show your server you've eaten everything you want to and lets them know they can clear your place and won't be interrupting your meal.
Don't Tip Like an American
Believe it or not, big tips are not the norm outside of the U.S., and this is certainly true in Europe. Most countries in Europe operate without tipping. Even though staff is aware that Americans are prone to tipping, they don't expect it or depend on tips. If you feel the need to leave something or want to acknowledge truly exceptional service, a small tip (a few extra euro or even just rounding up the bill) is appreciated but certainly not expected.
Learning European Customs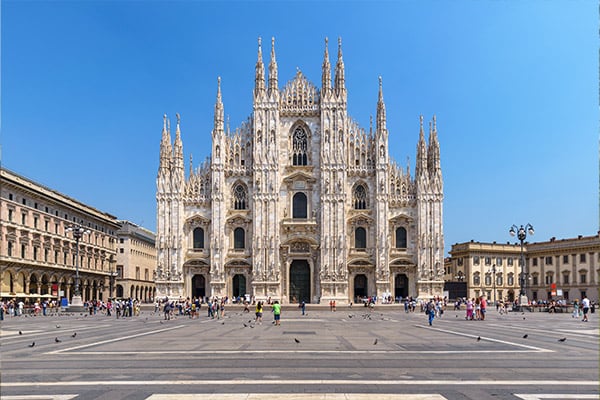 When traveling abroad to Europe (and anywhere else), it's good familiarize yourself with the local cultural norms before your visit. Even if you already know a lot, there's bound to be some European traditions you've never heard of! Something that may be seen as perfectly acceptable in the United States and that we don't give a second thought to may be considered offensive in another country.
For example, when visiting Italy, don't eat or drink near churches, public buildings or historic monuments – it's actually against the law in some Italian towns and cities!
When in France, always attempt to speak French before defaulting to English – even if it's just a friendly "bonjour" or "merci". Locals really appreciate any attempts to speak with them in French and consider it bad etiquette to assume they will speak English.
In Spain, you can expect later mealtimes than in other countries, with lunch typically taking place between 2-4pm and dinner after 9pm. When in Ireland, if you plan on stopping in some pubs, you'll want to know a wee bit about Irish pub etiquette.
As a general rule of thumb when visiting churches, mosques or temples in Europe, err on the side of covering up. This usually means you should cover your shoulders, wear long skirts or pants so your knees are covered and wear shoes. Some places also ask you to cover your head.

Planning Your European Vacation
Now that you're a pro at European etiquette, it's time to start planning your trip to Europe. YMT Vacations offers a fantastic selection of fully guided European Vacations & Tour Packages to choose from. To join us or get more information about any of our packages, call your travel professional or YMT Vacations at 1-888-756-9072