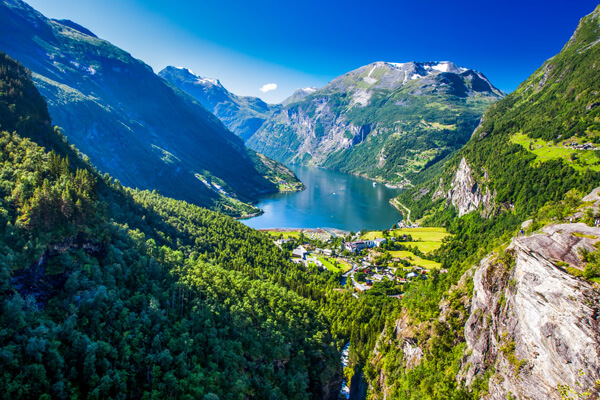 The otherworldly landscape of Norway's fjord region is uniquely beautiful. Created by precise geological conditions over countless millennia, the landscape that played host to Vikings is lush, dramatic, rugged, and utterly unforgettable.
The word "fjord" originated with the Vikings, and is a vital part of Norway's heritage that means, "where one travels through."
Visitors to Norway have the chance to visit numerous fjords and experience the distinguishing characteristics of each—from the near vertical cliffs and thunderous waterfalls of Geiranger to the spectacular beauty of the diverse surroundings of Sognefjorden, Norway's longest and deepest fjord.
Read on to learn more about how fjords are created, and about several of the most popular fjords.
How Are Fjords Formed?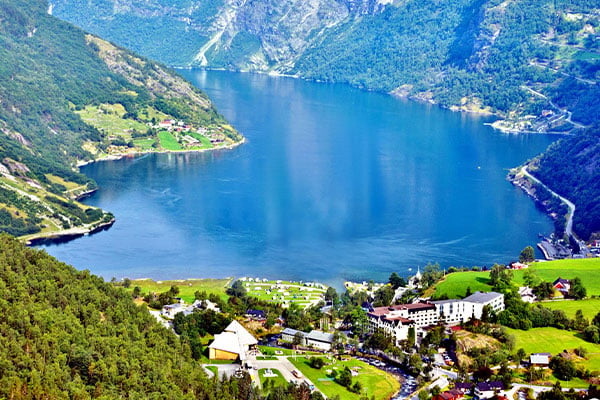 Fjords are created over many thousands of years when a glacier cuts a U-shaped valley—also called a glacial trough—through bedrock, and then retreats, cutting an even deeper gash. Because glaciers act as natural bulldozers, cutting bedrock and collecting debris as they move, this glacial back and forth creates a superdeep ravine.
Fjords are created, rather than more common glacial valleys, when the crevasse dips below current sea level. When sea water fills these inlets, they are then considered fjords.
Fjords are found throughout the world—most famously in Norway, but also in Alaska, Antarctica, Canada, South America, Scotland, and New Zealand.
Which are the Best Norwegian Fjords to Visit?
There are over 1,100 fjords running the length of coastal Norway, and many of Norway's most popular cities sit at the banks of these slender ocean inlets. Here are several of the most popular fjords, and the cities you can visit on their scenic banks.
Lysefjord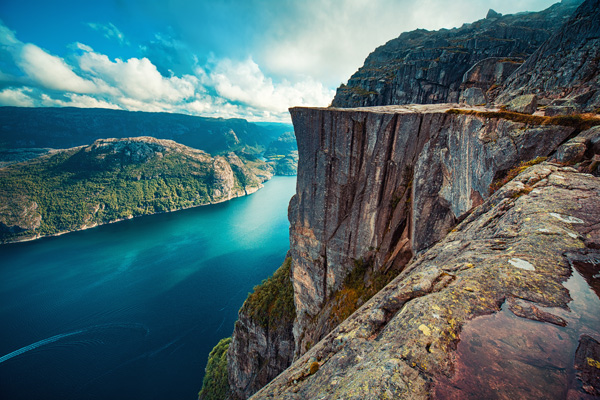 Lyseford is distinguished by two things: an abundance of marine wildlife (the seals are particularly vocal) and a distinct glow. Its name literally translates to "light fjord," because sunlight that bounces off the granite rock faces of the cliffs bordering the fjord casts a golden light on all but the foggiest of days.
Stavanger, Norway's fourth-largest city, is on the banks of Lysefjord and contains one of the country's best-preserved old towns. Lysefjord is also not far from Haugesund, which is considered Norway's birthplace and is full of dramatic history like burial mounds and a 10th century bear pit.
Geirangerfjord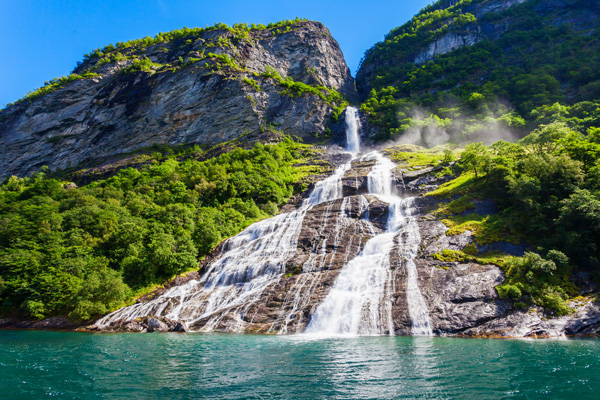 Geirangerfjord is widely considered Norway's most dazzling fjord. One of the country's leading tourist sites, it was Europe's best small ports, "Sprawled on a collection of rugged North Sea islands with mountains looming in every direction, Ålesund is the quintessential Scandinavian seaport. Ålesund could be the backdrop for a Nordic fairy tale—with a modern plot twist."
Geirangerfjord is also home to two of Norway's most beautiful waterfalls—Seven Sisters Falls and the Suitor. These two massive falls are positioned right across from one another, which legend says is so that the Suitor can woo its thundering neighbor.
Fun Fact: Fans of Disney's animated hit Frozen will be delighted to recognize Geirangerfjord as the inspiration for Arendelle, the fictional kingdom where plucky snowmen come alive.
Sognefjord
Sognefjord is nicknamed of "King of the Fjords." Norway's largest fjord covers a variety of landscapes, including the pristine mountains of Jotunheimen National Park, and the dazzling blue Jostedalsbreen glacier.
Stretching over 127 miles from the ocean inland, it reaches 4,291 feet at its deepest, and is nearly 4 miles across at its widest. It runs through many of Norway's prettiest towns and municipalities, including colorful Bergen. Sognefjord's coastline is expansive—totaling over 310 miles, more than the Italian and French Rivieras combined.
Nordfjorden
Visitors to the bustling and historic village of Olden will love looking out onto the expanse of Nordfjorden. Norway's sixth longest fjord covers 66 miles, starting at the Jostedalsbreen, mainland Europe's largest glacier, and flowing west into the ocean.
Visit Norway's Fjords with YMT Vacations
National Geographic calls the fjords "the best unspoiled travel destinations in the world," while the Chicago Tribune lists them among the "Seven Wonders of Nature."
Call your travel professional or YMT Vacations at 1-888-756-9072 to see these remarkable natural wonders yourself on a Norwegian Fjords Explorer Cruise!