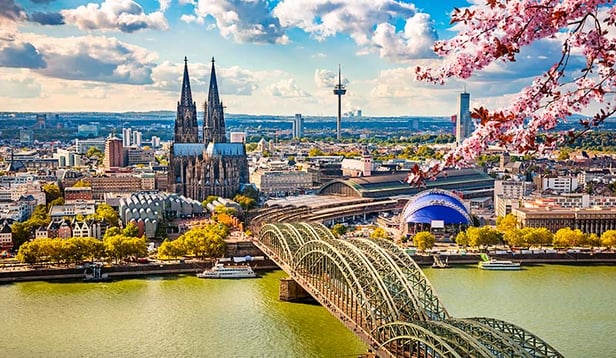 You may have to catch your breath a time or two as you climb the 509 steps to the dizzying heights of the Cologne Cathedral gallery. Housed in the 318-foot south tower, it is the highest church tower in the entire world, and once the tallest man made construction of any kind on the planet.
---
In its day, residents of Cologne were born and died as they awaited the cathedral's completion; generation upon generation came and went during the 600 years that it took to build the Dom. Such workmanship was required for the majestic house of worship that would contain the relics of the Three Magi to Cologne, establishing the city as a major pilgrimage destination. In fact, those relics are still on display in the 12th century reliquary behind the high altar of the church.
The cathedral is the most-visited attraction in all of Germany and was once referred to as "one of the finest cathedrals in the world" by the poet Petrarch; but that's not all there is to see in the city of Köln, or Cologne as we would call it.
Begin your explorations at the nearby Germano-Roman Museum. While building an underground air-raid shelter in 1941, workers of this museum discovered ancient Roman foundations below the site including a perfectly preserved mosaic floor. Next, head to the Museum Ludwig, which features 2,000 years of Western art and architecture, and the Wallraf-Richartz Museum, a treasure trove of paintings. Finally, take a sniff around the Fragrance Museum that honors the "father of modern perfumery" who created the iconic "Eau de Cologne."
Don't forget to visit the Belgian Quarter for off-beat, quirky boutiques and up-and-coming labels before sitting back and relaxing with a Kölsh in one of the city's many brewhouses surrounding the Dom Platz. Just make sure to finish the day with a stroll with your beloved across the "padlock bridge" where you can seal your commitment and then throw away the key in the Rhine River below.
---
You can explore the city of Cologne on the YMT Vacations' Tulips, Lowlands and Romantic Germany tour. This 10-day journey to Holland, Belgium and Germany also features a river cruise along the Rhine during the colorful tulip season. To make your plans to join this trip, call your travel consultant or YMT Vacations at 1-888-756-9072. But don't wait, prices have been drastically cut on this once-in-a-lifetime tour and it won't last long!
---