---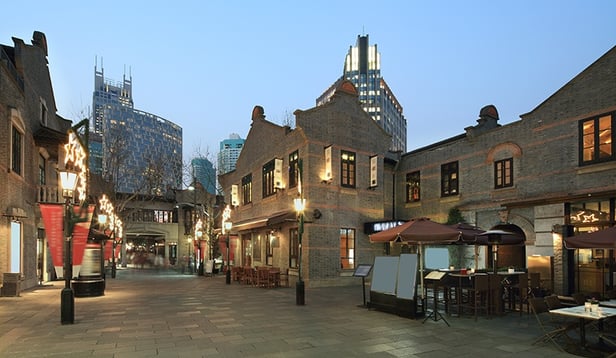 In a city of 20 million, there is always noise. The commotion never stops—the rumble of traffic, the familiar din of the metro line, the early morning staccato of jackhammers. But beyond the cacophony and bright lights there is another Shanghai—the Former French Concession.
When China lost the Opium Wars in 1842, it was forced to open itself to foreign trade, and to cede portions of its cities to colonial powers including the United States, Japan, and various European countries. Shanghai sacrificed much of its territory in a series of concessions where swaths of the city were leased, occupied and governed by these foreign governments. The occupying government's citizens were given the right to freely inhabit, trade, and travel in these concessions—in some cases Chinese citizens were no longer welcome—making the areas effectively little slices of that foreign country, inserted in the middle of Chinese cities.
The Colonial French claimed 160 acres in Shanghai, and ruled the district until the 1940s. With its own set of rules and laws, the French Concession became a haven for the French, Americans, British, and leftist Chinese. It took up only a tiny fraction of the city, but occupants of the French Concession accounted for half of Shanghai's wealth. This prosperity lasted until 1937, when the Japanese army invaded Shanghai and many inhabitants of the French Concession fled. By the end of the war, almost all Westerners had left Shanghai, and the foreign concessions were closed.
Today, tourists flock to these gracious boulevards for a glimpse of the "Paris of the East," famous for its manicured gardens, wrought-iron fences, and charming mansions. This city-within-a-city is the ideal place for a leisurely walk, with upscale boutiques, galleries and restaurants providing visitors plenty to look at and enjoy. Here are the top 10 sights in Shanghai's French Concession:
#1 Wukang Lu
Less than a mile long, this quaint road, formerly called Ferguson Lane, is lined by 37 protected historic buildings, including the Wukang Mansion. The mansion is a perfect example of the French Renaissance architectural style, and has been home to numerous celebrities since construction was completed in 1924.
#2 Wulumuqi Road
This bustling tree-lined street is home to some of Shanghai's best shopping and dining options. In addition, it is home to one of the world's few celebrity grocers—the Avocado Lady. Adored by homesick expats, Jiang Qin, owner of Wulumuqi Lu, stocks her modest store with traditional Western foods and is rumored to be able to procure virtually any hard-to-find culinary product—whether that's a dozen fresh Hass avocados or a jar of crunchy peanut butter.
#3 Xintiandi
This upscale pedestrian-only shopping and dining district is set amidst narrow alleyways, paved courtyards, and refurbished late-Colonial "shikumen" houses. Xintiandi was the site of the First National Congress of the Communist Party, and is now home to plenty of bookstores, French delis, and clothing boutiques.
#4 Fuxing Park
The storied grounds and cobbled streets of the park are the perfect place to spend a relaxing afternoon. Take a free Shanghai walking tour among the blooming rose gardens as residents practice tai chi, watch a heated game of mahjong, or delight at the many children flying kites. The French-style design of the park features a central lake, covered pavilions, and lots of grand fountains.
#5 Former Residence of Sun Yat-sen
Politician, philosopher, doctor, revolutionary, and founding father, Sun Yat-sen was both the Republic of China's first president, and a key player in the overthrow of the Qing Dynasty that preceded his modern government.
Though Sun spent much of his life in exile away from China, between 1918 and 1925 he and his wife enjoyed living in this 2-story residence in the heart of the French Concession. Today, guests can tour the house and adjacent museum.
#6 Okura Garden Hotel
This 5-star property opened in 1989 on the site of what was once the most luxurious private club in the French Quarter. Pop in to gawk at the original Art Deco interiors, grand ballrooms, and stunning stained-glass ceilings.
#7 Tianzifang
This maze of alleyways features more than 200 craft shops, art studios, boutiques and restaurants. Even if you're not up for shopping, it's worth the trip just to try a steaming bowl of freshly stretched noodles, and to appreciate the unusual products at the propaganda art gallery.
#8 Art Deco Cinemas
Catch a film at the Cathay Theatre, an Art Deco movie house designed by Hungarian architect C.H. Gonda in 1930. The nearby Lyceum Theatre is another fantastic movie house from the heyday of Chinese cinema's golden age, and is the perfect venue to catch a movie today.
This hands-on museum is housed in a 1905 French Renaissance-style marble and stone mansion. It offers live craft demonstrations on jade carving, lantern making, and embroidery.
#10 Hengshan Lu
This lovely street is known for its orange-tiled sidewalks, wrought-iron railings, and ivy-covered homes. Peppered with shops and restaurants, it is one of the area's trendier avenues.
Discover Shanghai's French Concession
You can explore the French Concession on YMT Vacations' Legendary China & Yangtze River Cruise. This 12-day journey takes you to Tiananmen Square, the Forbidden City, the Great Wall of China, the Yangtze River, and Xi'an, home to the famous Terracotta Army. You can also visit Shanghai on another of our Southeast Asia tours. To make your plans to see Shanghai's French Quarter, call your travel consultant or YMT Vacations at 1-888-756-9072.