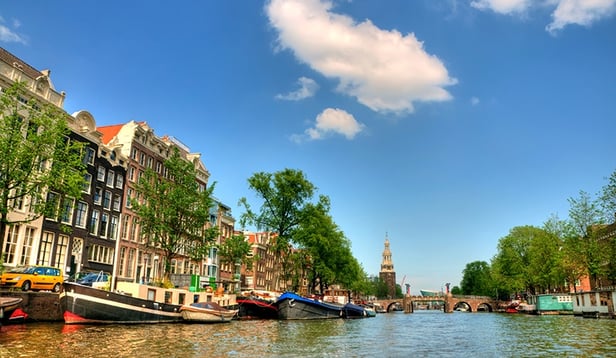 The Old World city of Amsterdam has long been called the "Venice of the North" because of its many canals and waterways. Teeming with quaint cafes and historic homes, trendy neighborhoods and unique attractions, there's plenty to do and see. Take a look at our top 10 things to do when traveling to Amsterdam:
Museums -- With more museums per capita than any other European city, Amsterdam offers a myriad of cultural encounters. Make sure to visit the Van Gogh Museum, the Rijksmuseum and the Hermitage.
The Merchant's Row Houses -- The Dutch protect their historic buildings including the famous narrow houses that overlook the banks of the city's canals. See them from the deck of a canal cruise or by simply taking a stroll along the waterfront.
Canal Cruises -- A canal boat tour, while predictable, is still a must for any visit. Enjoy the views from the four main canals (Singel, Keizersgracht, Herengracht and Prinsengracht) -- all of which are on the UNESCO World Heritage list.
The Anne Frank Museum -- Situated in the building where the girl's family hid out during World War II, this museum is a powerful and moving experience.
The Jewish Quarter -- Visit the Jodenbuurt, the Jewish Historical Museum, Rembrandt's House and the Waterlooplein, a charming daily flea market.
Bloemenmarkt -- This floating flower market is held on barges on the Singel Canal and is the perfect spot to pick up traditional Dutch tulips.
De Negen Straatjes -- Also known as nine streets, this is a trendy area in the heart of the city ideal for shopping and dining.
Coffeehouses -- While a misleading name, these cafes are actually places where you can buy and smoke marijuana, or even snack on a pot brownie.
Walking Around -- One of the best things to do in Amsterdam is to simply go for a stroll. With its many winding canals and relatively small size, there's no better way around than on foot or, like the Dutch do, riding a bicycle.
The Red Light District -- This area gets its name from the red-lit windows where the prostitutes flaunt their wares. If you want to venture into these colorful areas, a guide can offer you insights and added safety. Keep in mind that taking pictures of the ladies is strictly forbidden.
Amsterdam is just one of the many stops on YMT Vacations Grand European Cruise & Tour, which sets sail in August. This classic European itinerary lets you discover eight countries from the comfort of a luxurious cruise ship. Port cities include Copenhagen, Lisbon and Barcelona. You'll also explore Normandy, Milan and Valencia as well as cruising the Strait of Dover and through the Strait of Gibraltar.
For information on how you can join this legendary 17-day tour, call your travel consultant or YMT Vacations at 1-888-756-9072.
---