---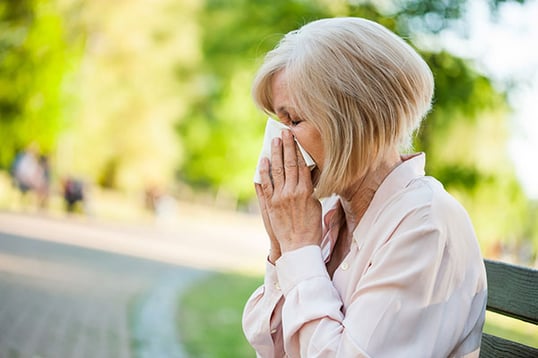 Flying can be stressful. You have to worry about security, cramped seats, long layovers, and delays. When you have allergies, the thought of flying with allergy congestion can seem even more intimidating.
Instead of worrying, follow a few easy steps to ensure both you and your airline are prepared. You just need to plan ahead, then you can relax and enjoy your vacation.
Pack the Essentials
Packing the essentials in your carry-on will save you time and energy in the long-run. At the airport, allergy medicines are expensive. By the time you're in the air, your options will be limited to what the airline has on board. Even if you don't think your allergies will flare up, it's better to be ready.
Refill prescriptions before you leave so you don't run out during your trip. Discuss the possibility of taking non-drowsy allergy medications with your doctor. Taken the day of your flight, such medicines should take effect by the time you board and shouldn't make you feel groggy while going through security. If you have injectable epinephrine for severe reactions, be sure to take it with you.
While medicines will help, don't forget to bring other essential items to help with your allergies. Bring wet wipes to wipe down your seat and a small packet of tissues in case you get a runny nose. Pack items like lip balm and face lotion to prevent your lips and skin from drying out on the plane. To better prevent clogged sinuses, use a neck pillow to keep your head up as you sleep. These small comforts will make a big difference.
Boarding the Plane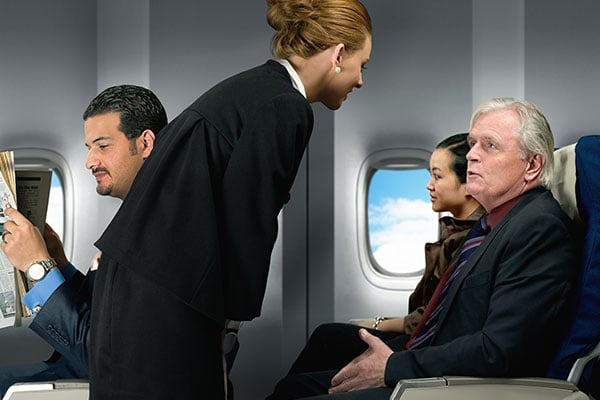 When boarding the plane, let a flight attendant know about your allergies. They could re-seat you away from a pet or let the travelers around you know to avoid eating certain foods. Upon finding your seat, wipe the area with wet wipes. Clean the seat, seat belt, armrests, and tray table. You'll rid the area of possible allergens, including pet dander and food crumbs. Plus, wiping down your seat and tray table helps get rid of cold-causing germs, which will help you avoid getting sick on your vacation.
Once you're ready to take your seat, don't leave medications in the overhead bin. Remove them from your carry-on and put them in the seat-back pocket or in your lap. You'll want them within easy reach in case you have a reaction.
If your allergies do flare up mid-flight, be sure to have comfort items close at hand. In addition to doctor-recommended medications, keep your tissues, lip balm, and any other essentials nearby.
Snack Smarter
It's important to learn how to travel with food allergies before you leave. Let the airline know about your allergy concerns — and requests for allergen-free meals — at the time of booking. While many airlines have stopped handing out peanuts as snacks, you should still tell flight attendants if you have peanut or other food allergies.
When eating airline snacks or meals, review the product packaging for allergy warnings or an ingredient list. Even if you've checked the flight's menu beforehand, it's good to pack your own snacks. You'll have something safe to eat if the airline doesn't have food that suits your needs. If you're flying internationally, double check with customs to make sure your food is allowed.
Book a Guided Tour
Instead of stressing about flying with allergies and planning your trip, let YMT Vacations help. If you tell us your allergy concerns at the time of booking, we can communicate them to the airlines. Let us take care of all the details with one of our guided tour packages. That way, you can focus on making sure you're packed and ready to combat any allergens that come your way.
To learn more about YMT Vacations guided tour destinations, call our Travel Consultants at 1-888-756-9072.
---