---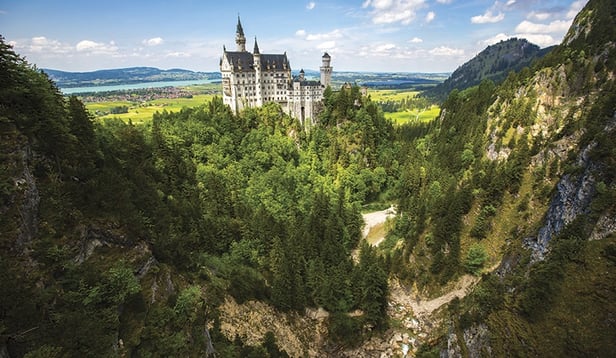 Germany's Neuschwanstein Castle is perhaps the most famous castle in all the world. Perched high above the Bavarian hills, this former royal retreat of King Ludwig II is so romantic and picturesque it served as the archetype for Disney's Sleeping Beauty Castle. Unfortunately, King Ludwig himself only slept in the palatial home 11 nights before dying unexpectedly. Besides being the most photographed castle on the planet, "New Swan Stone" is also one of the most visited. With more than 1.3 million guests per year, here are the top 5 tips you'll need to know when visiting Neuschwanstein.
Best Spot for Viewing — The best place to get those postcard-worthy shots is at the Marienbrucke, or Queen Mary's bridge. The mini-bus stops at this site overlooking the vast castle grounds. Since the bridge can get very crowded during the summer months, try to get there early in the day and don't be shy about elbowing your way to the front.
Use a Guide — Besides providing transportation from Munich, which is an hour and a half away, area guides can arrange entry into the site, and provide interesting information and historical background. The most convenient way to secure a guided tour is to go with a group tour, like YMT Vacations, that includes the excursion on its agenda.
Skip the Walk — Years ago the only way to see the castle was to hoof it up the steep hill to the castle. Today, there is a mini-bus that costs just 2 Euros -- a wise investment for anyone who struggles with mobility issues or is slightly less fit than an Olympic sprinter. If you do choose to brave the walk, make sure to wear comfy footwear.
Book the Interior Tour Early — Inside Neuschwanstein there are no self-guided tours, only guided ones. They run every five minutes and are usually booked out pretty far in advance. The best way to ensure you don't get stuck waiting for hours for a tour is to make arrangements early or go with a group tour, like YMT Vacations, that makes all the plans for you.
Be Camera Ready — Be aware that you are not allowed to take photos inside the castle for fear of damaging the artifacts with flash photography. That being said, there are plenty of opportunities for shots on the surrounding grounds, so come prepared.
Dress Accordingly — Depending on what time of year you visit, it can be chilly or rainy. Check the weather report and, if necessary, wear layers.
Step Up — The palace has five floors so you'll have to walk up many steps during the course of the tour. Be aware in case you or your travel companions have mobility issues.
YMT Vacations invites you to join us on the Elegant Danube, Alpine Beauty & Bohemian Highlights tour. This 14-day land tour and river cruise sets sail along the picturesque Danube River and straight into the heart of Old World Europe. Wander amidst ancient castles and through a basilica where Liszt once played. Take a soak in the thermal spas of Budapest and sip a stein of beer as you dance along to the lively tunes of Oktoberfest. To join this unforgettable journey, call your travel consultant or YMT Vacations at 1-888-756-9072.
---