---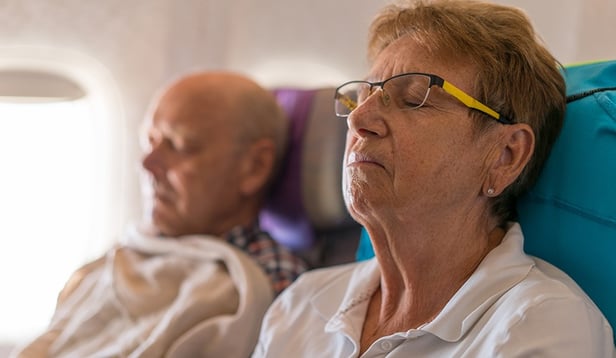 Getting some shut eye on an overnight flight can seem next to impossible, but a few winks can make all the difference when you land and need to hit the ground running. Here are some simple tips and on-board essentials that will make it easy to nod off. Here's what you can do to get some sleep on your next flight:
---
Window is Best -- The window seat, preferably in an exit row, is your best chance to get some sleep in coach. You won't be disturbed by other passengers needing to get up and you can rest your head against the window while you stretch out your legs. Avoid the seats near bathrooms and flight attendant stations at all cost. And if it's possible, fly mid-week for the more-likely chance of changing your seat to an empty row.
Uninterrupted -- To keep from being disturbed by a flight attendant doing seatbelt checks, make sure to buckle up over top of your blanket or sweater, not under it.
Avoid Alcohol -- While it may seem like an obvious solution to liquor up during a long flight, it can actually make you dehydrated and more groggy when you arrive at your destination. Instead, start going to bed and waking up earlier than usual or try to work out before boarding the flight.
Cozy Comfort -- While every airline provides blankets and pillows on long-haul flights, there's a better way to snuggle in than with the scratchy items that come in that plastic baggie. Bring along a soft blanket and a neck pillow designed for flyers.
Who's That Masked Flyer? -- A sleep mask blocks out the reading lights, call buttons and the morning sun that creeps in the window, letting you get good, quality sleep.
Be a Smooth Operator -- Hand lotion, face cream, and lip balm are necessary for staying moisturized in the dry air of a long flight.
What'd You Say? -- Ear plugs block out the drone of airplane engines and the wailing of small infants. Look for moldable silicone ones or small in-ear headphones with noise cancellation.
---
YMT Vacations lets you explore the world with group tours at low prices and unmatched value. Reliable, guaranteed and expertly run, our land tours, cruise tours, and European River Cruises let you travel the globe from Alaska to Europe, Hawaii to the National Parks of the United States. To learn more about our tours, unique travel experiences and how you can join us, call your travel professional or YMT Vacations 1-888-756-9072.
---