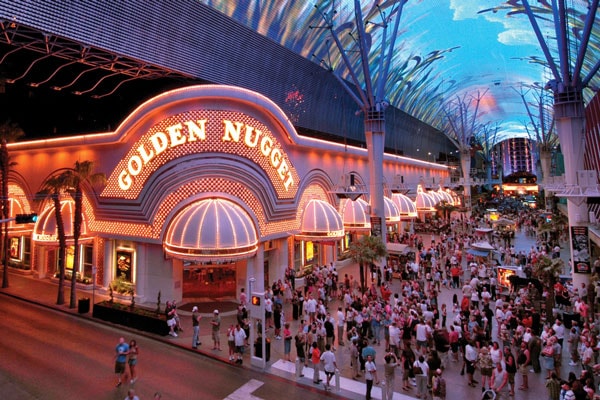 The Golden Nugget is a staple of Downtown Las Vegas. Built in the 40s, it's weathered all of Sin City's ups and downs, witnessed its transformation from a seedy, sandy place for guests to jettison their morals, to its modern iteration as the family friendly entertainment capital of the world.
The Golden Nugget has more than 2,000 recently updated rooms—it's Downtown's largest—and it is full of expertly designed features, stellar amenities, numerous dining and entertainment options, and some of Las Vegas' hottest tables and slots.
Learn about this Las Vegas icon, YMT's preferred hotel for many of our most popular tours.

YMT product manager Serena has lead countless tours through Las Vegas, and she believes that the Golden Nugget is a real gem; "There are lots of reasons to love the Golden Nugget. It's a historic hotel and has been in Las Vegas since 1946. It has a wide variety of restaurants and bars inside the casino, and is in a great location on Fremont Street in Downtown Las Vegas. Plus, the Golden Nugget's swimming pool has an aquarium!
You can step right outside of the Golden Nugget and watch brave people zip-lining all 1,500 feet of Fremont Street, or listen to free live music every night. Downtown has the best prices for food and drinks in Las Vegas, and if you like gambling you can find true penny slots and tables with really low minimums. There also a very affordable 24-7 public bus that takes you directly to the hustle and bustle of the Las Vegas strip."
Guy McAfee's "Brightest Nightspot in the World"
The Golden Nugget's doors were opened in 1946 by Guy McAfee, who invested $1 million to build the best and biggest gambling house in the history Las Vegas. A former captain of the Los Angeles Police Vice Squad, McAfee earned a cutthroat reputation—and millions of dollars—by getting very cozy with the bootleggers and brothels he was tasked with shutting down. An infamously dirty cop in the heyday of dirty cops, McAfee made himself known as a friend to Los Angeles' seediest elements before retiring from the force and joining the city's top crime syndicate.
He left Los Angeles after a new tough on crime mayor was elected in 1938, landing in Las Vegas with its ample opportunities for criminal activity. After building a few smaller clubs, McAfee decided to build his dream casino in 1945.
The Golden Nugget was conceived of as an impossibly elegant desert oasis. No detail was overlooked. McAfee insisted on imported Italian marble, 19th century fixtures, Victorian carved wood, and a powerful air conditioning system. His inspiration was gold rush era San Francisco's Barbary Coast red light district, and the 20,000 guests who attended the grand opening August of 1946 were awed by his creation, which he dubbed, "the brightest nightspot in the world."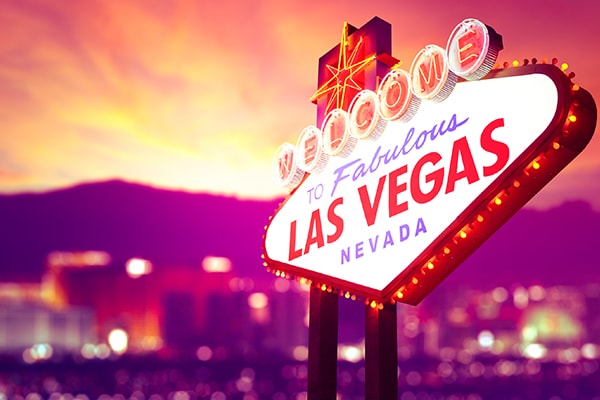 The following decades were owned by the Rat Pack, the glamorous clique of performers headed up by Dean Martin, Sammy Davis Jr., Frank Sinatra, Peter Lawford, Joey Bishop, and a revolving door of powerful singers, actors, and Hollywood starlets. They performed on stages throughout Las Vegas—including the Golden Nugget, where Ol' Blue Eyes enjoyed a residency in the 1980s—and starred together in movies like Ocean's 11 and Cannonball Run.
Elvis Presley and James Bond were also known to frequent the Golden Nugget—or at least feature the Nugget's iconic sign in some of their most famous film scenes. Look for the Nugget in Elvis' 1964 comedy Viva Las Vegas, and in 1971's Diamonds are Forever, the final time Sean Connery put on 007's trademark tuxedo.
Downtown Las Vegas became less popular beginning in the 1980s, when mega-resorts started to pop up along the Las Vegas Strip just a few miles away. Brand new, incredibly lavish, and often flamboyantly themed, these massive resorts transformed the Strip into Las Vegas' most popular place to stay.
Downtown's renaissance began in 1995, when the Fremont Street Experience, a seven-block entertainment and gaming district, was opened. However, Downtown didn't reach its full modern potential for another 23 years. In 2012, a multi-year revitalization effort, encompassing numerous projects costing in the hundreds of millions of dollars, debuted in what the city called, "The Year of Downtown." Several museums, including the Mob Museum and Neon Museum, as well as a brand-new City Hall complex, all opened, ushering in a new golden era for DTLV.
The Golden Nugget Today
Now, the Golden Nugget is Downtown Las Vegas' largest casino, and a fixture in the middle of the flashy Fremont Street Experience. The Golden Nugget has had hundreds of millions of dollars in renovations since 2005, and the lavish improvements are evident everywhere you look.
Las Vegas' Finest Pool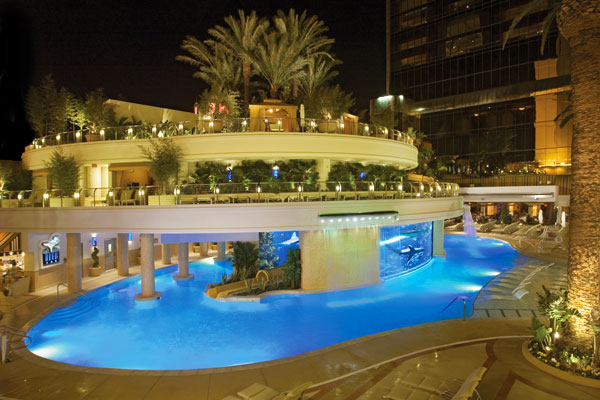 The Tank is the Nugget's award-winning pool—which CNN Travel lists among "America's Most Amazing Hotel Pools," the Travel Channel calls "one of the most extreme pools in the world," and the Los Angeles Times considers it "glorious," and an "oasis in the desert."
At a cost of $30 million, the Tank is a three-story complex with private cabanas, food service, grottos, waterfalls, a lounge, live gaming, and a water slide through the Tank's 200,000 gallon shark tank aquarium. Guests who want to look at the 300+ animals that live in the aquarium can view them from the patio. The Tank is open year-round.
The Hand of Faith
How could the Golden Nugget not have Hand of Faith, the world's largest golden nugget, in its lobby?
This 61-pound hunk of gold was discovered via metal detector beneath 6 inches of sunbaked Australian dirt by a family touring the country on a bus named Gus in 1980. They sold the nugget to the Nugget for $1 million, where it is now displayed in hallway in the middle of the hotel area.
Golden Nugget Las Vegas' Restaurants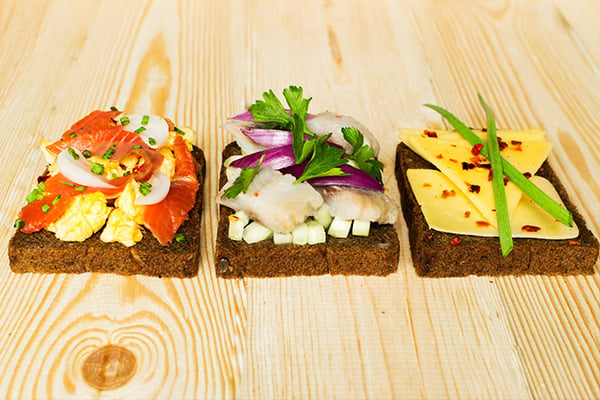 If you love great food in spectacular abundance, the Golden Nugget is the perfect place for you! There are eleven dining options to enjoy without leaving the casino's grounds. Enjoy a macchiato at Starbucks, quickly delivered room service, a quick bite at The Grille, or one of seven fine dining options:
Vic and Anthony's, one of America's top ten steakhouses
Chart House, a seafood restaurant with specialty cocktails and a 75,000-gallon tropical fish aquarium
Grotto Italian Ristorante, a Michelin-recommended establishment overlooking the shark pool
Claim Jumper, which has something for everyone
Lillie's Asian Cuisine, a new spin on Chinese and Japanese cuisine
Red Sushi, a chic spot for authentic Japanese food
Cadillac Mexican Kitchen, home to 70 tequilas and spectacular Mexican food
Finally, the Golden Nugget's reasonably priced buffet (lunch and breakfast start under $17, and you can often get coupons at the concierge desk) makes for the quintessential Las Vegas meal. Their carvery is especially well-reviewed, and they have a wide variety of interesting salads on offer. No matter what you choose at the buffet though, your meal must be finished off with a fresh crème puff… or several.
4-Star Accommodations
The stylish décor of the updated Golden Nugget's guest rooms perfectly captures that classic Las Vegas ambiance—but features upgrades such as big screen plasma TVs, in-room coffee and tea, and generously sized bathrooms and closet that make it feel modern and exceptionally comfortable.
Many rooms have incredible views—and don't worry if you're put on a higher floor, the elevators are known to be particularly quick!
Visit the Golden Nugget with YMT
This luxurious, historic, elegant casino in the heart of Downtown Las Vegas truly is a destination in itself. From its delicious restaurants to its award-winning pool to the stunning Hand of Faith, the Golden Nugget is full of things to see and enjoy.
Visit the Golden Nugget on one of our trips: Crimson Canyons & Mesas National Parks Tour; Rose Parade, Grand Canyon & Las Vegas; and Golden California National Parks Tour. Call your travel professional or YMT Vacations at 1-888-756-9072 to book!