---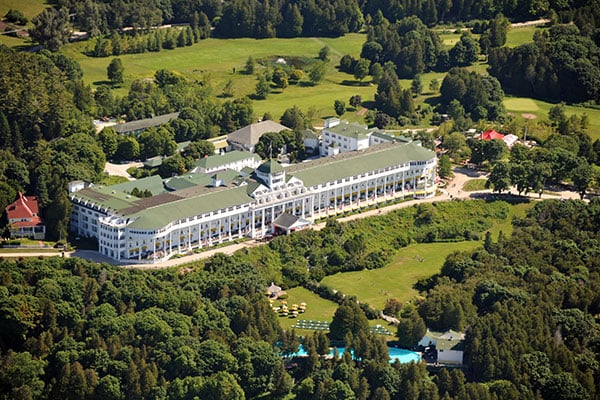 Nicknamed "The Jewel of the Great Lakes," compact Mackinac Island in northern Michigan is unlike anywhere else in the world.
Cars are not allowed on the island, so the moment you step off the ferry you are transported back to a more graceful era. Nowhere is this bygone gentility more strongly felt than at Grand Hotel, an island institution since 1887.
One of America's finest historic hotels is most often reached by horse-drawn carriage, but that's only the start of what makes it special.
1. Expect to Wear Your Sunday Best
Every day at Grand Hotel is a special occasion, which is why it has a strict dress code.
Casual dress is appropriate for daylight hours, but after 6:30 p.m. dresses, skirts, blouses, dress sweaters and dress slacks for ladies are preferred. Gentlemen are required to wear a suit coat, necktie and dress pants. Denim is strictly forbidden.
2. The Most Popular Dessert is the Signature Grand Pecan Ball
Grand Hotel's signature dessert is surprisingly simple. The Grand Pecan Ball is nothing more than a ball of vanilla ice cream rolled in toasted pecans and served on a bed of fudge.
The quality ingredients and perfectly balanced flavor of the Grand Pecan Ball make it the most popular dessert in the hotel. 70,000 are ordered each year.
3. The Grand Hotel Has a Very Busy Season
Grand Hotel is not open year-round. Because of Michigan's cold winters, visitors can only stay at Grand Hotel from May through November. During that time, Grand Hotel hosts an average of over 130,000 guests.
4. Hollywood Loves Grand Hotel
Grand Hotel is a popular shooting location for filmmakers, most famously 1947's This Time for Keeps and 1980's Somewhere in Time.
This Time for Keeps features Esther Williams as an aquatic performer. You can still visit the Esther Williams Swimming Pool where much of the film was shot. In Somewhere in Time, starring Christopher Reeves and Jane Seymour, viewers are transported back to 1912.
Fans of the romantic tearjerker meet every October for Grand Hotel's Somewhere in Time Weekend. Dressed in their best turn of the century finery, participants visit many of the film's most famous locations right on the hotel grounds.
5. Horse Drawn Carriage Rides are a Popular Mode of Transportation
Because cars are not allowed on Mackinac Island, transportation options are limited to walking, bicycling, or horse drawn carriages.
The hotel's version of a shuttle bus has four legs and makes a distinctive clop clop sound. You will want to ask the hotel concierge or the dock porter to arrange transportation to and from the Mackinac Island dock.
6. It's Home to the World's Longest Front Porch
The front porch at Grand Hotel is the perfect place to relax. Take a seat in one of the over 100 comfortable rocking chairs and feel the refreshing breeze coming off Lake Huron.
Enjoy magnificent views of the Straits of Mackinac. The porch is so peaceful that you might not realize that it's actually record breaking. At 660 feet long, it's the longest front porch on the planet.
7. Each Room Is Unique
Grand Hotel is renowned for its exquisite attention to detail. That extends to its 397 guest rooms, which are each totally different. From the lighting to the carpeting to the often flamboyant pattern of the wall paper, each room is its own work of art.
The unique look of each room is created by New York based Dorothy Draper & Co. Inc. If the design firm sounds familiar, that could be because their most famous work is found at the White House.
8. Tipping is Not Allowed
Tipping is forbidden throughout Grand Hotel. Complimentary service is offered as an added convenience to guests. You don't need to keep cash on hand for bellhops, maids, desk clerks or even waiters.
9. You Can Listen to Live Music Everyday
You can find live music being performed somewhere in Grand Hotel nearly anytime between noon and midnight every day.
From dancing to the full Grand Hotel Orchestra to enjoying harp playing along with your afternoon tea, the live music at Grand Hotel is one of the most special parts of the experience.
10. The Grounds Have Over 125,000 Flowers
You can't miss the flowers at Grand Hotel. They have been a signature of the hotel since it first opened, elevating the visitor experience from good to truly grand. Tulips, daffodils, roses, and geraniums (Grand Hotel's signature flower) are everywhere.
Over a ton of flower bulbs are planted each year. That means that the gardens contain over 125,000 flowers.
11. It's A Favorite Amongst Presidents and First Ladies
American presidents and their families have enjoyed Grand Hotel since the 1940s. Presidents Truman, Kennedy, Ford, George H.W. Bush, Clinton have all visited. Several first ladies helped design the suites that now bear their names.
You can stay in Ladybird Johnson, Betty Ford, Rosalynn Carter, Nancy Reagan, Barbara Bush, or Laura Bush Suites.
12. America's Oldest Duckpin Bowling Alley is Hidden in One of its Many Bars
There are many dining and drinking options at Grand Hotel, but there is only one place where you can enjoy a tasty cocktail and duckpin bowling.
Bobby's Bar in The Woods Restaurant is home to the oldest operating duckpin bowling alley in the country. Duckpin bowling is similar to standard ten-pin bowling, but scaled down. It uses smaller pins and 5-pound bowling balls.
Try your hand at this historic game in one of Mackinac's best kept secrets.
Visit Grand Hotel with YMT Vacations
Grand Hotel is just one of many reasons to enjoy YMT's Mackinac Island & Grand Hotel guided tour.
Enjoy a fascinating tour of Illinois and Michigan, including two nights at the legendary Grand Hotel.
To make your plans to join one of our once-in-a-lifetime trips, call your travel consultant or YMT Vacations at 1-888-756-9072.
---