---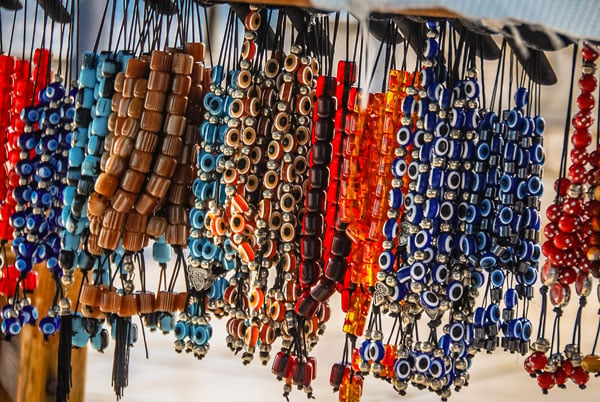 With ancient ruins, museums chock full of fascinating antiquities, and tavernas overflowing with ouza and good friends, Greece is a country rich in culture and grandeur. If a journey here is in your near future, make sure to take home some of its notable gifts to share with friends and family. Here are our recommendations for traditional Greek handiworks and regional specialties that will make for ideal souvenirs:
---
Silver Byzantine-Style Ornaments -- Look for good reproductions in museum gift shops or at a local silversmith or goldsmith. These intricately designed pieces range from handcrafted plates and bowls to delicate jewelry.
Komboloi -- These "worry beads" arrived with the Ottomans who once occupied Greece. The long strands are the original rosary and a way to occupy restless fingers.
Embroidery -- Found all over Greece, this traditional craft can be purchased in local markets and even in some convents.
Leather Sandals -- The most famous sandal shop in Athens has made the footwear since 1927 and boasts a poet who will quote you a stanza as you shop. The traditional sandals reflect the simple style of the ancient Greeks, however, more elaborate styles and colors are also available.
Mastika -- Made from mastic trees that grow on the island of Chios, mastika is known for its unique taste and medicinal qualities and is found in everything from liqueurs and chewing gum to cosmetics.
Ouzo -- A bottle of this licorice liqueur is a must to bring back to family and friends. Plus, you'll enjoy sampling your way through the many varieties of this anise-flavored libation.
Backgammon -- Throughout the islands, old and young alike can be seen embattled in heated games of backgammon. Pick up a hand-made set to relive this Greek favorite.
Matia -- "Evil eye" designs are believed to ward off evil spirits and bad luck. Find yours at almost any tourist stop.
Honey -- From salad dressings to hot tea condiments, Greek honey is a sweet treat but its most popular use is as a topping for thick Greek Yogurt.
Olive Oil -- The olive trees that dot this Mediterranean landscape produce some of the world's best olive oils, which are also used in other luxurious products like soaps, shampoos and lotions.
---
Explore the jewel of the Mediterranean and pick up your own memories of Greece with YMT Vacations' Greece & Her Islands Tour. This 10-day journey takes you from the Acropolis to the Parthenon, from Mykonos to Santorini. Or, you may decide to extend your vacation and enjoy Classic Italy as well on one fantastic Greece & Italy combination package! For information or reservations, call your travel consultant or YMT Vacations at 1-888-756-9072.
---