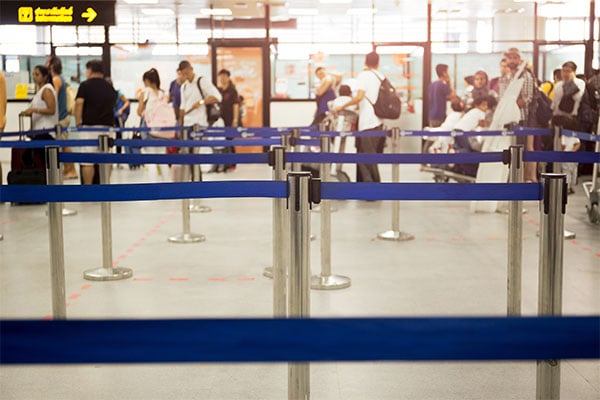 TSA PreCheck streamlines the airport security process, providing you a dedicated line at airport security (that typically moves faster), making it a more convenient experience.
If you've been considering filling out a TSA PreCheck application, below is your guide to everything you need to know about the program and process.
What is TSA PreCheck?
Run by the Transportation Security Administration (TSA), TSA PreCheck is a Trusted Traveler Program in the Department of Homeland Security (DHS) that aims to screen passengers before they arrive at the airport. This expedited security initiative was created to help travelers enjoy a more relaxed experience. In order to qualify, you need to apply for membership and pay an $85 application fee. Once approved, you are provided a known traveler number (KTN) that is valid for 5 years.
TSA PreCheck members are given access to special security lines at participating airports in the United States, getting them through airport security more quickly. When you get to the security line after check-in, once you have confirmed your membership via your boarding pass, you will be sent to a PreCheck line where you walk through a security scanner and proceed to your gate. With this process, you can keep your shoes, belt and any light jackets, such as blazers, on. Also, liquids and electronics can stay inside your luggage.
In order to get a boarding pass with a "PreCheck" status on it, you need to enter your KTN into your airline account profile before booking your flight, If your boarding pass doesn't say "PreCheck", you can't use the PreCheck line designated for TSA PreCheck members. If there's an error, you can get your boarding pass updated at the airport.
Note, however, that you're never guaranteed PreCheck status. For security purposes, there needs to be some randomness incorporated into the system. This means that, once in a while, you may not get TSA PreCheck status on your boarding pass when booking a flight.
how to get tsa precheck?
Convinced TSA PreCheck is worth it and want to know how to obtain a membership? First, in order to apply you must be a United States citizen, national or permanent resident. There is no age restriction, however, children under 12 can use their parents' or guardians' memberships and don't need to apply.
The process can take up to three weeks to complete and consists of the following steps:
Filling out an online application.
Paying an $85 application fee.
Making an appointment for a 10-minute in-person background check and fingerprinting. You'll be able to choose from a list of enrollment centers in your area. At this appointment, you will pay your membership fee and also find out if you've been approved.
And that's it! If you're approved, you'll receive your KTN to use when booking flights. You will also receive written notification of your approval.


completing the tsa precheck application
When completing your application, it's critical that your name appears exactly as it does on your government identification. Other information you'll need to complete the application includes:
Citizenship information
Permanent and residential address
Physical description
Mailing address
A method of contact (email or phone)
Criminal history (if any)
Note that enrollment must be completed 120 days from the moment you submit your application.
how long does tsa precheck last?
Once approved, you will get your known traveler number (KTN), which is valid for five years.
tsa precheck frequently asked questions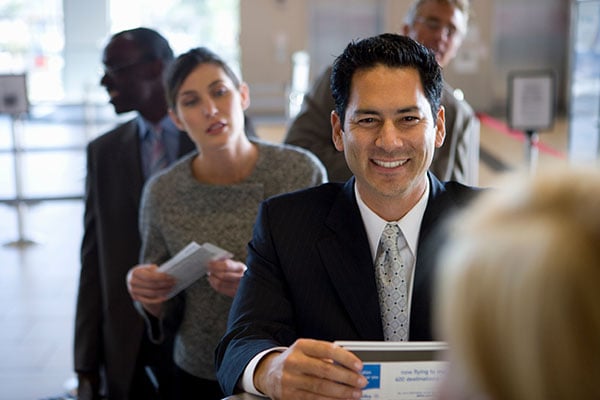 Below are some of the most frequently asked questions about TSA PreCheck.
Who is eligible for tsa precheck?
To become a TSA PreCheck member, you need to be a U.S. citizen, U.S. national, or lawful permanent resident. If foreign citizens meet specific citizenship/residency requirements, they can also participate in the program.
You may not be eligible if you have past violations of transportation security regulations, false application information, or some criminal offenses.
There's no age restriction for applying for TSA PreCheck. Children 12 and under can benefit from expedited screening as long as they're traveling with an eligible parent or guardian who is a TSA PreCheck member.
how much is tsa precheck?
TSA PreCheck is $85 for a 5-year membership. This makes the cost $17 per year.
how often do I need to renew tsa precheck?
Every 5 years.
Do All Airports and Airlines Participate in TSA PreCheck?
At this time, more than 200 airports and 79 airlines nationwide offer TSA PreCheck. That being said, not every airport or airline participates in the program. You can check which airports and airlines offer TSA PreCheck on the official TSA PreCheck website.
Does TSA PreCheck Cover International Travel?
TSA PreCheck does not cover international travel. If you travel internationally pretty regularly, look into the Global Entry program. Global Entry includes TSA PreCheck and offers expedited screening for both domestic and international travel. The membership fee is $100 for five years. For international travel, you may also need a Visa.
Comparing Airline Security Clearance Options
Both TSA PreCheck and Global Entry are Trusted Traveler Programs in the Department of Homeland Security (DHS) that allow you to get through security screening faster by skipping a lot of the boarding pass line. However, TSA PreCheck only works in the United States, while Global Entry offers international coverage for customs in select cities. If you will be traveling internationally, it's definitely worth the additional $15 to get a Global Entry membership, which includes TSA PreCheck benefits.
A third program, CLEAR, has no direct affiliation with the United States government. CLEAR is run by a private company that makes arrangements directly with individual airports to bypass the security lines and works in partnership with TSA PreCheck and Global Entry.
Get more details about each program, including the pros and cons of each, to determine which one is best for you.
Now that you're on top of TSA precheck requirements, check out YMT Vacations' wide array of tour and cruise vacation packages and book your next trip with us. To get more information about any of our trips, call your travel consultant or YMT Vacations at 1-888-756-9072.