---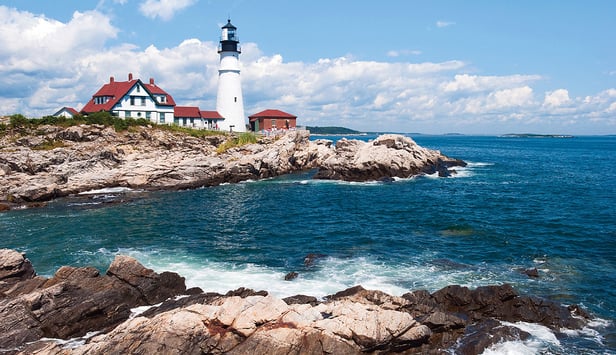 Coastal New England is a slice of Americana. A place where centuries-old clapboard houses sit alongside mansions built by Quaker sea captains, and the sounds of waves provide the backdrop for clam shacks where salty old men still tell tales. Up and down this 6,000 mile stretch of Yankee coastline are the postcard-worthy views New England is known for and towering over them all are the iconic images of lighthouses.
---
Tall or squat, striped or plain each lighthouse is different from the rest. Once a necessary part of coastal living, they are what remains of the region's maritime heritage. There are some you can admire from afar while others welcome you to come inside and explore a bit. With more than 150 scattered throughout New England, there are more than enough light houses for travelers to explore. Here are a few of our favorites:
Boston: The Boston Harbor Lighthouse towers 89 feet above a rocky out cropping on Little Brewster Island. Its white tapered tower and location hugging the sea make it "the ideal American light house."
Cape Cod: Some of the country's most historic beacons are found along the Cape Cod National Seashore including Highland Light, Nauset Light and Race Point Light.
Martha's Vineyard: This island off the coast of Massachusetts boasts five iconic lighthouses. Visit them all or just make time to see the West Chop Light House, the island's last manned light. Built in 1817, it protected one of the most important ports on the Atlantic Coast for centuries.
Newport: The Ocean State has always been a maritime great with lighthouses like those on Block Island and the legendary Watch Hill, one of the oldest lights in the America. One of our favorites is located on Narragansett Bay in Newport. Castle Hill is a smaller light that is appreciated primarily for its picturesque location on a jetty of rocks.
Portland: Some 66 lighthouses shield Maine's rocky shoreline, the most famous of which is the Portland Head Light. Perhaps the world's most photographed lighthouse, it is the state's oldest with a location on the rocks that makes it a favorite of professional photographers and social media posters alike. Make sure to visit the keeper's quarters which now houses a very informative and interactive maritime museum. After your visit, the nearby lobster shacks add the perfect ending to your day at the shore.
---
You can see some of the lighthouses of New England for yourself on YMT Vacations' New England and Canadian Maritimes Cruise & Tour. This 15-day itinerary features a 7-night cruise, a motor-coach tour of the fall colors and stops in Boston, Quebec City and Montreal. To make your reservation, call your travel agent or YMT Vacations at 1-888-756-9072.
---