---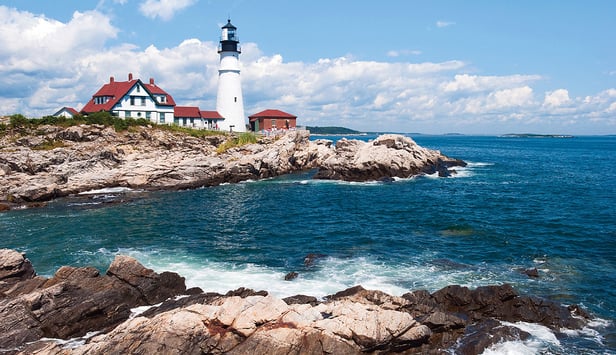 Coastal New England is a slice of Americana. A place where centuries-old clapboard houses sit alongside mansions built by Quaker sea captains. Where the rhythm of waves provides the soundtrack of the clam shacks where salty old men tell their tales. There is an abundance of beauty up and down this 6,000-mile stretch of coastline. Towering over it all are the classic lighthouses in New England.
---
Famous New England Lighthouses
Tall or squat, striped or plain, each lighthouse in New England is different. Once a necessary part of coastal living, they are now charming, but largely obsolete, remnants the region's maritime heritage. There are some you can admire from afar, while others welcome you to come inside and explore a bit. There are more than 150 lighthouses in New England. Here are a few of can't-miss stops on the ultimate lighthouse vacation in New England:
Boston Lighthouses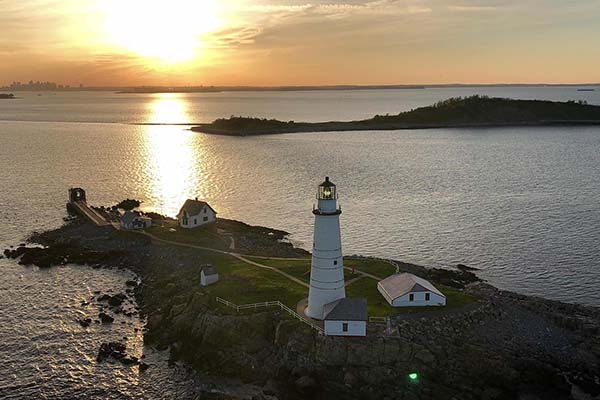 Boston's most famous lighthouse is the historic Boston Harbor Lighthouse. Built on Little Brewster Island in 1716, America's oldest lighthouse stands 89 feet above the rocky ground. Its light can be seen from the open sea up to 27 miles away—and from the bustling city of Boston just across the harbor.
Known as the "most welcoming lighthouse in the United States," Scituate Island Lighthouse was erected in 1810. Painted bright white and topped by a green lantern room, it's a beacon for sailors and sightseers alike.

Cape Cod Lighthouses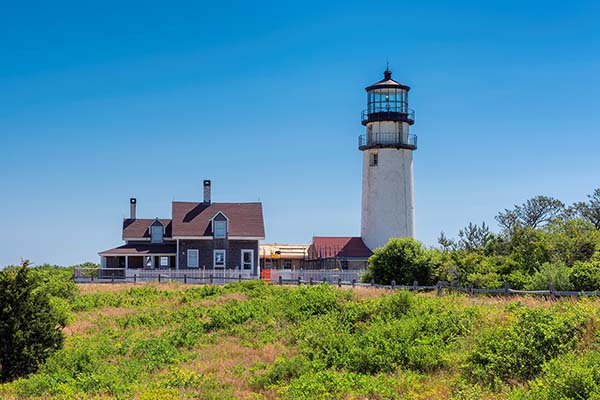 Some of the country's most historic lighthouse are found along the Cape Cod National Seashore. Highland Lighthouse, Cape Cod's oldest, was commissioned by George Washington in 1797. It saved countless ships as the first lighthouse on the treacherous cape.
Race Point Lighthouse on Cape Cod Bay was built in 1816, and rebuilt in 1874. The isolated 45-foot-tall structure, sandwiched between the rocky Atlantic shore and waves of sand dunes, transports visitors back in time.
Nauset Light was constructed in 1877 and has been moved twice since then. First in 1923, and then in 1996. Fans of Cape Cod Potato Chips can easily recognize Nauset Light. As the company logo, its two-toned image is stamped on every bag.

Martha's Vineyard Lighthouses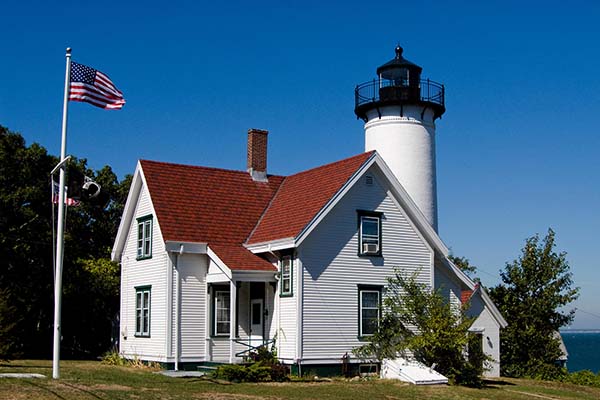 This island off the coast of Massachusetts boasts five iconic lighthouses. These classically New England structures have been protecting ships over Vineyard Sound and Nantucket Sound since the 18th century.
Gay Head Lighthouse was the first lighthouse built on Martha's Vineyard. Alexander Hamilton and President John Hamilton authorized the construction of the wooden lighthouse, which turned its whale oil lamps on for the first time on November 7, 1799. West Chop Light was constructed in 1817 to guide ships through the treacherous and extremely busy Holmes Hole Harbor. Now known as Vineyard Haven Harbor, the lighthouse and harbor that look out onto Nantucket Sound are impossibly charming.

Newport Lighthouses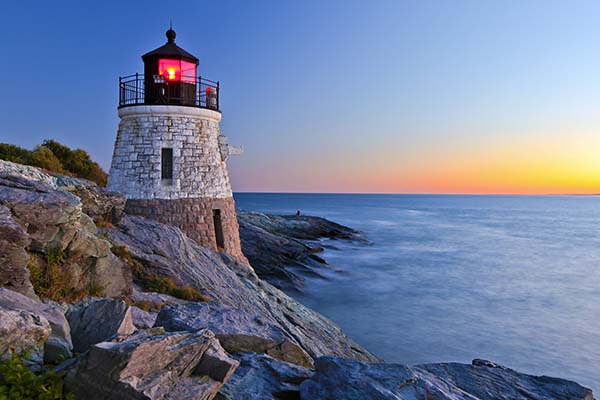 The ocean cliffs of tiny Rhode Island are illuminated by 21 lighthouses. Castle Hill Lighthouse, located on Narragansett Bay in Newport, is appreciated primarily for its picturesque location on a jetty of rocks. Block Island Lighthouse sits 200 feet above the water from its perch on Mohegan Bluffs. The stunning brick and granite tower's green lights have flashed across the water since 1875.
Portland Lighthouses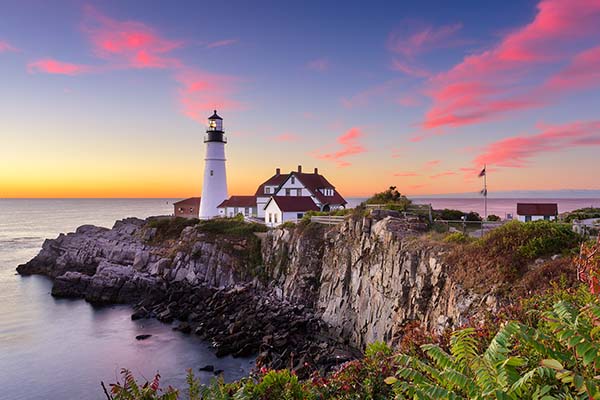 Of the 66 lighthouses Portland, Maine is known for, Portland Head Lighthouse stands above the rest. Perhaps the world's most photographed lighthouse, it is the state's oldest, with a location on the rocks that can't be beat. Make sure to visit the keeper's quarters, which now house a very informative maritime museum.
The nearby Spring Point Ledge Lighthouse is a charming sparkplug lighthouse found on the campus of Southern Maine Community College. The lighthouse was built in 1898 after countless ships wrecked on their approach into Casco Bay. Spring Point Ledge is easily reachable by foot, and is close to Portland's best lobster rolls.
New England Lighthouse Tours with YMT Vacations
You can see some of the most famous New England lighthouses on Coastal Maine & Acadia, Autumn Leaves Tour, or New England & Canadian Maritimes Cruise and Tour. Scenery, culture, history, and the most beautiful lighthouses in New England await! To make your reservation, call your travel professional or YMT Vacations at 1-888-756-9072.