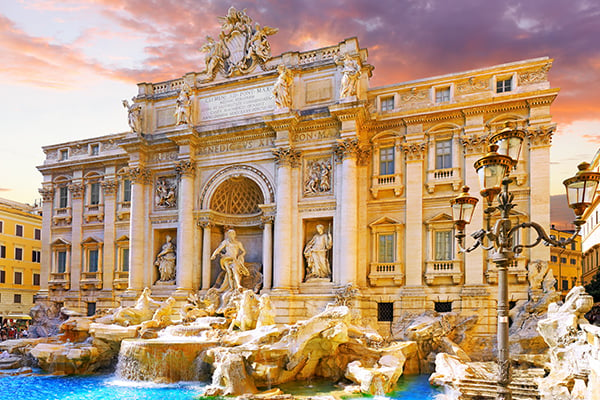 Where is the Trevi Fountain and why is it such a big attraction? One of the most famous fountains in the world, the Trevi Fountain is located in the Quirinale District of Rome. Every year, visitors flock to the Baroque-style fountain to toss a coin in and make a wish. The name Trevi comes from a combination of Italian words— "tre" which means three and "vie" meaning roads. At the time of its construction, it sat at the intersection of Rome's three most important roads.
Today the fountain is a major tourist attraction. However, Trevi Fountain's history is that it was built for a very specific and essential purpose: To be the source of natural and pure water for Rome. It also did not look as it does today. In fact, around 1629, Italian sculptor Bernini gave the fountain a makeover to what you see today.
Why People Toss Coins in Trevi Fountain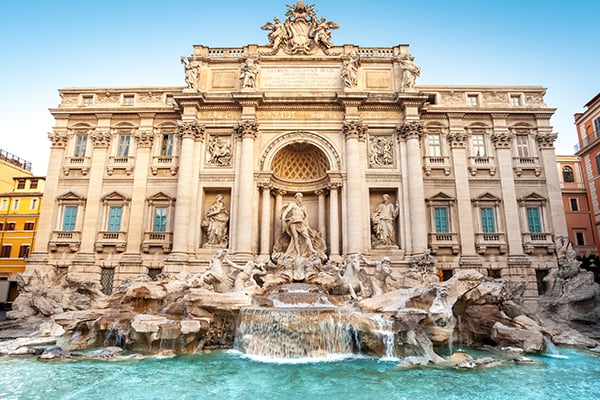 It is our instinct to toss a coin and make a wish when we come upon a fountain. This is no different with the stunning Trevi Fountain. What is different are the reasons why people toss coins into Trevi Fountain.
According to Italian lore and the Trevi Fountain legend, there are three reasons to do so:
To ensure you return to Rome one day.
To find love in Rome.
To marry in Rome.
The Trevi Fountain coin rules are simple: If the second two wishes are already accounted for, then one coin is all you need for a future getaway to Rome. However, if you require all three wishes, you will need three separate coins.
How to Toss a Coin into Trevi Fountain
If you want to give your wish or wishes the best chance of coming true, then you need to know how to make a wish at the Trevi Fountain. Underhand? Overhand?
Tradition states that the proper way to toss a coin into Trevi Fountain is by using your right hand and tossing it over your left shoulder. So, if you are a lefty, you may want to practice this at home before your visit.
Remember, if you plan on making all three wishes, you will need three separate coins and to perform the correct coin toss ritual for each. Got it? Good! Now you can learn about other Italian customs in preparation for a trip to Italy.
You may be wondering what happens to all those coins. Estimates suggest that the fountain receives around $3,600 a day for a whopping $1.5 million annually. The city of Rome collects the coins and uses the money to fund a food market for local inhabitants in need.
Incorporating Trevi Fountain into a Larger Vacation Trip
You can see Trevi Fountain as part of an all-encompassing, guided tour on YMT Vacations' Bella Italia tour. Visit Rome and the Vatican City, marvel at Michelangelo's Sistine Chapel, and float along Venice's famous canals. Before your trip, don't forget to brush up on some everyday Italian words and phrases to help make your visit more enjoyable.
To book your Italian getaway, call your travel consultant or YMT Vacations at 1-888-756-9072.