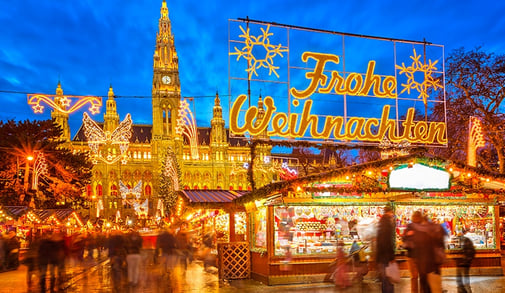 On the first Sunday of Advent the candles begin to flicker in the twilight as chestnuts roast over barrels that hug the bustling street corners. This is Christkindlmarkt, a tradition that dates back to the Middle Ages throughout German-speaking countries and many parts of the former Holy Roman Empire. While the markets are open every day until Christmas Eve, they come alive in the evenings when neighbors gather together and children giggle with the joy of the season. There are sweet treats and carousels, angelic choirs and handmade ornaments -- all underneath strands of twinkling lights and a blanket of soft fallen show. Here are three of our favorite market towns and some hints on how to make this yuletide festival unforgettable:
---
VIENNA -- This is the city of Christmas, with over 40 markets dotting the cobbled streets and centuries-old squares. Make sure to visit Schonbrunn Palace where the market rests on a sprawling square beneath a towering Christmas tree and the stalls are brimming with retro gifts and other handmade Austrian items. You'll also want to visit the markets at the Rathausplatz and St. Stephen's Cathedral where you can search for delicate hand-pressed tin ornaments and rum-spiked mulled punch, glass figurines, and krapfen Austrian donuts.
SALZBURG -- A forest of 400 trees sparkle with brilliant red spheres as devilish Krampus figures dart about the streets creating a raucous in this festive Old World city. The birthplace of Mozart, Salzburg is a musical feast, and never more so than during Christmas. Enjoy the heavenly sounds of a string concert or the lively tempos of a brass band. Then, make time to enjoy some warm gingerbread and sip mulled beer in the Beer World of Stiegl before you set off in search of a one-of-a-kind souvenir.
VILLACH -- This market is known for its traditional atmosphere and the small-town warmth of its historic center. The small cottage-like stalls sell handmade brick-a-brac beneath a charming bell tower and the ice-skating rink with it ceiling of dreamlike lights is the perfect way to indulge your inner child.
---
Revel in the wonder of the Advent season on YMT Vacations' Austrian Christmas Markets & MSC Seaside Maiden Voyage tour. This 26-day itinerary takes you from Vienna to Salzburg and Venice before crossing the Atlantic aboard one of the world's newest cruise ships. Visit five European countries and three Caribbean Islands while experiencing the luxury and nostalgia of an ocean passage. To make your plans to join this unforgettable journey, call your travel consultant or YMT Vacations at 1-888-756-9072.
---