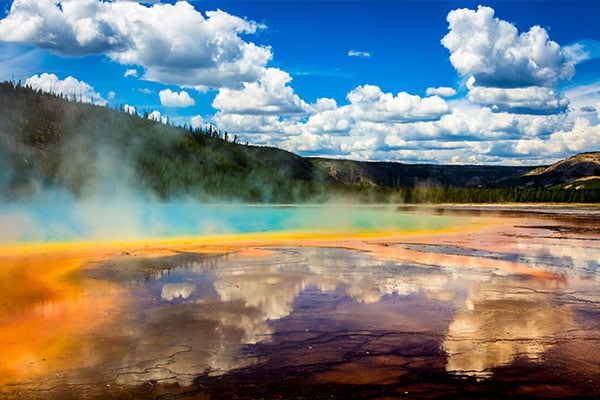 The sheer size and overall breadth of our beautiful national parks make it nearly impossible to see and do everything, especially if you are on a tight schedule. It is easy to quickly become overwhelmed when trying to plan an itinerary, which is why a guided tour is one of the best ways to ensure you see the highlights.
If it is your first visit to the park, there are important attractions that you do not want to miss, whether that's the Grand Prismatic Spring at Yellowstone or the Emerald Pools at Zion National Park.
---
yOSEMITE NATIONAL PARK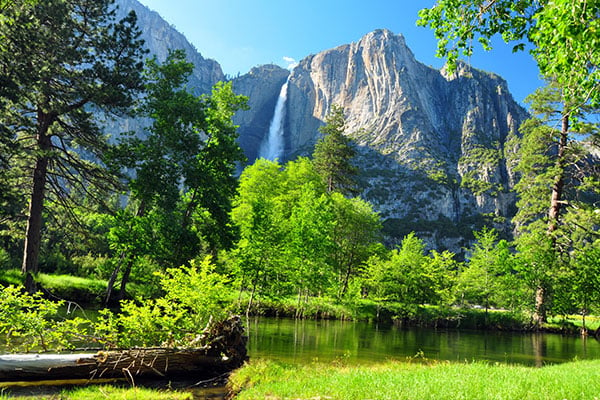 Remember that most of the roads in Yosemite are closed during the winter. The best time to visit is either May or September to avoid the crowds and enjoy comfortable weather.
On State Route 41 is Tunnel View. This scenic vantage point is a favorite among both first and long-time visitors. The expansive views have been the muse for many artists and photographers.
Gushing waterfalls and towering sequoia trees dot much of Yosemite Valley's landscape. The best time to see these waterfalls is in the spring when runoff is at its peak.
Sentinel Bridge in Yosemite Valley offers picturesque views of Half Dome reflected in the Merced River. The stunning Yosemite Falls is not far away.
We recommend visiting for 1-3 days.


Grand Canyon National Park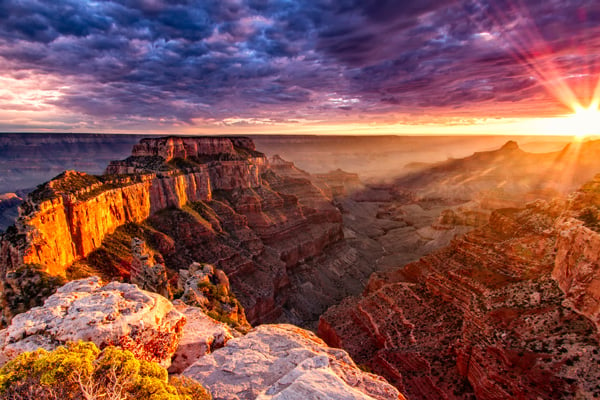 For generations, families and travelers have detoured to see the Grand Canyon on their way out west. And why not, with its incomparable views of layered bands of rock formations.
Begin your visit on the South Rim at the Visitor Center and take a short walk to Mather Point Overlook for spectacular views of the canyon. Stay late and take in a breathtaking sunset.
Enjoy a visit to the Grand Canyon Village to learn about the history and geology of this natural wonder.
We recommend visiting for 1-2 days.


Zion National Park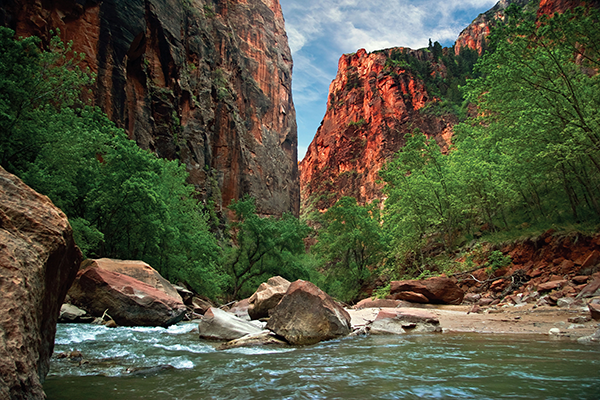 Zion National Park in southwest Utah boasts impressive red-rock formations. A vast array of hiking trails provides fun opportunities for even beginners.
Enjoy a stress-free hike to the Lower Pool (the first pool) of the Emerald Pools, where you can gaze at magnificent red-rock formations surrounded by lush green vegetation.
Enjoy the hanging gardens along the canyon wall on your Riverside Walk hike. This trail offers abundant wildlife, including mule deer, Great Blue Herons, and friendly squirrels.
We recommend visiting for 1-4 days.



Bryce Canyon National Park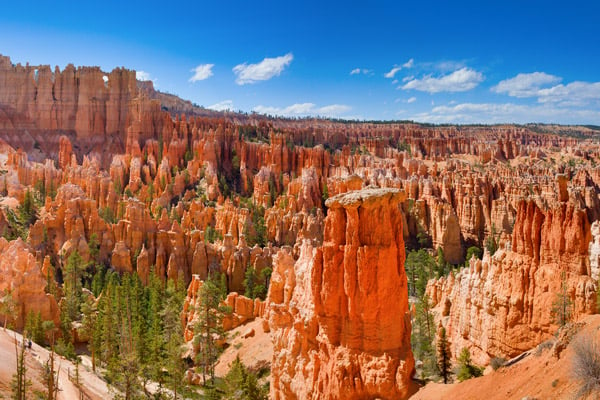 The perfect time to visit Bryce Canyon is at sunrise or sunset. Located in southern Utah, Bryce Canyon provides breathtaking views thanks to its crimson-colored hoodoos. These spire-shaped rock formations provide the backdrop for Bryce Amphitheater.
Take the Rim Trail and enjoy the easy one-mile hike between Sunset and Sunrise Points, or saddle up for a horseback ride through the stunning Red Canyon.
We recommend visiting for 1-2 days.


Arches National Park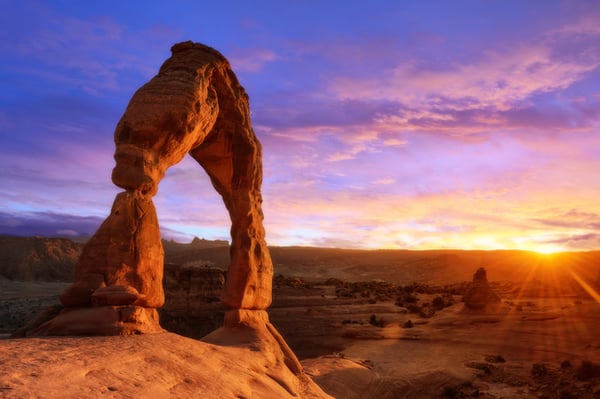 Arches National Park is a geological phenomenon with over 2,000 natural sandstone arches dotting the landscape. A "red-rock wonderland," Arches inspires with its natural formations and splendid sunsets.
Visit the Devils Garden, where you will find the Tunnel Arch, Pine Tree Arch, and Landscape Arch.
Just off the main road at Lower Delicate Arch Viewpoint, a level 100-yard walk allows you to view the world's most famous natural arch, Delicate Arch. A mile down the road you can visit Wolfe Ranch to learn about what life was like in the early 1900s on a western homestead.
We recommend visiting for 1-2 days.


Yellowstone National Park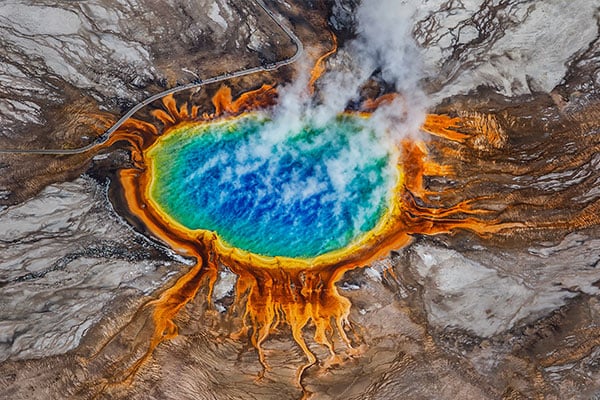 The world's first, and perhaps most famous, national park, Yellowstone is massive in size and scope. Begin your visit at Old Faithful in the Upper Geyser Basin and watch it erupt roughly every 90 minutes.
Resembling an inside-out cave, Mammoth Hot Springs are a unique geothermal feature of Yellowstone. Two terrace boardwalks will take you to over 50 hot springs, including Palette Spring and Devil's Thumb.
Take in the Grand Prismatic Spring, which boasts a rainbow of beautiful colors. It is the third largest spring in the world and bigger than a football field. The water is extremely hot and travels over 100 feet up to reach the surface of the earth.
No visit to Yellowstone is complete without taking in the Grand Canyon of the Yellowstone. A cornucopia of pastel colors highlights the dramatic canyon walls. Three amazing waterfalls provide remarkable views.
Keep an eye out for the wildlife that traverse Yellowstone as well. Familiarize yourself with park rules before your visit to ensure you're watching wildlife safely and responsibly.
We recommend visiting for 2-4 days.


National Park Guided Tours
There is so much to see and do on a national parks vacation. If you can't choose just one park to visit, check out YMT's 27-night Ultimate National Parks Tour or the 18-night Ultimate Canyons & Rocky Mountains National Parks Tour.
Let us plan your trip for you, so you can relax and experience all of the must-see sights and activities while enjoying fresh air, warm sunshine, and bright-blue skies.
To learn more call your travel consultant or YMT Vacations at 1-888-756-9072.