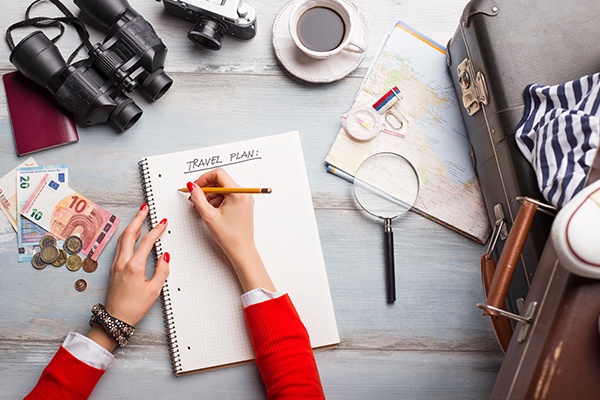 When you think about your past vacations, the most memorable ones are likely the trips where you truly immersed yourself in the local culture by doing things you already enjoy. Whether your love of dancing inspired you to learn basic Flamenco steps in Spain, or your fascination with art gave you a feeling of belonging in Italy, one of the best tips for creating your travel bucket list is to do so based the hobbies and interests you love! Easier said than done? Don't worry, we've started a list for you below based on some common interests. Use the section that is relevant to your personal preferences as a foundation, and expand it further to create your ultimate travel bucket list.
For History Buffs:
Europe is undoubtedly one of the best regions for those with a passion for history. Britain may be the ideal destination if you want to tour London, Bath, and Edinburgh — cities that are steeped in tradition. Visits to the Tower of London, Westminster Abbey, Stonehenge, and Shakespeare's birthplace will take you back hundreds of years.
Greece is the land of great philosophers and the birthplace of democracy. It's also the location where the first modern Olympic Games were held. Make your way across amazing hotspots including the Acropolis, the Parthenon, and the UNESCO World Heritage Site of Delphi. There's no shortage of places to go and things to see.
For Foodies:
Satisfy your palate with a trip to Spain and Portugal. Known around the world for tapas, paella, wines, and port, your taste buds will thank you for putting these two locations on your bucket list. In addition to experiencing food that is popular within bustling cities, visits to nearby seaside fishing villages will give you a whole new perspective into the cuisine of this region.
Journey to a place that has all the fresh ingredients you can imagine, plus culinary influence from Polynesia, Europe, and Asia. This magical place is already in your own backyard — Hawaii! Not only will you get to visit plantations and see the most amazing natural sights, but new and interesting dishes may inspire your own home cooking.
For Art Lovers:
Explore some of the most valuable art treasures in the world with a breathtaking trip to Italy. Stroll through the Vatican Museums, Sistine Chapel, and admire frescoes painted by Michelangelo. And while these famous works will leave you speechless, the art you come upon in small villages will allow you to interact with local craftsmen and artisans to give you a much more immersive experience of Italian art.
If your artistic sensibilities err on the side of theatre and performance, travel to Bavaria for the longest running Passion Play in the world. More than 2,000 inhabitants of Oberammergau portray the story of Christ in the largest amateur dramatic performance in the world! The 5½-hour performance has two parts with dinner included in between. It is definitely a rare bucket list item.
For Photographers:
Photography aficionados will have no shortage of beautiful vistas and interesting subjects during a visit to Alaska. Pristine glaciers, colorful mountain ranges, and awe-inspiring wildlife are sure keep you happily snapping away. The great thing about a visit to Alaska is that you can capture your shots from a cruise deck or during a land tour, so you never have to worry that you'll miss out on a great photo.
Who says you have to travel around the world to take vibrant photos? Take a trip to Albuquerque, where you'll enjoy the sight of hundred of colorful air balloons soaring across the sky in unison during the city's Balloon Festival. And it doesn't just stop there. Take awe-inspiring photos with views of the desert, stunning sunsets, and a slew of interesting people — both local and visitors.
For Explorers:
A transatlantic cruise is a great option if you are looking to visit multiple regions and explore different cultures within the same trip. For example, explore the natural coves of the Dominican Republic, admire Moorish architecture in Cádiz, Spain, discover the beautiful city of Dubrovnik, and sightsee your way through Rome – all with the ease and convenience of a four-week tour.
If you want to explore a country that is vastly different from our own, a trip to China may be exactly what you are looking for. You can visit places such as Tiananmen Square, the Forbidden City, the Great Wall of China, or the Terracotta Army in Xi'an, all of which will teach you about the history of the Ancient Chinese empire. You could take a cruise along the Yangtze River, and get a glimpse into the lives of locals along its banks. Or visit Shanghai, a city that will give you a sense of the country's dynamic economy and culture.
---
Bucket list travels based on your hobby will definitely add more fun and satisfaction to your trip. You will be able to do the things you already enjoy, but in a new country and with the convenience of a tour guide. As an added bonus, you will meet other travellers with similar hobbies on your tour so look forward to dynamic and passionate conversations!