---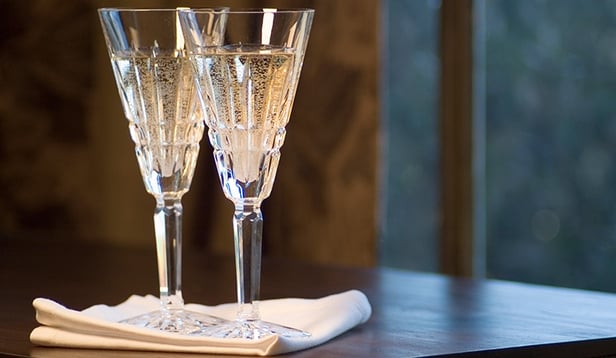 The name Waterford is synonymous with quality. Created by hand in the city of Waterford, Ireland more than 200 years ago, this well-crafted glassware appeared in the homes of the well-to-do families throughout Europe, and even gained the admiration of the British royal family.
Waterford Crystal pieces are valuable because they contain very intricate design elements, and the process to create them is both complex and labor intensive. The larger the piece, the more detail it includes, and the more expensive it is purchase. The cost of these works-of-art varies, with prices ranging from €35 for an ornate seahorse memento, up to €11,350 for a 12-arm crystal chandelier.Today, Waterford crystal is still hand cut and produced with an incredibly exacting attention to craftsmanship, and the stemware remains a highly coveted and collectible brand. Being able to distinguish authentic Waterford pieces from duplicates is a valuable skill, and a must for anyone in the market for this beautiful crystal ware.
Purchase Your Own Waterford Crystal in Ireland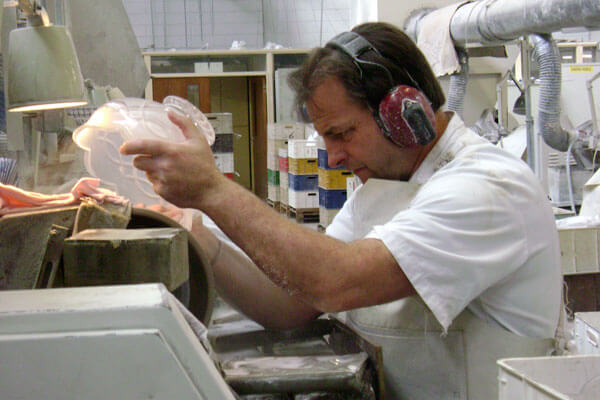 One way to know for sure that your Waterford crystal is genuine is to buy it from a reputable, verified seller—and nowhere is more reputable than the Irish factory itself. It has a massive retail area with a stunning selection of crystal pieces ready for you to purchase and proudly bring home.
Waterford's glassware is the company's most famous product, but they create beautiful flatware, bowls, and many other elegant pieces.
Identify by Waterford Acid Stamps
The first way to tell an authentic piece of Waterford is to look for the Waterford acid mark.
Using a magnifying glass, or holding the crystal up to the light, search for the stamp. It will most likely appear on the stem's base, but can also be found in the grooves as well. Pieces made prior to 2000 will have the company name in a Gothic-script, while newer pieces include the company's seahorse trademark.
Identify Waterford Crystal by Stickers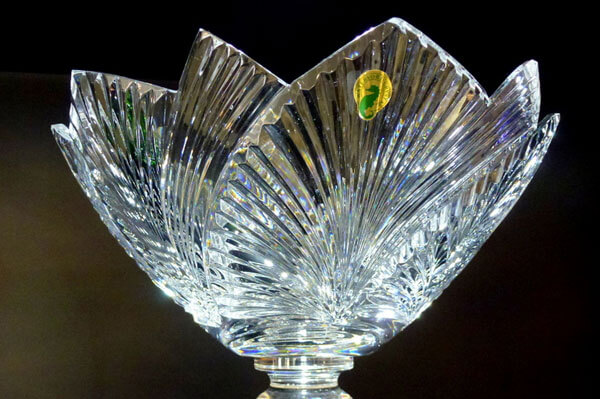 You can also identify Waterford crystal by the paper or foil sticker that is placed on the piece. Older pieces will feature a gold sticker with Waterford's green seahorse logo. You can search for authentic images online to contrast and compare.
However, since stickers can be removed from genuine pieces and placed onto fakes, and may have long since been removed from older stemware, this alone is not the best way to guarantee a piece's authenticity.

Inspect the Quality of Crystal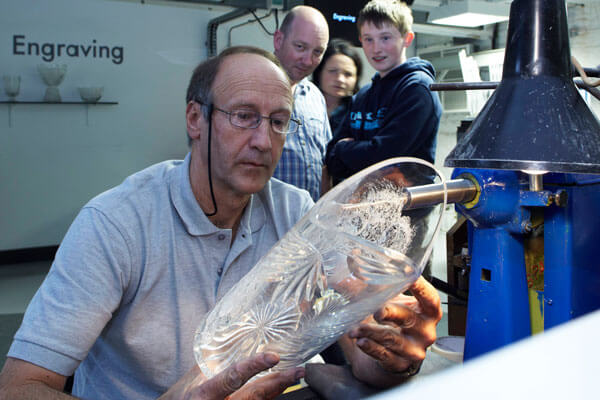 If you are unable to find an identifying sticker or if the acid stamp has worn down with time, you can also check to see if the piece is made of genuine crystal or ordinary glass.
To begin, hold it up to the light and check to see if the piece acts as a prism. When you twist it slowly, it should reflect rainbows of color as the light disperses. A typical piece of glassware will not produce color.
Next, place it up to your ear and tap the rim; you should hear a high-pitched chime as opposed to a hollow thud. Finally, hold the piece in your hand to feel the weight. A crystal piece will be significantly heavier than glass because of its high lead content.
Verify the Design
By consulting with a professional expert or researching it online, you should confirm that your piece matches an authentic Waterford design.
Master artisans are an amazing resource when it comes to verifying any piece, but especially one that is quite old, unusually intricate, or very large, as those are the pieces that will inevitably be worth more if they are in fact genuine.

Visit Waterford
You can learn the history of Waterford, as well as watch how the pieces are blown, cut and hand marked, at a factory tour in Ireland. This optional excursion is available on YMT Vacations' Best of Ireland Tour. The 12-day escorted journey features a number of other unforgettable experiences as well—from Blarney Castle and the Ring of Kerry, to Belfast and Giant's Causeway.
To make your plans to join us for this once-in-a-lifetime vacation, call 1-888-756-9072.