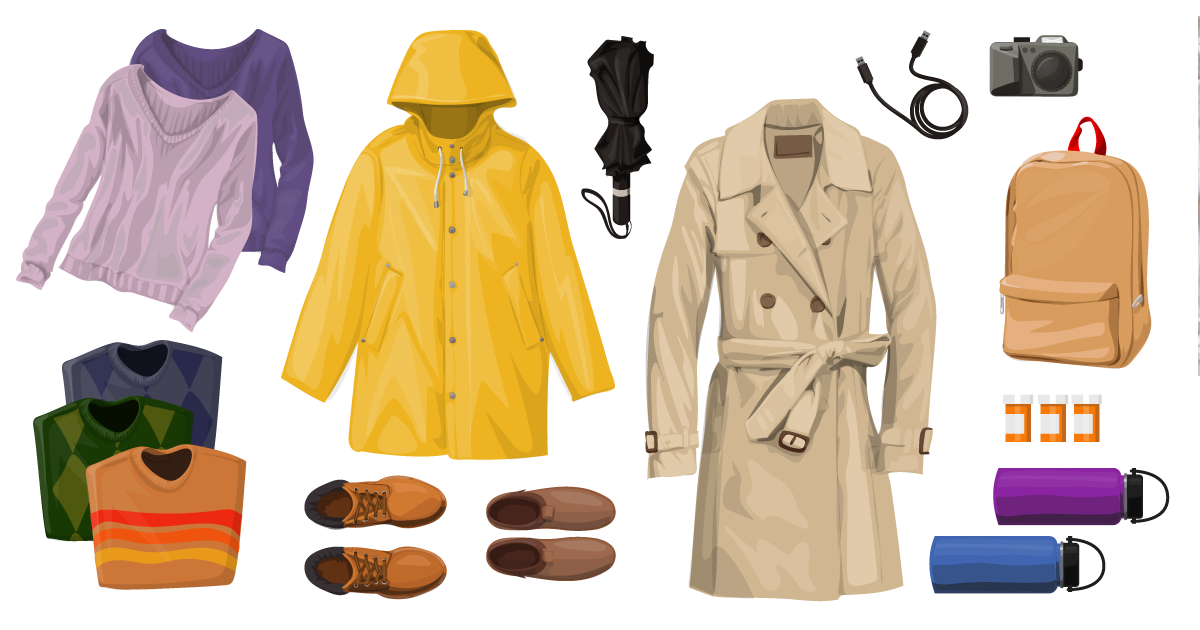 Packing for vacations in Ireland can be tricky, even for frequent travelers. One would think a reasonable amount of sunshine and warmth would be the norm for trips between April and September, but that is not the case. In fact, temperatures rarely get higher than 70 degrees Fahrenheit in the peak of summer! With so much uncertainty when it comes to the weather, you may be asking yourself, "Where do I even get started?"
Regardless of season, there are some standard items you should include in your luggage, and below is a packing list of must-haves for your upcoming Ireland vacation:
1. Raincoat
This will be one of the most important items in your luggage, and you'll find yourself reaching for it on a regular (if not daily) basis. Whether you opt for a classic trench coat, or a sporty outdoor rain jacket, this piece of apparel will keep you sheltered. If you are concerned about space in your luggage, there are plenty of light options on the market that will fold or roll up in a compact manner.
2. Umbrella
Even if you are wearing your raincoat, an umbrella is essential as it provides an additional layer of protection in torrential downpours. You may also experience moments on your holiday where the sun is shining beautifully, but with a light drizzle. A coat may be too heavy to wear during these times. When choosing your umbrella, opt for one that is small or foldable. As a bonus, umbrellas may be used as handy props for photos you'll take during your journey!
3. Water-resistant sneakers or boots
Even if you plan to keep your Irish vacation as leisurely as possible, boots or a sturdy pair of sneakers will allow you to stroll through parks and city centers with maximum comfort. They will also keep your feet warm and secure as the weather transitions to cooler temperatures in the evenings. If possible, break your shoes in before the start of your tour.
4. Sweaters
Pack a few sweater options in order to rotate throughout your trip. Sweaters provide a great option for layering, in both warm and cold temperatures.
5. A bag or backpack
As you travel around the country or from one country to the next depending on which tour you choose, there are specific items you'll want to keep with you at all times. A wallet, camera, hand sanitizer, water bottle, small snacks, and glasses are essentials you will want within easy reach. Choose to bag or backpack that is lightweight and easy to take everywhere you go. Avoid heavy bags, or purses that can cause fatigue or pain in your shoulders.
6. Camera
Capture the amazing places you visit in Ireland to share with your loved ones back home. From the Rock of Cashel and the famous Blarney Stone to the medieval fortresses of Bunratty Castle, these are memories that you'll always cherish. And as an added benefit of your group travel, you'll have plenty of friends from your trip to take pictures for you. Just be prepared to return the favor!
7. Chargers and Adapters
These items will be used throughout your trip because they will keep your electronics charged. Phones, iPads, laptops, electric shavers, cameras, and video cameras typically need to be plugged in. Outlets in Ireland are not the same as in the US, so be sure to pack a power adapter that is "Type G," which is the most common type of outlet there. Even if you plan to use your holiday to stay off your gadgets, these items are small enough to pack in the event you end up needing them.
8. Toiletries
Although you may find the items you need in Ireland, packing your favorite shampoo, conditioner, deodorant, toothpaste, and lotions will give you a sense of comfort and familiarity during your travels. Pack your toiletries in a pouch that is transparent in order to grab what you need easily, without having to search through your entire suitcase to find one item.
9. Refillable Water Bottle
A water bottle is recommended as part of your packing list and can be very useful in many situations. Depending on your tour schedule, you may need to take pills or medication while you are en route from one location to other. Having a water bottle also allows you to stay hydrated during walking portions of your tour. Just be sure it's empty before going through airport security. You can then refill it at a drinking fountain in the airport.
10. Medication
Plan to take all your regular medications on your trip. If possible, keep them in the original packaging, with prescriptions, and instructions on dosage and what they are used for. Unlike all the other items on this list, your medication should always stay close to you. That means packing them in your carry-on bag so that you can access them if needed.
Once you have packed these must-have items, rest assured that you have exactly what you need to enjoy each day on the tour. Your preparation will allow you to adapt from sunny skies to misty rain in a matter of minutes, so you can immerse yourself in Irish culture without any distractions!