---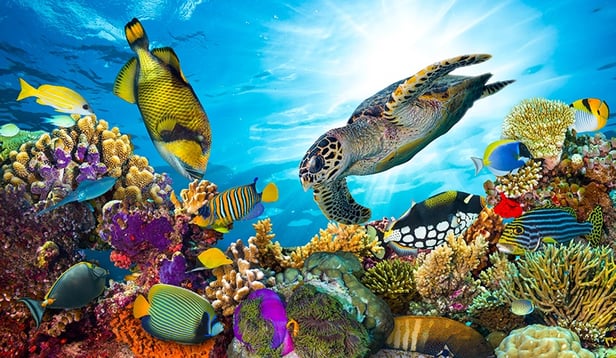 Just below the surface of the water lies another world teeming with wonder and fascination. Come discover sea turtles and clownfish, manta rays and schools of angelfish as you dive The Great Barrier Reef. But if you're like many first-time travelers to Australia, you may wonder if this bucket-list experience is something you can actually do. The good news is, it is!
---
As one of the world's most accessible reefs, The Great Barrier Reef system requires little more than an average fitness level, the ability to swim and a sense of adventure. So pack your bags and don't forget your swimsuit. Here are some helpful tips for exploring the Great Barrier Reef:
Dive Right In -- Most local dive centers offer a "resort dive" program that lets you get wet, experience what it's like to be underwater, and see a small amount of marine life -- all under close supervision. While the course doesn't carry over to later dives, it will give you the sensation of diving the Great Barrier Reef if you only have a day to spare. Other "learn to dive" courses teach visitors the basics of recreational scuba diving in a multi-day course that features pool training, open water dives, and certification.
Snorkel Tips -- Not everyone wants to dive, and in Cairns you don't have to. Because of the closeness of the reef to several sandy cays and islands, you can often walk straight into the water or off the bow of a boat docked in shallow waters and expect to see plenty of underwater treasures.
Take a Rest -- One of the benefits of snorkeling is the option to rest when you need to take a break. Being close to shore allows you to swim in for a breather while large resting buoys at many swim sites let you snorkel from float to float and rest as needed.
Kidding Around -- As the planet's largest and longest coral reef system, it seems unlikely that children can handle the experience. However, as long as they are good swimmers, accompanied by a parent and under the supervision of a guide, not only can they do it, but it will be a trip they will never forget. It's also the type of active vacation that is well suited for busy bodies and curious minds. Perfect for the grandkids!
Sun Protection -- Sunscreen, hats, and sunglasses are essential due to Cairns' tropical climate. Make sure to apply sunscreen liberally throughout the day and bring along a lightweight, long-sleeved shirt for added sun protection.
Suit Up -- Wetsuits, stinger suits and lycra gear are available from most day tour operators. They are recommended for your comfort and safety, especially during the cooler winter months and because of marine stingers in the area.
Weather Swap -- Its location in the southern hemisphere means that Australia's seasons are flip-flopped with ours. While anytime is a good time to visit the Great Barrier Reef, the summer months (December to March) are the warmest. Autumn is less rainy, winter provides the best chance to witness whale migrations, and spring is the coral spawning season when the reef reproduces.
---
You can experience the Great Barrier Reef on a YMT Vacations journey. This extension package allows you to add on a 3-day trip to your Australia/New Zealand itinerary. Not only does this option allow you to experience multiple destinations in a single trip, it also gives you the freedom to select an experience of your choosing. To arrange your Australian escape, call 1-888-756-9072.
---