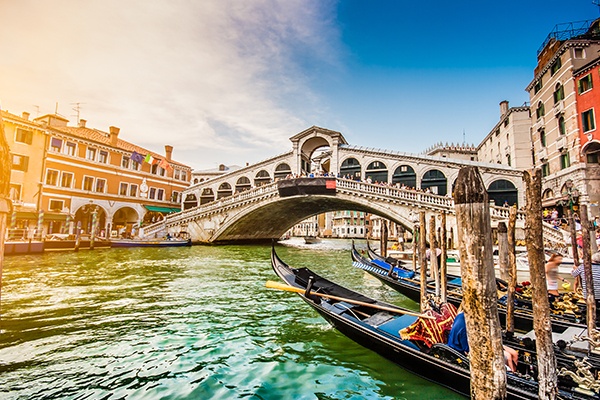 You've always wanted to make a wish at the Trevi Fountain, eat gelato while strolling the streets of Florence, or float beneath the Bridge of Sighs. Well, now you're off to Italy to see all the wonders you've imagined.
Before you go, here are some tips you'll need to know:
Do convert
Since American appliances run on different voltages, you can't plug your blow-dryer into an Italian outlet without blowing a fuse. You'll need to purchase a universal converter or adapter at any luggage or electronics store.
Don't go to overly tourist-friendly restaurants
Chances are if the board out front posts the menu in every language represented by the U.N., it may not be the most authentic restaurant. Better to go a few blocks from the tourist areas and look for a mom-and-pop establishment.
Do dress like a local
It's true, Italians dress more formally than Americans. No matter how old you are, if you're wearing tennis shoes and a track suit, you will stand out. Wear a sundress, or khakis and a collared shirt. Skip the athletic shoes and opt instead for comfortable leather walking shoes.
Don't sit to sip
Be aware that any time you sit down in a cafe or bar, it's going to cost you. Most Italians stand at the bar for a coffee or a beer because it's a known fact that table service costs more.
Do go in the off season
Not only is summer hot and crowded, it's also costly. Visit during the fall and winter months and you can find airfares and hotel prices that are as much as 20 percent less than during peak travel months. If you can come during late November or early December, you can also enjoy the holiday festivities and bright lights and decorations.
Don't rush
It's easy to think you have to hit every place in the guidebook, hurrying from this monument to the next without ever taking your time to ever fully appreciate the magnificence that is Italy. It's better to take your time, cut out a destination or two, and really soak up the experience.
Do book ahead
Unless you want to stand in line for hours to see Michelangelo's David or the Uffizi Gallery, reserve your tickets in advance. Traveling with a group travel company like YMT Vacations also ensures your reservations are handled before you arrive
Don't tip
Tipping isn't always expected in Italy since most waiters are paid a higher wage. Simply look for the words servizio incluso (service included) on your bill or menu.
Do bring a good book
You never know when you're going to need to take an afternoon off, so bring an excellent book that you can enjoy during down time.
Don't just hit the highlights
You can't miss the Colosseum or David, but that doesn't mean there isn't more to see. Once you've checked off all the must-see sites in the guidebook, head a bit further afield and see what unexpected mysteries await you.
Explore all the wonders of Italy on YMT Vacations Bella Italia Tour. This 10-day active journey features visits to Venice, Florence and the "Eternal City" of Rome.
Along the way you'll enjoy sightseeing in Bologna, Pisa, Orvieto, Verona and Milan. To make your plans to join the tour, call your travel consultant or YMT Vacations at 1-888-756-9072.