---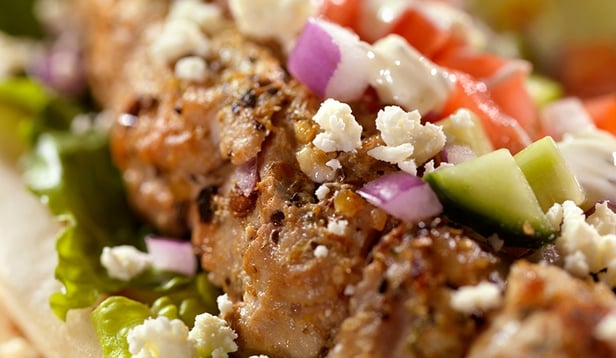 No one enjoys their food more than the Greeks do, but many Americans shy away from travels here because the food seems too exotic. The good news is Greek cuisine is never that spicy, the seasonings and ingredients are quite familiar and, more importantly, it's delicious.
So grab a seat at the table and order up. Here is a list of common Greek entrees and their descriptions:
LAMB
Psito - Leg of lamb with roasted potatoes
Pidakia - Grilled ribs
Fricasse - Stew with spinach, lemon, eggs and olive oil
CHICKEN
Me Saltsa - Chicken in red sauce
Tis Skaras - Grilled chicken
Souvlas - Seasoned shish kabob
Psito -- Roasted chicken with potatoes
FISH
Psarosoupa - Fish soup with potatoes, lemon and an egg base
Sardeles -- Sardines, look for the word pastes which means they were caught, salted and served that day
Kalamarikia -- Fried squid
Octopodi -- Octopus served grilled or boiled
Midia -- Mussels served steamed in wine sauce
Garides -- Shrimp
Xifia -- Swordfish, typically served grilled or souvlaki
Astako -- Lobster Soupia -- Cuttle fish
Bakaliaro -- Fried cod served with garlic sauce
MEAT
Brizoles -- Steak
Khirini -- Pork
Loukanika -- Sausage
So order up some fried cheese or a caper salad. Top off your meal with sadziki yogurt sauce or some dolmades stuffed grape leaves. Whatever lands on the table is bound to be a meal you won't soon forget.
Savor amazing dishes in Greece with YMT Vacations
You can sample all the flavors of Greece on YMT Vacations' Greece & Her Islands Tour or Gems of the Adriatic Cruise. These tours will take you from Mykonos and Santorini. And if you're feeling up to it, why not add on a Greek vacation extension for one spectacular combo tour?
To make your plans, call your travel consultant or YMT Vacations at 1-888-756-9072.