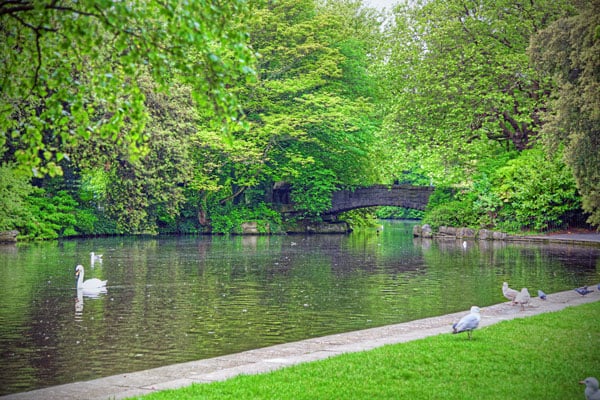 In In the book, Ulysses, author James Joyce details a single day in the life of Leopold Bloom, an Irish Jew and modern-day Odysseus. So taken are the Irish with this novelist and his masterwork that every year on that legendary day they hold a festival in the character's honor: Bloomsday. On June 16th, and the days surrounding the festival, literary fans dress up in Edwardian clothing, partake of the peculiar eats found in the book and revel in the atmosphere of turn-of-the-century Dublin. Visitors and locals alike take to the streets of Dublin to pay homage to the places associated with Joyce and the characters in his books, making the James Joyce walking tour a favorite stop on any Irish getaway. Here are some of the sites you can expect to see:

Sweny's Pharmacy — Little changed in a century, Sweny's Chemist still has its black and white interior crammed with potions and the lemon soap cakes that Bloom so loved.
St. George's Church — This lovely Georgian building at Hardwick Place is the cause of the bells whose tolls could be heard from the Bloom's house on Eccles Street.
O'Connell Bridge — Originally built in the 1790s, this bridge is the main crossing point between the north and south sections of the city. It's also where Leopold Bloom came to feed Banbury cakes to the greedy gulls in Ulysses.
Davy Byrnes Pub — Pop into the place Joyce described as the "moral pub." At this site on 21 Duke Street you can enjoy Bloom's lunch of choice: Gorgonzola sandwiches washed down with a glass of Burgundy wine.
James Joyce Center — This focal point for Bloomsday as well as for many walking tours offers lectures, reenactments and exhibits centered around Joyce's many works.
Belvedere College — This exclusive Jesuit school was where Joyce himself attended college on a scholarship.
Usher's Quay — Joyce's aunts lived here in a home that would become the setting for one of the world's most famous short stories, The Dead.
The National Library — The author spent many a day studying and reading in this grand library that was also the scene for the Scylla and Charybdis episode of Ulysses.
A Taste of Bloomsday — Bloom's culinary preferences are not for the faint of heart. Giblet soup, nutty gizzards, stuffed roast heart and liver fried with crust may not be your cup of tea so order up a good old-fashioned Irish breakfast instead. The choice is yours. You can also dress up in period costumes like the many revelers on Bloomsday while you enjoy "Leopold's Lunch" at Fitzgerald's Pub.
St. Stephen's Green — This picturesque city park features a bust of James Joyce bearing a famous inscription from Ulysses. It's also a perfect spot for a picnic lunch.
You can enjoy year-round walking tours of James Joyce's Dublin on YMT Vacations' Best of Ireland Tour as well as the Bloomsday Festival itself on select June tour dates. The 12-day itinerary takes you throughout the "Emerald Isle," from Blarney Castle and the Ring of Kerry to Giant's Causeway and St. Patrick's Cathedral. To make your plans to join this journey, call you travel consultant or YMT Vacations at 1-888-756-9072.