---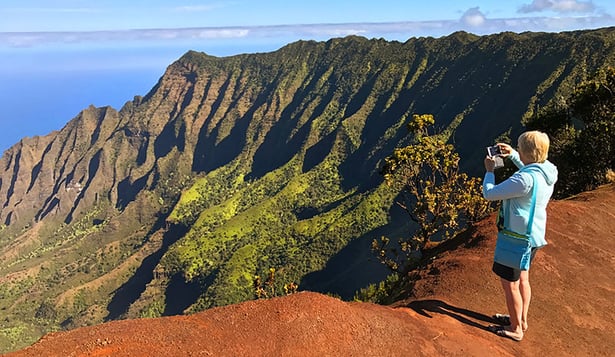 After years at home, many widows and widowers are now finding the courage to explore the world again. The tragedy of having lost a spouse, compounded by the toll of being a caregiver, often times makes travel seem like a luxury from a very distant past. However, the call of the open road eventually finds us all again. Here are some things to consider when making your first solo trip and some tips on how you can make traveling alone a rewarding and liberating experience:
---
Traveling Alone Doesn't Mean Being Lonely -- Just because you've booked a solo trip doesn't mean you'll spend the entire time by yourself. Encounters with locals and fellow travelers not only provide companionship, they also open you up to new experiences as well. Consider making a hair appointment at a neighborhood salon or spending some time in a local supermarket. It's amazing what you can learn by taking part in the ordinary lives of people a half a world away.
Travel in Groups -- If you're not up for going it totally alone, consider a package tour like the ones offered by the travel experts at YMT Vacations. Group travel allows you the thrill of a solo trip with all the security and convenience you need. Not only will you interact with other like-minded travelers, you can also enjoy the attention and care of a dedicated tour director.
Eat It Up -- One of the hardest times to be single is at meal time when the pangs of loneliness and the fear of eating alone creep up. Consider an outdoor cafe or an informal restaurant where you can read a book or a local paper. If a more formal meal is what you're craving, try dining at the bar where you can chat with the staff and other patrons.
Sign Up for Day Trips -- Many group trips and cruises offer the option of daily tours. In addition to being fun, these a la carte experiences allow you to enjoy the companionship of a local guide and time spent with other travelers. Not up for the added cost? Go online to search for local groups and meet ups in the area that share your interests. Play a game of bridge, hit a round of golf balls or simply share a cup of coffee with a local.
Don't Overdue It -- Consider not only your physical abilities but what you're up for emotionally when planning a trip. While a 10-city journey may seem like fun, it can also be quite draining especially if this is your first solo trip since losing your spouse. Look at the itinerary, pace, and fitness demands when determining what it right for you.


---
YMT Vacations lets you explore the world with group tours at low prices and unmatched value. Reliable, guaranteed and expertly run, our journeys let you travel the globe from Alaska to Europe, Hawaii to the National Parks of the United States. To learn more about our tours, unique travel experiences and how you can join us, call your travel professional or YMT Vacations at 1-888-756-9072.
---