---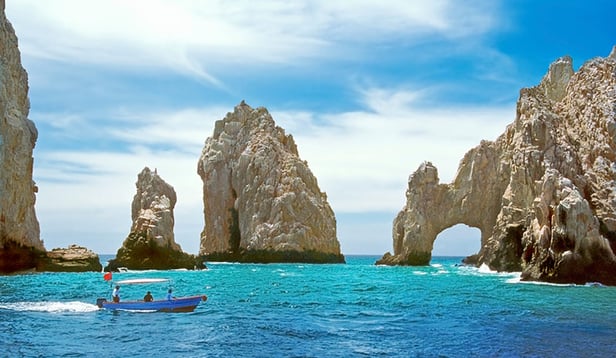 There's a lot to see in this world -- from the Grand Canyon to the Eiffel Tower, the Sistine Chapel to the lights of Las Vegas -- but something you may have overlooked when making your bucket list is a chunk of rock known as El Arco. Perched at the tip of the 1,000-mile long Baja Peninsula, The Arch of Mexico is a massive tunnel carved from a 200-foot rock face that slides into the sea. What makes it worth the trip is the pounding force with which the Pacific Ocean meets the Sea of Cortez at Land's End, their union so strong it has literally carved through granite.
---
As one of Cabo San Lucas' favorite attractions, The Arch was once a hiding place for pirates lying in wait to ambush passing merchant ships. Today, boatloads of visitors come to see the iconic symbol, which you're likely to find on just about every postcard and souvenir in the area. Don't miss the chance to hop on board and approach El Arco from the water for some spectacular photos of what appears to be the "end of the earth."
El Arco isn't the only rock formation you're likely to see in Land's End. There are a series of rock outcroppings that reach all the way to Alaska's Aleutian Islands, several of which are right here in the Cabo area. Make sure to see The Friars, a group of rugged islets that resemble hooded monks and a favorite of local sea lion colonies. On the northeast side of the cape there's Pelicanos, or Pelican Rock, a smaller outcropping that is home to, you guessed it, lots of birds. You'll also find a rich array of marine life including sea fans, sea urchins, coral and colorful tropical fish.
Make sure to bring along a picnic, a camera and your snorkeling gear to make the most of your time. The area is accessible by water taxi, small Mexican mini boats known as pangas, or by walking from Lover's Beach in nearby Playa del Amor at low tide.
---
El Arco is just one of the sites you can witness on an exciting journey from YMT Vacations known as the Mexican Riviera Cruise, Las Vegas & California Sights tour. Like the name implies, this 12-day itinerary features a 2-night stay in Las Vegas; a stopover in California that includes Death Valley and Los Angeles; and a 7-night cruise through the Mexican Riviera with port stops in Puerto Vallarta, Mazatlán and Cabo San Lucas. For journey information, or to make your reservation, call your travel agent or YMT Vacations at 1-888-756-9072.
---