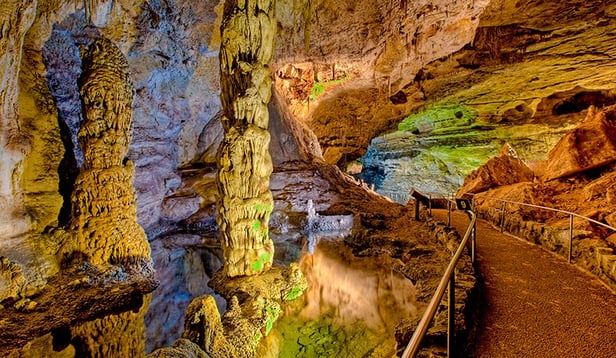 As the elevator begins its descent into the earth, visitors wait with bated breath for what lies at the end of a 75-story drop. When the doors finally open, one of the world's most spectacular cave systems reveals itself. Hundreds of millions of years in the making, the Carlsbad Caverns were known to Native Americans as far back as the 10th century when the earliest of their pictographs were drawn upon the walls. Today, visitors still come to explore the 100 known caves that lie in this system 14 football fields in size and shrouded in netherworld-like darkness.
Scored by the constant sounds of dripping water, the caves rest deep within the earth's belly just below the Chihuahuan Desert. Guests explore this National Park by traveling an illuminated walkway that snakes its way through the darkness like a pathway to the underworld. Along the way there are hundreds of formations and fragile mineral deposits resembling ocean waves and bunches of grapes, tumbling waterfalls and even the face of a mountain troll. Here are a few tips you'll need to known when visiting Carlsbad Caverns National Park:
Guests can choose between self-guided tours available any time during visiting hours, or ranger-led tours that operate on a schedule. Plan ahead to secure a ranger-guided tour, or join a tour group that arranges these excursions.
Since your ticket allows for re-admittance all day, you can feel free to return to the Visitor's Center for a break or to regain your bearings at any time.
The natural descent into the caverns features many steep stairways so hiking shoes or footwear with non-slip soles is recommended.
If you have health restrictions or mobility issues the elevator-assisted entrance is highly recommended.
There are no restrooms in the caverns so plan ahead and use the facilities at the top of the natural entrance or those located next to the elevators. However, remember you can always leave the caves and return again without penalty.
Since Carlsbad Caverns is enormous in size, plan for at least a half-day's stay.
While food and flavored drinks are not allowed in the caves, water is recommended to stay hydrated.
YMT Vacations' Albuquerque Balloon Fiesta & Southwestern Tour includes a trip to Carlsbad Caverns National Park. It's just one of the YMT Vacations itineraries highlighting the Centennial Anniversary of America's National Parks System. To join us on the Albuquerque Balloon Fieta & Southwestern Tour, or for information about any of our other National Parks journeys, call your travel consultant or YMT Vacations at 1-888-756-9072.