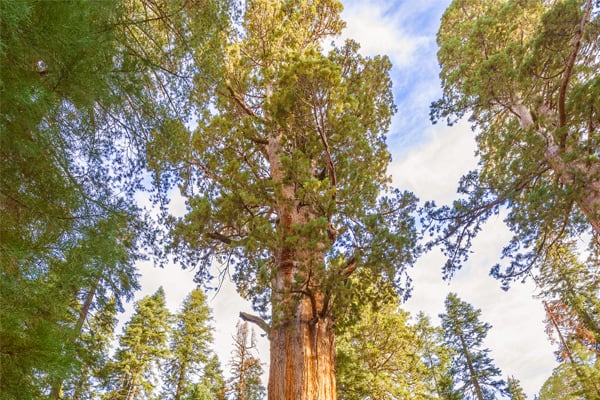 Sequoia & Kings Canyon National Parks, neighboring parks jointly administered by the NPS, are some of California's finest. Located in the southern Sierra Nevada mountains, they have lush green meadows, thundering rivers, mighty mountains, a very healthy bear population, and sprawling groves of jaw-droppingly massive trees. They are home to two of the world's largest living trees, the noble sequoia tree neighbors General Sherman and General Grant.
General Sherman Tree in Giant Forest
The General Sherman Tree is the largest tree in the world, whose immensity is genuinely difficult to comprehend. But here are some quick facts about the giant sequoia that just might help:
General Sherman Tree height: 275-feet
General Sherman Tree diameter: 36.5-feet
General Sherman Tree circumference: 102.6-feet
General Sherman Tree age: 2,200 years
General Sherman Tree weight: 4 million pounds
The reason that giant sequoias are so large in terms of volume is that they maintain a massive diameter higher up than most other kinds of trees; General Sherman is still more than 17-feet wide 60-feet above the ground.
General Sherman may be the king of the Giant Forest, but it is by no means the stunning grove's only eye-catching natural feature. Giant Forest is a large sequoia grove set in a plateau between the Kaweah River's fast-moving Middle and Marble Forks.
Many of these sequoias have immense girths, easily surpassing diameters of 15-feet. The Forest Service has been maintaining the grove with prescribed burning for decades, and this intentional use of the natural process of forest fires has kept the Giant Forest incredibly healthy. It has plenty of open space and is peppered with young trees growing up strong as a result of being exposed to the flames' very high heat.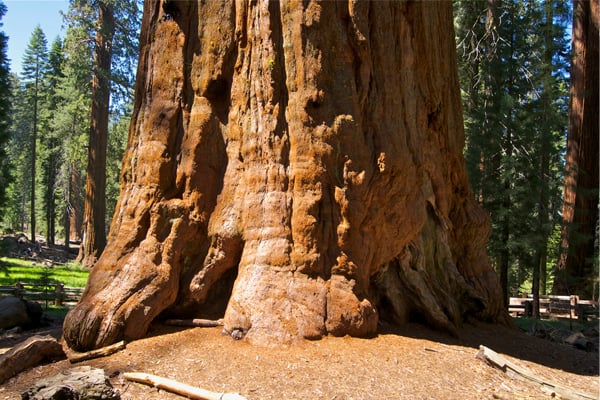 General Grant Tree in Grant's Grove
Good news for visitors who want to see the world's biggest and second-biggest trees in one day: the distance between the General Sherman Tree and General Grant Tree is just 29 miles. General Grant comes in second at a height of 267-feet and with a base diameter of 29-feet. It can be found in the 90-acre Grant Grove, which is crowded with giant sequoias. This grove has the park's largest percentage of trees surpassing 10-feet in diameter, and it's close to Gamlin Cabin, the Centennial Stump, and the Fallen Monarch, a tree trunk large enough to serve as a stable for the United States Cavalry.
Grant Grove and the General Grant Tree can be found just outside of the Kings Canyon Visitor Center and is close to meadows and a lovely little waterfall.
Visit General Sherman and General Grant
If you want to take a trip to the world's largest trees, you can join YMT Vacations on our incredible Golden California National Parks Tour. Visit Sequoia & Kings Canyon National Parks and many more of California's most popular National Parks on this dazzling tour of the Golden State. Call your travel professional or YMT Vacations at 1-888-756-9072 to book!