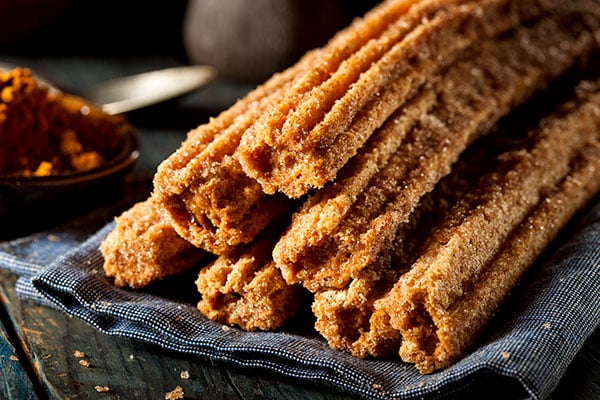 Churros are draped in as much mystery as cinnamon sugar, starting with how, where, and when they were created. One of the prevailing theories is that they were first cooked up in Asia. They made their way to Lisbon when Portuguese sailors out for dinner at a port in Northern China were served a savory, crispy, fried pastry called "You Tiao" that they couldn't resist bringing back to Europe. Once home, Portuguese cooks put their own twist on the treat—switching it from salty to sweet—and then watched it flourish, evolve, and eventually blossom into the modern-day delight that we now call churro.
Why Are Churros in Lisbon So Good?
Because the Portuguese have been enjoying churros for centuries, they know how to make them really well. They have perfected the thickness of the dough, the level of crunch, how to flavor them, and which dips should be served alongside. Churros in Lisbon are served hot, sweet, and accompanied by chocolate—either with a generous mug of cocoa or a thick, dippable chocolate sauce.
Served at an elegant restaurant or eaten piping hot straight out of a greasy paper bag, churros are a delicious, affordable treat perfect for any time of the day. Especially in Lisbon. The Portuguese capital is is the ultimate place to enjoy the churro in its many variations, and locals and visitors alike love to stroll the cobbled streets in this historic European city famous for its food scene with a warm bag of churros and a steaming cup of coffee.
Where Can I Get the Best Churros in Lisbon?
When you're in this churro mecca, there aren't any wrong choices. For a quick fix, seek out a street vendor, from whom you can get a delectably fresh churro for just a few euros at nearly any time of day. Another great option is the "crunchy decadence" of Guilty at Olivier. Purveyors of an eclectic mix of cuisine, their churros are a delightful end to your meal. Finally, Tapa Bucho Gastrobar serves tapas, shareable, snack-sized portions of a wide variety of dishes—including perfect churros ready to be dipped in chocolate.
What Is a Churro?
A churro is made by piping pâte à choux—a light pastry dough that's also used in profiteroles, cream puffs, and eclairs—into hot oil, frying it to golden brown, and sprinkling it with sugar. Churros are found in Portugal and Spain, all over Latin America, and of course, at American theme parks, fairs, and carnivals.
How Do I Make Churros?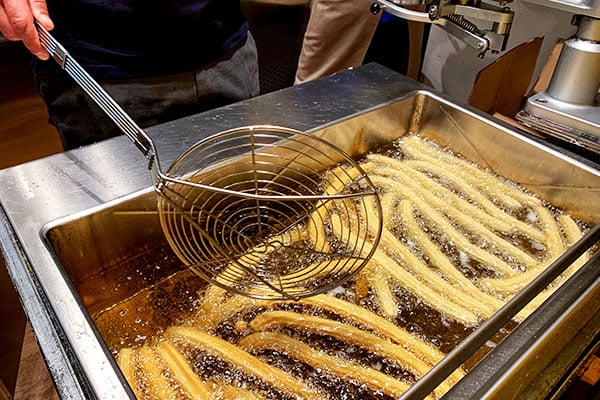 If you can't make it to Lisbon, you can try this authentic recipe out at home:
Ingredients
1 cup of water
2 1/2 Tablespoons white sugar
1/2 teaspoon salt
2 Tablespoons vegetable oil
1 cup all-purpose flour
2 quarts of oil for frying
1/2 cup white sugar
1 teaspoon ground cinnamon
Directions
In a small saucepan over medium heat, combine water, sugar, salt, and vegetable oil. Bring to a boil and remove from heat. Stir in flour until mixture forms a ball.
Heat oil for frying in a deep-fryer or deep skillet to 375 degrees. Pipe strips of dough into the hot oil with a pastry bag. Fry until golden; drain on paper towels.
Mix the cinnamon with the remaining ½ cup of sugar and roll the churros in the mixture while they're still hot.
Recipe taken in part from allrecipes.com.
Try a Churro in Lisbon with YMT Vacations!
Want to try a churro in Lisbon? We'd be happy to take you. Many of YMT's Mediterranean and European cruises stop in Lisbon, as well as Journey through Spain & Portugal, our unforgettable land tour through the Iberian Peninsula. To view departure dates, or to make your reservations to join us, call your travel agent or YMT Vacations at 1-888-756-9072.
---