---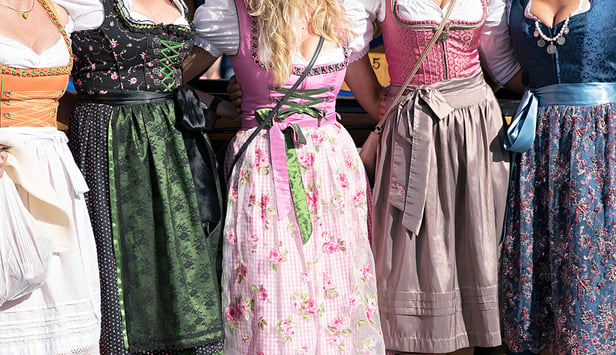 The traditional Alpine dress of Oktoberfest was first worn by female servants and housekeepers in the late 1800s. Later on, ladies of the upper class donned the peasant frocks to fit in with the locals while vacationing in the countryside. The traditional dirndl dresses followed regional color combinations and specific cuts which, no doubt, were designed to "boost" a woman's "assets." However, the look wasn't made for just anyone -- the original word for the dress means "young girl." Always a bit sexy and known for creating ample cleavage, the way a dirndl is worn also reveals a secret.
---
Look close at the bar maids and female servers at Germany's Oktoberfest and you'll notice the little-known mystery of the dirndl. The apron that covers the dress is tied in a bow. The side of the body on which the bow is tied reveals whether the young lady is taken or single. If the bow of the apron is on the left-hand side, the lady is single, and you may try your luck; a bow on the right signals that the lady is already taken or even married.
Dirndl dresses, and the male counter-costume known as lederhosen, are just part of what makes Oktoberfest so much fun. The 16-day event is the last chance for residents of the "beer capitol of the world" to make merry in the great outdoors before the weather turns colder. There are ompa bands and beer tents flowing with local-brewed Wies'n, Bavarian delicacies and parades of steed-drawn wagons in what is considered Germany's most famous festival.
You can join in the merriment of this year's Oktoberfest celebration. By adding the Oktoberfest package onto YMT Vacations' Elegant Danube, Alpine Beauty & Bohemian Highlights river cruise, on tour you'll enjoy the full river cruise itinerary plus an additional Wies'n Experience and Sound of Music Excursion. Just remember, when you're enjoying the endless pours from the Bavarian beer gardens make sure you have your dirndl tied correctly!
---
For more information on how you can join the Elegant Danube River Cruise and the additional two-night Oktoberfest experience, call your travel agent or YMT Vacations at 1-888-756-9072.
---