---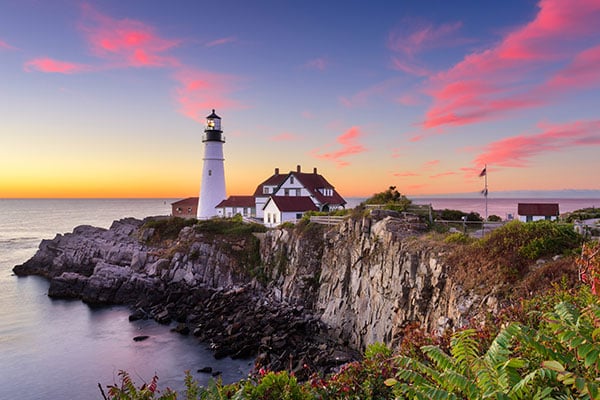 Maine's just not like other places. This corner piece of the American puzzle takes pride in doing things its own way.
From its magnificent cuisine to its fascinating history to its obsession with L.L. Bean (more on that later), Maine has always forged its own path. That independent spirit extends to language, as well. Mainers are well known for their colorful vocabulary, spoken slowly with a strong accent and a mischievous sparkle in the eye.
14 Local Phrases for Your Maine Vacation
If you're "from away" you should come prepared for your visit. Learn what some key Maine slang and phrases mean, and how to use them:
Apiece
A unit of linear measure equal to whatever the person intends at the time. Impossibly vague, it can mean anything from around the corner to the other side of the state. Pay close attention to the hand gestures used to indicate what "apiece" means in your particular instance.
Example: "You need a cuppa coffee? Timmy's* is just down this road apiece."
*Tim Horton's. A Canadian based coffee shop with a few dozen always bustling locations in Maine
Ayuh
The first word of most Maine-born babies. Maine's version of y'all or aloha, ayuh is an essential part of the local vocabulary. Uttered once or many times in rapid succession, ayuh means a very strong yes. Pronunciation of ayuh is vitally important. The "ay" should rhyme with hey, say, or Casco Bay. The "yuh" rhymes with zebra, panda, or chowda. As in "chowdahead," which you risk being branded if your ayuh pronunciation is wrong.
Example: "Ayuh I'll go to the bah with you to watch the Sox pummel the Yanks!"
Bean's
A mecca. A beacon in the cold night. The home of the world's largest boot. L.L.Bean's flagship store in Freeport has a giant boot in front to welcome both locals and hordes of tourists into a retail wonderland with everything from cardigans to goose honkers. Bean's refers both to the store and the brand, which Mainers rave about for the quality of its product and the generosity of its return policy.
Example: "Hey, Bub, wanna come wit' me to Freeport? I need to exchange those Bean boots that got singed up at our bonfiyah last weekend."
Bub
A nickname for anyone. Maine's charming answer to "dude."
Example: "Hey, Bub, if you're going to the Hannafahd* couldja pick up some Moxie for me?"
*Hannaford Supermarkets is one of the top grocery store chains in New England. They always have plenty of Moxie, Maine's signature soft drink, on hand.
Bug
Another name for the ubiquitous lobster. In Maine lobsters are cheap, abundant, and less status symbol than the main ingredient of your run-of-the-mill weeknight dinner.
Example: "Aw, really? We're havin' bugs for suppah again?"
Chout
A conveniently shortened version of "watch out!" Good for when someone actually needs to watch out.
Example: "Chout for that seagull! She's comin' for your lobstah roll!"
Cunnin'
A word used exclusively by the older generation that means wicked cute or adorable. More often applied to grandkids than crittahs.
Example: "That little Abby* is a right cunnin' little thing."
Finest Kind
The best of something. A high honor, especially from the famously un-gushy people of Maine.
Example: "You seem to be the finest kind of man, Mistah Dahcey. I wouldn't paht with my daughta for anything less."
From Away
Somebody NOT from Maine. Families only lose their "from away" status after 3+ generations.
Example: "I just learned Stephen King's from away! His fathah was born in Indianer*! Indianer, I can't believe it, eithah!"
*R's in Maine are very unpredictable. Sometimes they're added, sometimes they're lost.
Gawmy
Klutzy, clumsy, not great on the ol' feet.
Example: "I always feel gawmy at first, skippah, but don't worry, I'll get my sea legs soon!"
Pot
The portable traps fishermen use to catch lobstahs.
Example: "Jim, how were your pots today? I tried out that bait you suggested, and the bugs wanted nothin' to do with me!"
The County
Aroostook County, the far north of the far North. The sparsely populated northernmost county in Maine is practically in Canada. Watch out for moose.
Example: "I once got lost in The County for five days."
Upta camp
Heaven on earth. Mainers love nothing more than enjoying the natural beauty of their own state, and going "upta camp" means going anywhere you can to enjoy it. Heading somewhere off the beaten path—be it a cabin on the lake or a hotel on the coast—counts as upta camp.
Example: "I can't wait to finally go upta camp next week with YMT Vacations."
Wicked
Very. Used more often than you can possibly imagine.
Example: "This cat is wicked soft."
Speak Like a Local in Maine with YMT Vacations
Charming, welcoming, and entirely unique, Maine is a one-of-a-kind vacation destination at the top of many bucket lists. If this special place, and its quirky slang terms, appeal to you, we encourage you to pack your bags and join us on Coastal Maine & Acadia. Take this Maine Vacation package to experience seven fun-filled days lived "the way life should be."
For more information or to book, call your travel consultant or YMT Vacations at 1-888-756-9072.