Maine changed its state slogan from Vacationland to "the way life should be." Which is a lot more accurate. The 23rd state is known for its slower pace, open spaces, and spectacular scenery. Maine's long coastline and thickly forested interior are ruggedly and expansively beautiful. Granite mountains look out over quaint towns, and Maine's rocky shores are the first place in America to greet the sunrise.
People visit here, move here, and stay here because there's room and opportunity to enjoy life. There's no reason to rush. The seasons change when they change, the fish will bite when they're ready, and Mainers move on Maine Time.
YMT's Coastal Maine & Acadia tour is a relaxing, peaceful, delightful journey through America's Easternmost state. A memorable mixture of tours, activities, and free time allows guests to experience Maine at its fullest.
Experience Nature in Maine
Maine's natural beauty is one of the biggest reasons to join this tour. The state has 3,500 miles of coastline, thousands of ponds and lakes, and 7 million acres of forests. Add to that a thriving fishing and tourism industry, and Maine is a paradise for nature lovers.
Coastal Maine Botanical Gardens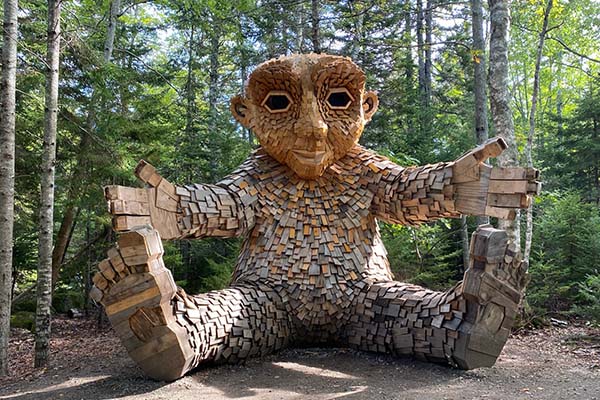 Photo Credit: Samantha Young
The Coastal Maine Botanical Gardens in Boothbay are the biggest in New England. Samantha Young, the YMT Senior Product Manager who designed the tour, fell in love. "The botanical gardens are incredibly peaceful," she said. The 295-acre "People's Garden" consists of lush gardens, art installations, and natural habitats.
The botanical garden's tidewater shoreline stretches for nearly a mile, and there are countless paths running through its sprawling indigenous forests. There are also 5 hidden trolls, which guests got to discover on their tour.
Acadia National Park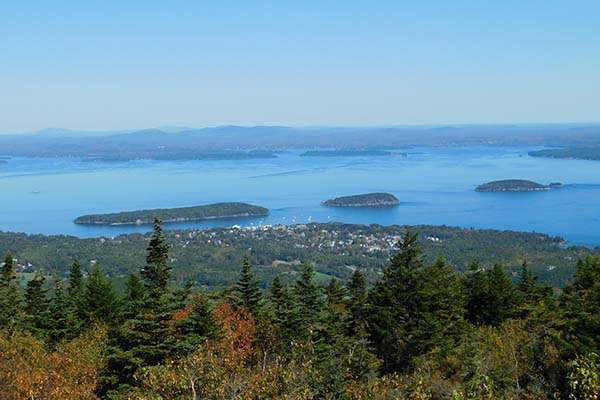 Photo Credit: Samantha Young
"Acadia National Park's raw landscape is incredible," Samantha explained. The national park on Mount Desert Island covers 47,000 acres of coastal, woodland, rocky beach, and mountainous terrain. "And we were able to see everything."
From the visitor's center, the YMT tour takes a scenic route past Beehive Mountain, Sand Beach, Thunder Hole, and Otter Cliff. The group saw spectacular fall foliage, endless forests, serene lakes, and Cadillac Mountain. "We had 360-degree views from the top of Cadillac Mountain, which is the highest point on the North Atlantic seaboard. It was so relaxing to look out and see miles and miles of exquisite nature. It was perfect."
Penobscot Bay Lobster Cruise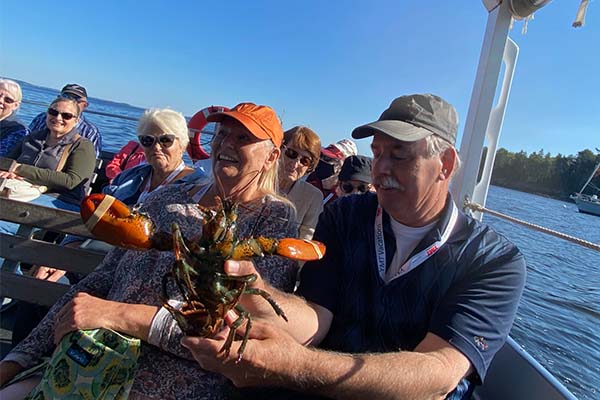 Photo Credit: Samantha Young
In Camden, the YMT tour took the ultimate only-in-Maine experience—a lobster (or lobstah, as Mainers would say) cruise. For Samantha, the excursion was much more hands on than she anticipated. "I did not expect to bait a lobster trap," she said.
The guests learned fascinating facts and stories about lobstering, and then the crew pulled up a lobster trap and the interactive portion of the tour began. Guests were able to hold lobsters, determine their approximate age, and see if they were ready to be caught. They even learned lobster tricks. "The crew showed us that you can put a lobster to sleep by rubbing between their eyes. It was hilarious," Samantha laughed.
As for baiting the lobster traps? That might not have been Samantha's favorite. "I had to put some fish and crab parts into this giant pot. I think it was the first and last time I'll do it."
Cultural Experiences in Maine
Maine's unique culture is on full display on this tour. See everything from the historical city of Portland to charming Bar Harbor and Cellardoor Winery.
Portland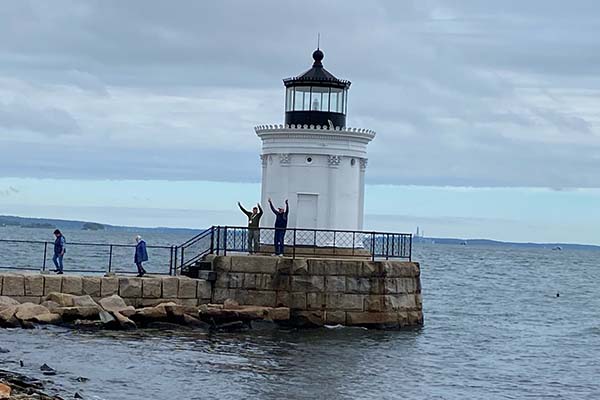 Photo Credit: Samantha Young
Maine's largest city is remarkably beautiful. "The historical restored houses and architecture around downtown are amazing," Samantha said. "Our driver Bill is a local, and he gave us tons of insider information while we drove up and down brick streets worn by age."
Guests particularly enjoyed the three lighthouses they visited along the coast. They had impromptu photo shoots at Portland Head Light, Spring Point Ledge Lighthouse, and Portland Breakwater Lighthouse. "We all had a great time at the lighthouses," said Samantha. "The guests threw their arms in the air and took a bunch of fun pictures. Everyone really connected."
Cellardoor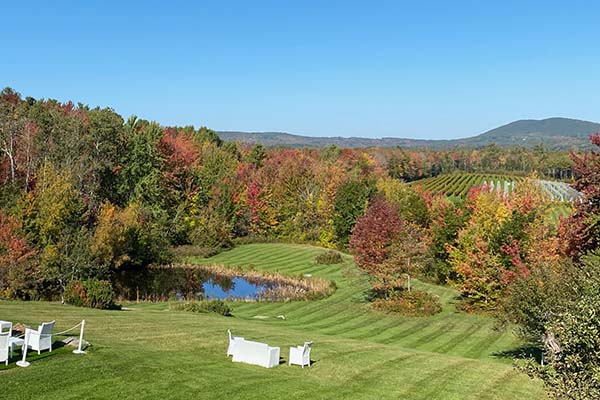 Photo Credit: Samantha Young
Cellardoor winery, vineyard, and wine tasting barn was a highlight of the tour. This 5-acre estate in Lincolnville grows cold weather grapes in an idyllic setting of vineyards surrounded by forests. At its center is a 200-year-old barn where guests have the chance to sample wines paired with cheeses, cured meats, and luxurious chocolates. "The winery was breathtaking," according to Samantha. "We sampled 4 different wines that were so smooth."
Bar Harbor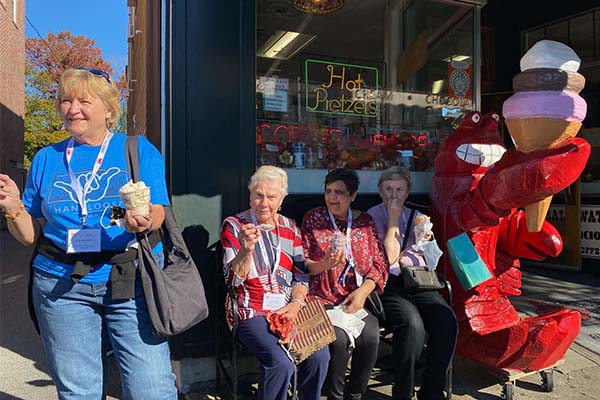 Photo Credit: Samantha Young
Bar Harbor is right next to Acadia and is arguably one of the most delightful towns in Maine. "I love everything about Bar Harbor," Samantha said. Guests got to enjoy a full afternoon of leisure time, followed by a lobster roll dinner at an authentic lobster shack.
Samantha enjoyed her time in Bar Harbor with a group of women she befriended on the tour. They spent the afternoon exploring the small town, stopping at colorful little shops and watching the boats sail through Frenchman's Bay. Samantha and her new friends stopped at a café for lunch, where her friend Cindy tried lobster ice cream. Samantha laughed, "Cindy liked it, but she wouldn't go out of her way to try it again."
Visit Maine with YMT Vacations
A Maine vacation with YMT is a one-of-a-kind experience that our guests have enjoyed immensely. Samantha certainly did. "This is an incredibly fun, historical, unique tour. Each place we stopped had its own quirky personality that really made you want to go again. This tour is different and very special. We got to go to a number of small towns, and the whole trip was very eclectic. Even if you've spent a lot of time on the East Coast, you should do this tour."
To make your reservation, call your travel professional or YMT Vacations at 1-888-756-9072.