---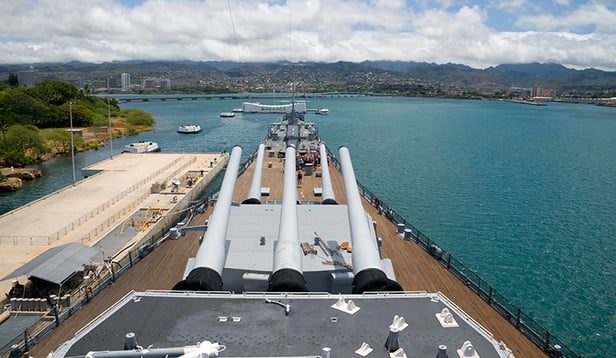 On September 2, 1945 the Allied and Axis powers met aboard the USS Missouri in Tokyo Bay to end World War II. In a solemn ceremony, representatives of the Empire of Japan and General Mac Arthur stepped forward to sign the Instrument of Surrender, thereby restoring peace to the world. After years of war and devastation, and the horrific events of Pearl Harbor, the greatest generation was left to remember and honor the sacrifice of America's soldiers.
---
"Mighty Mo," as the Missouri was known, was the last of four Iowa-class battleships built during World War II. In addition to being the site where the Japanese surrendered, the ship is also one of the United States military's most decorated ships, with three battle stars for service in World War II and another five garnered in the Korean War.
Now an interactive museum at Pearl Harbor, the Missouri completes the historic complex, which is also home to the USS Arizona Memorial and the USS Bowfin Submarine. Guided tours aboard "Mighty Mo" showcase the ship's interior, systems, and weapons as well as a narrative of the vessel's history and footage of the historic surrender ceremony.
---
Travelers with YMT Vacations can now explore the USS Missouri as part of the Best of Hawaii Four-Island Tour. In addition to this historic Pearl Harbor enhancement to the itinerary, 2018 journeys will also now include the Circle Island tour and the King Kamehameha Feast -- all now at no additional cost! This exciting 13-day journey features the world-famous Waikiki Beach, Volcanoes National Park, and the mystical Fern Grotto. To make your plans to join this once-in-a-lifetime trip, call your travel consultant or YMT Vacations at 1-888-756-9072.
---