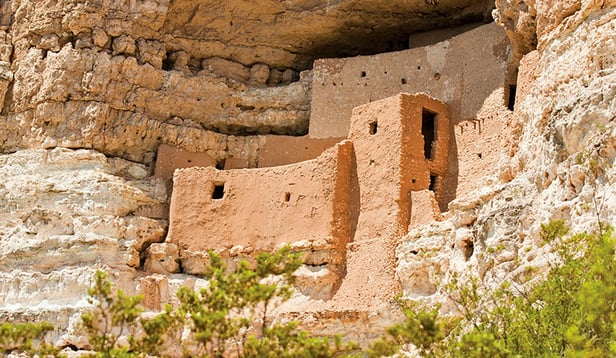 In the Verde Valley of Central Arizona there is a 20-room "high rise" apartment carved into the soft limestone of a cliff. Created nearly a millennia ago, this ancient cave dwelling gives us a peak into the lives of the Sinagua people. Five stories and 20 rooms in total, the structure was built in the alcoves of a cliff high above Beaver Creek Canyon. Created over the course of three centuries, the apartment-style dwellings were fashioned out of weathered limestone caves and featured floors of logs, grass and branches that were covered in clay to create a surface so solid it is still in existence 1,000 years later.
---
Even today, more than 90 percent of what you see at Montezuma's Castle is original. The site is an enduring legacy of the Sinagua people and their ingenuity, survival and ability to thrive in one of the world's most unforgiving landscapes. Here are our tips for visiting Montezuma's Castle, America's original cave dwellings:
Be prepared for afternoon rains that can happen quickly and without warning.
There is little shade in this desert environment. Bring sunglasses and water, and wear plenty of sunscreen.
This is a self-guided tour with a one-third of a mile walk. However, the walkway to the site is paved and wheelchair accessible.
The site is very well-preserved and surprisingly "non-touristy." It takes only an hour or so to take in the entire attraction.
There are restrooms and water located near the monument.
If you're traveling with kids or grandchildren, make sure to grab a copy of the Kid's Jr. Ranger book to supplement what your young-historians are seeing.
The cost of admission is just $5.
---
This rich, historical site is just one of the stops on YMT Vacations' Rose Parade, Grand Canyon Sunrise & Red Rocks Tour. This thrilling 11-day journey begins in the "City of Angles" where you'll experience Beverly Hills and the hand prints of the stars at the Chinese Theater before heading to the 129th Tournament of Roses Parade. Your excursion takes you from a sunrise breakfast in the Grand Canyon to the lights of Las Vegas, Zion National Park to the Red Rocks of Sedona. To learn more, or make your reservations to join us, call a travel agent or YMT Vacations at 800-922-9000.
---