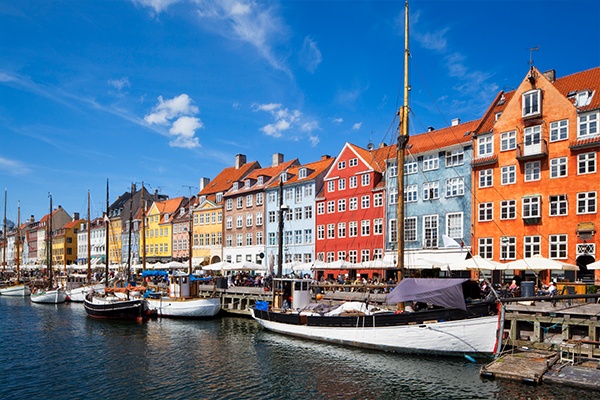 From vibrant row houses to beachside villages, these brightly-colored cityscapes capture our imaginations with their rainbow of hues. Here are our picks for the most colorful cities in the world—just make sure to bring along your camera!
Rue Cremieux, Paris, France—These colorful houses sit like macarons stacked along the cobblestone street of the 12th arrondissement. With window boxes and colorful planters, it's the perfect setting for a great picture or simply a very pretty cup of coffee—just get there early to avoid the crush of the well-dressed crowds.
Charleston, South Carolina—From Charleston green to Dutch chocolate, blue Danube to pale haint blue, the legendary colors of Charleston tell the rich history of this southern city. Rainbow Row is one of its most famous areas, where an Easter-egg display of historic homes along Bay Street remains one of the most photographed spots in all the city.
South Beach – Cotton candy-colored buildings dot the shoreline in this Art Deco district of Miami where the active nightlife, bright green lizards, and clear blue sky make for a truly vibrant experience.
San Francisco, California—The painted ladies of Steiner Street are neighboring Victorian houses. Repainted in the 1960s in at least three colors to enhance their architectural details, they are dressed in robin egg blues, bright greens, and soft salmon. A favorite of sitcoms and movies, they are icons of the City by the Bay.
Burano, Venice, Italy—Just a short waterbus ride from Venice, these quaint cottages are a photographer's delight. Painted crimson red, neon green and nearly every other color of the rainbow, tradition says these homes along the canals were painted so brightly to ensure fishermen would know which home was theirs when they returned from sea.
New Orleans, Louisiana—This spicy melting pot of African, European and Haitian cultures is as colorful as it is flavorful. Picture Mardi Gras parades crawling past pastel-colored row houses whose iron balconies positively drip with scores of brightly-colored beads. Let the good times roll!
Nyhavn, Copenhagen, Denmark—Once a busy commercial port, this 17th century row of townhouses and cafes is one of Denmark's most colorful. Pops of sunflower yellow, cornflower blue and burnt orange make this the perfect backdrop for photos, especially images backlit by the sun setting over the charming canal.
Santorini, Greece—The image of white-washed buildings topped with bright blue roofs is one you'll see throughout the islands, but on Santorini you'll also see fiery red sunsets and the indigo waters of the sunken caldera.
La Boca, Buenos Aires—With tango studios, bohemian music, and one of Argentina's favorite football teams, La Boca is one of the country's most colorful towns.
YMT Vacations offers a variety of colorful getaways that feature low prices and unmatched value. Reliable, safe and expertly run, our journeys span the globe from Alaska to Australia, Asia to Hawaii. To learn more about our full array of affordable packaged tours, call your travel professional or YMT Vacations at 1-888-756-9072.