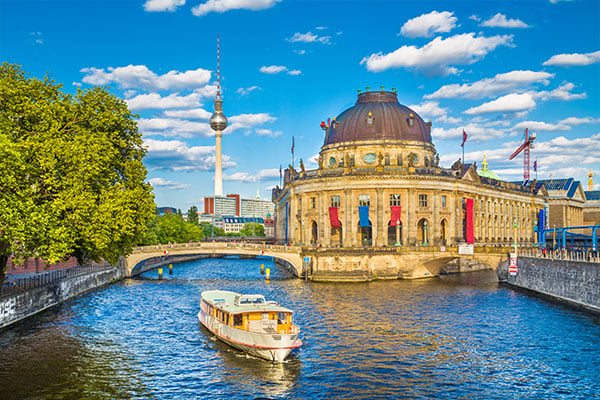 The Rhine River's lush hillsides are thick with wine grapes, thriving towns, and towering castles. The highest concentration of castles are in Germany's 40-mile long Upper Middle Rhine Valley, a UNESCO World Heritage Site. This compact region contains 40 castles and fortresses.
The Rhine links northern Europe and the Mediterranean. Cities, castles, and impenetrable fortresses were built in key sites along the Rhine's banks. A new spectacular sight greets you around each bend of the river, which makes river cruising the best way to appreciate the stunning scenery of the Rhine.
The castles of the Middle Rhine Valley are some of the best in Europe. Many of them were built in the 12th-14th centuries, during the peak of the Middle Ages. Imposing, beautiful, and largely still intact, these castles are perfect examples of the fortified structures that defined Europe for so much of its history.
Marksburg Castle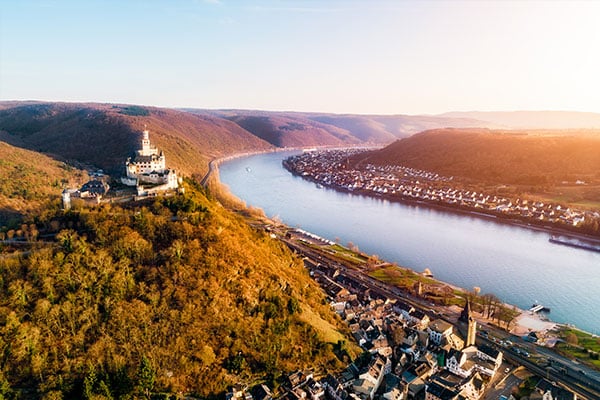 Marksburg Castle was built in the 12th century to protect the town of Braubach, Germany.
From its perch hundreds of feet above the river, it has commanding views up and down the Middle Rhine Valley and of Braubach's gorgeous medieval architecture far below. This ensured its survival nearly 1,000 years after it was built by the powerful Lords of Eppstein. The castle was never taken or even severely damaged—including by shelling during the Second World War—and one glance at its imposing edifice explains why.
It is a medieval masterpiece of defense, built for protection rather than as a showy residence for wealthy families. Its stone walls and roughhewn pathways are impenetrable, and built to withhold a long siege and extensive attacks. Because of its lack of damage over the centuries, it is one of the most intact and most historically authentic castles in the world.
Adult admission: 8.00 €

Open daily

Summer hours: 10 a.m. – 5 p.m.

Winter hours: 11 a.m. – 4 p.m.

Admission includes a mandatory guided tour

English tours begin at 1 p.m. and 4 p.m.

The castle's official restaurant, Marksburgschänke serves great German food - try the Schnitzel!
Pfalzgragenstein CASTLE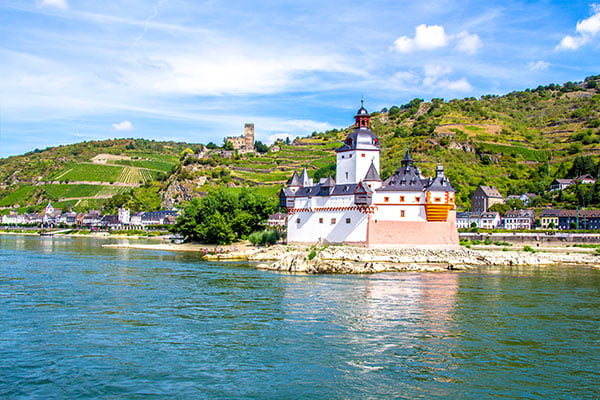 Pfalzgrafenstein Castle was built by King Ludwig the Bavarian on a tiny island in the middle of the Rhine River to collect river tolls. It is one of the Middle Rhine Valley's most unique castles, due to its unusual location, eye-catching design and baroque color scheme.
The "Pfalz" could hold 20 men, who would stop passing ships using a massive iron chain spanning the length of the river. After their load was appraised, the ship's crew would have to pay a fee in order to pass. Crews that didn't or wouldn't pay the fare were thrown into the castle's dungeon. Scenic Kaub is also home to Gutenfels Castle. Look to the hills, above the lush vineyards, for the restored 13th century castle.
The castle must be reached by ferry, available approximately every half hour

Adult admission with ferry: € 7.00

Open January-November

Winter hours 10 a.m. – 5 p.m. weekends only

Summer hours 10 a.m. – 6 p.m. closed Mondays
Schloss Drachenburg CASTLE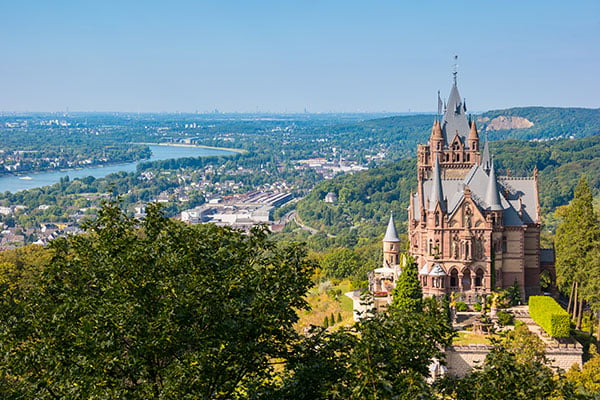 If the unpretentious Marksburg and the practical Pfalzgrafenstein aren't the fairytale castles of your dreams, just continue down the Rhine to Schloss Drachenburg in Königswinter.
This castle is located in one of the most picturesque towns in Germany. Both Schloss Drachenburg and the town are romantic, charming, and designed to delight visitors, you'll want to spend as much time there as possible.
Drachenburg was built in the 19th century during a period when "historicism" was in vogue. Historicism was a fashionable movement where wealthy Europeans built or refurbished lavish castles in a style befitting the pages of their children's favorite storybooks. The style was wildly romantic. Gleaming white castle towers were built as picture-perfect places for fair maidens to fall in love. Spotless courtyards called out for brave knights just itching for a good fight.
Drachenburg is a villa rather than a castle. Built using numerous 19th century and Renaissance architectural styles, it has a very beautiful garden and spectacular views of the Rhine far below.
Adult admission: € 7.00

Open daily except for December

Open in December during weekends only for its annual Christmas Market

Winter hours noon – 5 p.m. with weekend night hours from 6 p.m. – 10 p.m.

March-November hours 11 a.m. – 6 p.m.; open until 7 p.m. July and August

The Castle Shop has a wide selection of specialty dragon souvenirs
Visit the most scenic Rhine River Castles with YMT Vacations
If you'd like to see these remarkable Rhine River castles in person, why not join YMT Vacations on a European Rhine river cruise?
You can get more information or make reservations to see these extraordinary castles along the Rhine River by calling your travel consultant or YMT Vacations at 888-978-7406.