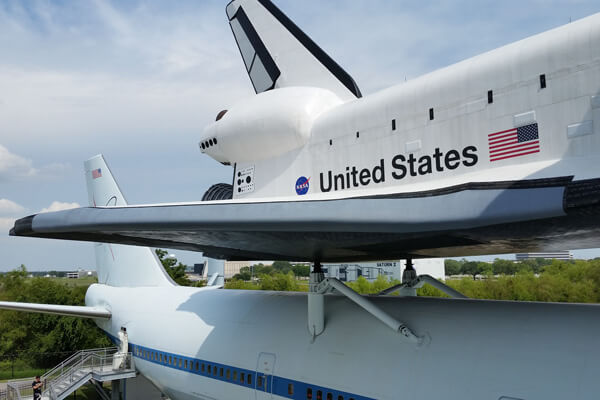 Houston, Texas, is home to two of planet earth's finest treasures: authentic Texas barbecue, and NASA's Johnson Space Center.
Space Center Houston is the visitor's center of Johnson Space Center. Space Center Houston is open to visitors year-round, as are select areas within Johnson Space Center. Together, they are Houston's most popular sightseeing destination.
Johnson Space Center is a massive 100 building complex covering 1,620 acres in the Clear Lake area of Houston. It was built during President John F. Kennedy's administration, when getting to the moon was a matter of considerable national importance.Many cities campaigned to be the site of NASA's new "manned spaceflight laboratory" that Congress had set aside $60 million for in 1961. Houston was chosen because of its proximity to numerous prestigious universities, its moderate climate, its large parcels of available land, and because a large number of Texans were able to sway the final decision. Johnson Space Center's doors were officially opened in September of 1963.
Johnson Space Center is the home of many of NASA's most important programs, several of which you can see for an additional cost on your visit to Space Center Houston.
Mission Control Center
Since the launch of Gemini IV in 1966, Johnson Space Center has been the head flight control center of all of NASA's manned space missions, including Apollo XIII, whose calm distress call of, "Houston, we've had a problem," has seeped deep into the American pop cultural lexicon.
Astronaut Training Facilities
Elite astronauts-in-training call the Astronaut Office home. Once selected by NASA, astronaut candidates spend a full two years in the basic Astronaut Training program. They will learn everything they need to successfully travel in space, as well as how to represent America's space program at home and abroad. They will fly NASA T-38 training jets, take classes, give speeches, master survival training, and learn the ins and outs of the Space Shuttle and the International Space Station. They also train in the Neutral Buoyancy Lab, a massive swimming pool used to mimic the weightlessness they will experience in space. Public tours of the Neutral Buoyancy Lab are available, and are always a big crowd pleaser.
Rocket Park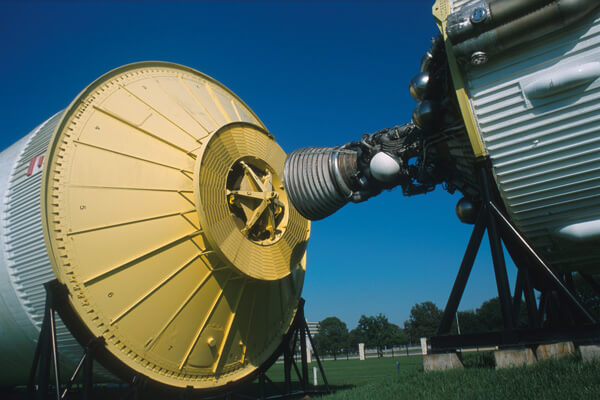 One of the absolute highlights of Johnson Space Center that is available for guided tours, Rocket Park is the home of several retired rockets and boosters. Two rockets, Mercury Redstone and Smokey Joes, are found outside the main hangar. Inside the hanger is the true show-stopper—the Saturn V rocket. The tallest, heaviest, strongest rocket ever flown, Johnson Space Center's Saturn V is one of only three on display in the world, and the only one that still has its original flight-certified hardware.
The Saturn V took 27 astronauts into space, and landed men on the moon 6 times between 1967-1973. Standing 363 feet tall and weighing in at 6.2 million pounds when fully fueled and prepared for flight, this 3-stage engine changed the course of human history.
Space Center Houston
Space Center Houston is one of the world's finest space exploration museums. The Smithsonian Affiliate is designed to be fun and engaging for visitors across cultures, and at every age. It contains over 400 artifacts from space, and numerous activities, exhibits, and special experiences. It is home to the world's largest collection of lunar samples and space rocks, an impressive collection of spacesuits, Independence Plaza, where you can see a full-size shuttle replica, and much more. The NASA Tram Tour gives guests the opportunity to take a behind-the-scenes tour of Johnson Space Center, including to many of the sites we've covered above.
Visitors can spend anywhere between a couple of hours and a full day touring Space Center Houston—it depends on your schedule, interests, and on whether you add on guided tours of Johnson Space Center, as well. YMT guests spend between 2-3 hours at the facility.

Visit the NASA Space Center, Houston, Texas's Best Sightseeing Destination!
Whether you dream of leaving Earth's orbit or you're happy staying put, the Blue Planet, Johnson Space Center and Space Center Houston are wonderful places to visit on your time in "Space City." Join us and learn about the history—and exciting future—of manned space travel on our popular 11-day Heart of Texas & New Orleans tour, a journey through Texas and New Orleans you'll never forget. To learn more or to make your reservations, call your travel agent or YMT Vacations at 1-888-756-9072.