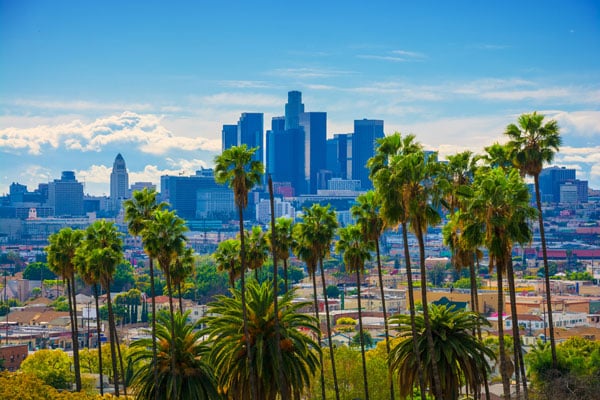 Los Angeles is a city where dreams come true and the lights shine bright. Whether from the stars in Hollywood, the streetlights of its vibrant neighborhoods, or the sunshine that bathes the city year-round.
LA is as magical as any of the fictional worlds it's brought to life, with a wonderfully eclectic mix of people to meet and experiences to enjoy. Many YMT employees are based in the City of Angels and are able to offer you insider tips on how go enjoy the perfect day in LA. Here are our "must-sees" in Los Angeles in one day.

Downtown LA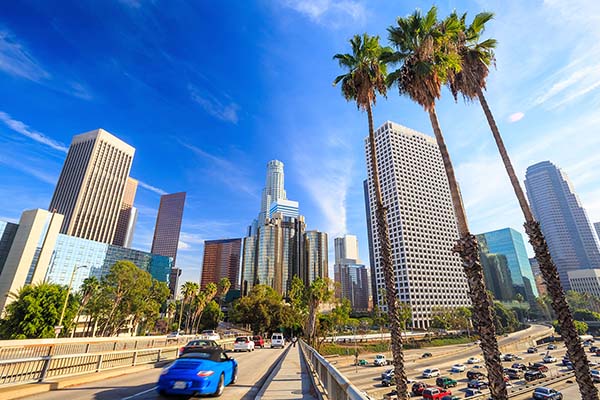 Start your day downtown, which has become one of the most exciting parts of LA since its revitalization efforts began in the early 2000s. Now it is home to some of the best dining and sightseeing in the city.
There are countless options for a great breakfast, but we recommend going to one of the most famous. The Original Pantry Café on 9th and Figueroa is the quintessential LA diner. A darling of filmmakers and Food Network personalities, you might recognize its fluffy pancakes and "cash only" sign even before the irresistible smells from its always bustling kitchen hit your nose.
Bottega Louie is another option where you can't go wrong. Best known for its upscale baked goods, including its kaleidoscopic assortment of macarons, Bottega Louie also serves an exceptional breakfast. Divine eggs Benedict will compete with Belgian waffles and piping hot beignets for your attention.
After breakfast, enjoy some sightseeing. Olvera Street is one of the oldest streets in the oldest part of the city. This brick thoroughfare winds through El Pueblo de Los Angeles Historic Monument, which was the city center of Los Angeles during its infancy in the 1820s. Los Angeles Plaza and other 19th century buildings surround Olvera Street, and capture the feeling of what the city was like when it was still part of Mexico.
Downtown LA's second must-see sight is the dazzling Walt Disney Concert Hall. This Frank Gehry designed masterpiece cost a quarter of a billion dollars to build and is one of the city's most striking pieces of architecture. Curved steel panels rise up around the exterior, making the acoustically perfect musical venue utterly unique.
Hollywood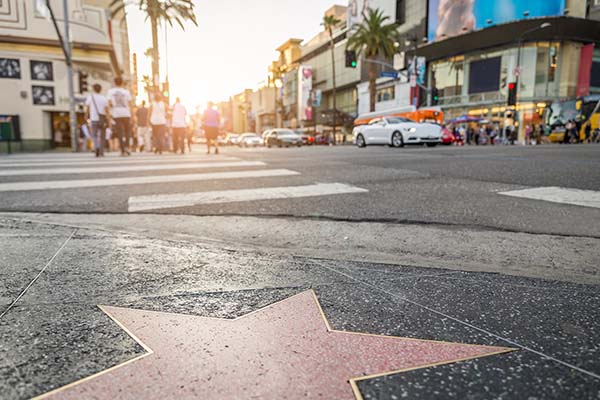 Hollywood is at its best in the middle of the day, when the famous SoCal sun is shining, and the stars are out to play. The main attraction of Hollywood is the world-famous Walk of Fame, a stretch of sidewalk with golden stars embossed with the names of the titans of the entertainment industry.
Old Hollywood stars like Judy Garland are honored beside musical legends like the Beatles, writers like Ray Bradbury, and even Thomas Edison, whose inventions made the motion picture industry possible.
The Original Farmers Market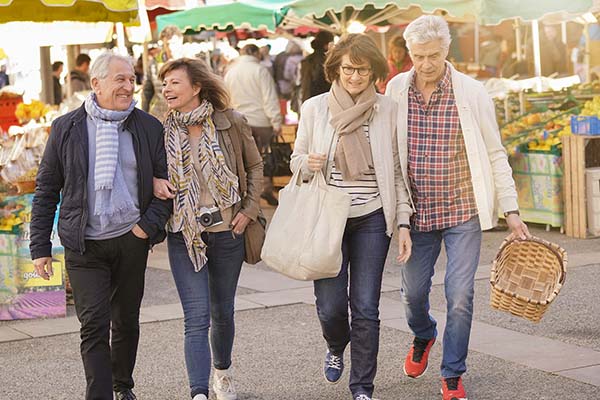 For lunch, a snack, shopping, and people watching, the Original Farmers Market can't be beat. A local institution since 1934, this immense market offers more than 100 stands offering everything from gourmet tacos to high end face products.
Patsy D'Amore's Pizzeria has been serving brick oven baked pizza at the Farmers Market since 1949, which they once sold for just 20 cents a slice. The D'Amore family introduced pizza to the west coast, traveling from Brooklyn to Hollywood with their authentic Neapolitan recipes in 1939.
For ice cream lovers, you can't do better than Bennett's. Watch from the window as they create batch after batch of their award-winning ice cream from scratch, using the same techniques as when they started in 1963. Their flavors range from the classics to the unexpected. Where else can you get a hot fudge sundae with one scoop vanilla, two scoops cabernet sauvignon, and a cherry on top?
Santa Monica Pier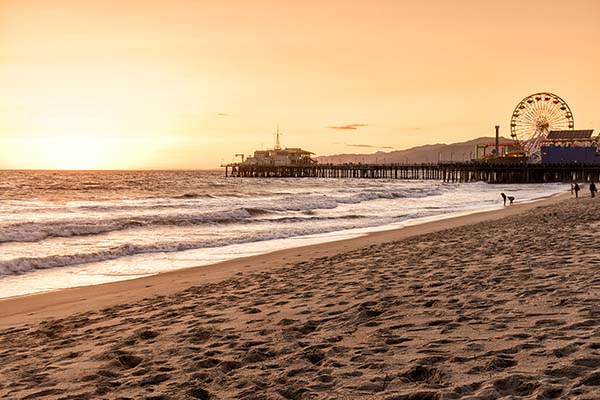 Sunset on the Santa Monica Pier is an experience you'll never forget, and one of the best things to do in Los Angeles. Originally built in 1909, it has been a gathering place for more than 100 years. Excellent dining and shopping are found next to a charming amusement park, whose Ferris wheel and century old carousel are icons of LA.
The 1,600-foot-long pier is at the end of Route 66, and offers one of the best views of the city. To the sounds of the waves and seagulls, watch the sun slowly dip under the horizon, your perfect day in LA now complete!
Visit Los Angeles with YMT Vacations
Take a trip to America's most exciting city with YMT Vacations. Let us show you around our hometown on an experience you'll never forget! To book your trip to LA with YMT Vacations, contact your travel agent or call us at 1-888-756-9072.